Russia national team manager Stanislav Cherchesov has taken full responsibility for Russia crashing out of their home FIFA 2017 Confederations Cup at the group stage.
Russia were beaten 2-1 by Mexico in Kazan on Saturday meaning they finished third in Group A having also lost to Portugal in Moscow on Wednesday, their only victory coming on the opening day versus minnows New Zealand, ranked 95th in the world.
Read more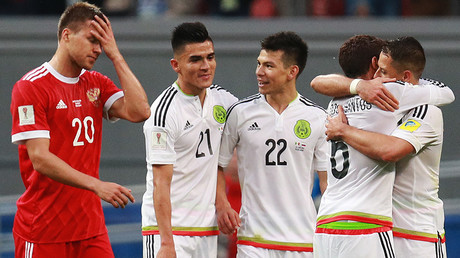 "This is my mistake, I will take it upon myself" Cherchesov told reporters in the post match press conference at Kazan Arena, moments after the defeat to Mexico.
The question was then put to Cherchesov what he thought of rumours surfacing before the match that he would lose his job as national team boss should he fail to reach the final of the tournament.
"Today there are some really top journalists and they is called 'unnamed sources' and these unnamed sources I will continue to work with with pleasure. Tell your informer that I will not be sacked," Cherchesov replied wryly.
Despite the eventual result in Kazan, the match began brightly for Russia, with Cherchesov acknowledging the need to win to advance by playing two in attack, Aleksandr Bukharov it was who partnered Fedor Smolov in attack, not Dmitry Poloz as was the case against New Zealand.
Russia were unlucky not to be awarded a penalty when Smolov looked to have been fouled by Nestor Araujo, the decision may have resulted in a red card for Araujo should the spot kick have been awarded as Smolov was seemingly through on goal.
Although Saudi Arabian referee Fahad Al Mirdasi bizarrely referred the incident to be reviewed by the Video Assistant Referee (VAR) a couple of minutes after the event, he then kept his original decision not to award a foul.
Nevertheless Russia took the lead through an Aleksandr Samedov on 25 minutes, before falling behind five minutes later when controversy raised its head again in the form of Araujo heading over Akinfeev to level the score.
"I don't have time to be angry. Frankly, I didn't see the replay," Cherchesov said, when commenting on the benefit of the VAR system, which will also be used for the FIFA 2018 World Cup.
"Maybe you saw the reply, but as the game progressed, I indicated to the referee I thought it should have been replayed. I don't want to talk about it. If there was really a foul, then VAR is not needed. What is the point of it if it doesn't work?
"Well, they did disallow a goal that was from an offside position. My job is to make the team improve and I will start dealing this with pleasure," headed.
Both sides went into the break level, which only benefitted Mexico, who only needed a point from the game to progress while European champions Portugal led New Zealand 2-0 in St. Petersburg in the other Group A game.
Things went from bad to worse for the hosts in the second half. In the 53nd minutes Mexico unexpectedly pulled ahead when Hirving Lozano chased a route one ball down the pitch from Hector Herrera with Russia defender Viktor Vasin in pursuit.
Igor Akinfeev came rushing off his line to clear the ball, but his kick missed and instead Lozano headed home, the second header to beat Akinfeev in the game.
"I didn't see the replay on this episode because I was dealing with something else. Every player and keeper is entitled to commit an error," Cherchesov said of the goalkeeping error.
"We will discuss these things, life will go on, this is sport. I am convinced he will stay in the national team and he will bring pleasure to the fans.
"Vasin came to the national team late, even though he is experienced. With every game I am convinced he is becoming more experienced. Everyone is entitled to an error. Our opponents were not the easiest to say the least. So sometimes there are errors," he added.
With Russia needing two goals without reply to advance, their uphill battle became an insurmountable task when Yuri Zhirkov, was given a second yellow card for elbowing Miguel Layun.
One of the most experienced players on the field was suddenly off it, and with him went any hope of a Russian revival. Any slender hope disappeared when substitute Igor Smolnikov came on for Aleksandr Erokhin and within moments volleyed over after finding himself unmarked and just yards from goal.
The game ended 2-1, despite Mexico advance to the semi-final game in Sochi, finishing runners-up in Group A by virtue of goal difference to winners Portugal, who beat New Zealand 4-0. They will play the Group B winners and runners up respectively.
Read more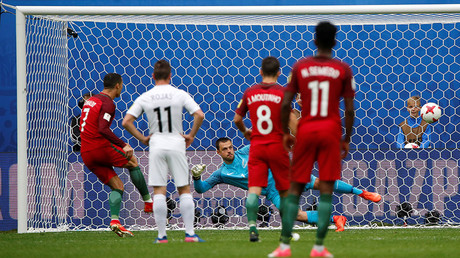 Russia were unable to provide anything to celebrate for their fans within a 41,585 crowd at Kazan Arena.
"We have some positive aspects. However, as for the self sacrifice aspect, I think the team gave all of them themselves and no one in the stadium or home could argue," Cherchesov said in summation of the game.
"Around 75 percent of our players hadn't played in such a big tournament before. Maybe new ones will appear. I hope that our next matches will be played against top teams, we have won the hearts and minds to an extent in this month we have been together and we have some reasons to feel optimistic," he added.
Those optimistic feelings may not be shared by most Russian football fans after the result in Kazan tonight.
By Danny Armstrong for RT Sport