Ten-year-old Polina Haeredinova could not stop smiling when her football idol Cristiano Ronaldo rolled the disabled girl onto the pitch ahead of the Russia versus Portugal 2017 FIFA Confederations Cup match in Moscow.
Polina beamed with pride and excitement as she headed the procession of 22 players onto the pitch at Spartak Stadium in Moscow, holding the hand of current Ballon d'Or holder Ronaldo.
The 32-year-old forward gave the young girl his training sweatshirt and then surprised the young fan by giving her a hug and kiss.
Polina reciprocated the affection by giving a specially made bracelet to the Portugal captain, who got the only goal of the game versus Russia in a 1-0 win for his team, their first on Russian soil.
"I couldn't expect that it would be such a great experience. Cristiano Ronaldo was outstanding. He gave me his coat and kissed me for luck. I was in the center of unbelievable emotions, supporting Russia. I've never experienced anything like this in my life," Polina said after the experience.
Read more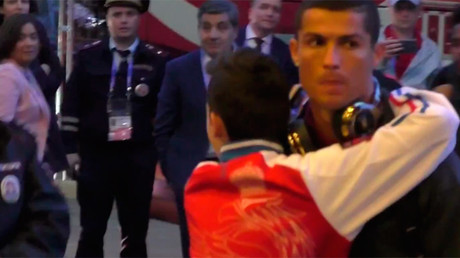 Describing the moment to RT, Polina recalled her brief conversation with the Real Madrid superstar, "Welcome to Moscow. I'm very happy to see you."
Ronaldo, according to the girl, thanked her when she gave him the handmade bracelet of the Portuguese national team colors.
Polina's dream of leading the teams out onto the pitch was made possible through the 'Going to the 2017 FIFA Confederations Cup with McDonalds' program, which selected over 350 underprivileged children to be Player Escorts at the tournament's matches.
While the initiative has been running for 15 years, this year, for the first time, the program offered player escort positions for children with disabilities.
Polina was not the first Russian fan to receive a hug from Ronaldo. After the game, a young fan broke through the security line of the hotel where the Portuguese team was staying in Moscow to throw his arm around his hero.