Russia has added over 190 football hooligans to a blacklist for the upcoming FIFA 2017 Confederations Cup, which will be hosted across four Russian cities from June 17 to July 2.
As Russia prepares to host its first Confederations Cup, Ministry of Internal Affairs official Anton Gusev announced that the blacklist of football hooligans will be among the measures to maintain safety during the tournament.
Read more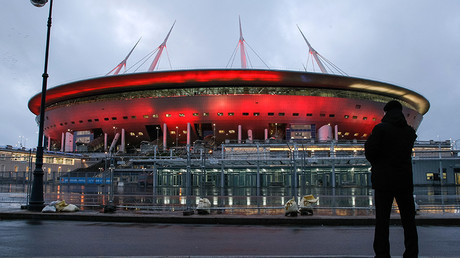 "We have a list of the citizens that are not allowed to visit official football matches by the court decision," Gusev said at a press conference on Tuesday, TASS reported.
"The list is available in the open sources. As of today, it includes 191 people," he added.
Gusev also stressed that other hooligans that are not currently on the list but have a history of offenses will also be "under strict watch," including those coming from different countries.
He also revealed that among those included on the list is a group of hooligans that was involved in the clashes in the French city of Marseille last summer during UEFA Euro 2016.
"We of course were very closely cooperating with French authorities. Our delegation has visited [France]. We have closely studied those incidents."
In February, Russian Deputy Prime Minister Vitaly Mutko stated that football hooligans will be refused entry to Russia during both the 2017 Confederations Cup and 2018 World Cup.
READ MORE: 'Football thugs to be barred from Russia during 2018 World Cup' – Deputy PM Mutko
Around the same time, Russia issued its first 'FAN ID,' a passport which gives supporters access to matches, transportation as well as doubles as a Russian entry visa for foreign fans.
At the end of May it was reported that over 100,000 'FAN ID' passports had been issued for Confederations Cup.
READ MORE: 100,000 'FAN ID' passports issued for Confederations Cup
The tournament will be held from June 17 to July 2 in Moscow, St. Petersburg, Sochi, and Kazan, and will feature the champions of FIFA's six continental confederations: Portugal, Chile, Mexico, Cameroon, Australia, and New Zealand, as well as current World Cup champions Germany and host nation Russia.