Russian football fans can breathe a sigh of relief after national broadcaster Match-TV agreed a rights package with FIFA to broadcast the country hosting the 2017 FIFA Confederations Cup or 2018 World Cup, it was reported on Friday.
"The agreement has been reached and you will all soon find out about the details," Tina Kandelaki, Match-TV general producer, said on Friday, TASS reported.
Speaking at the 2017 St. Petersburg Economic Forum (SPIEF) in Russia, Kandelaki said: "Match-TV will be broadcasting the matches of the (FIFA 2018) World Cup and the (FIFA 2017) Confederations Cup."
"Fans will have a full access to developments around the Russian national football team," she added.
"The negotiations took some time, but this is a standard process."
READ MORE: FIFA Confederations Cup 2017: Get ready for all the action in Russia with RT's special project
Match-TV is owned by Gazprom-Media, and is a conglomerate of state-owned Russian Channel One and VGTRK, according to TASS.
Read more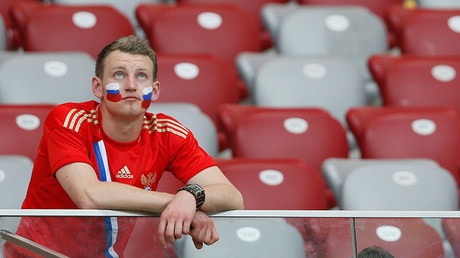 It had earlier reportedly refused to pay the $120 million asking price for broadcasting rights to both the Confederations Cup and World Cup.
The price is a hefty increase on the $32 million that Russian channels paid for the broadcasting rights for the 2014 FIFA World Cup in Brazil.
The news comes just a fortnight away from the opening game of the Confederations Cup, with hosts Russia playing New Zealand in St. Petersburg on Saturday, June 17.
The Confederations Cup will be held at stadiums across four Russian cities – Moscow, St. Petersburg, Kazan, and Sochi – from June 17 to July 2.
It's seen a precursor to the 2018 FIFA World Cup, which will be played at 12 stadiums across 11 Russian cities from June 14 to July 15. It will be the first time either tournament has been held in Russia.
READ MORE: 100,000 'FAN ID' passports issued for Confederations Cup