Warfare, rap & shaking hands with Putin: Meet the Russian robots' futuristic advances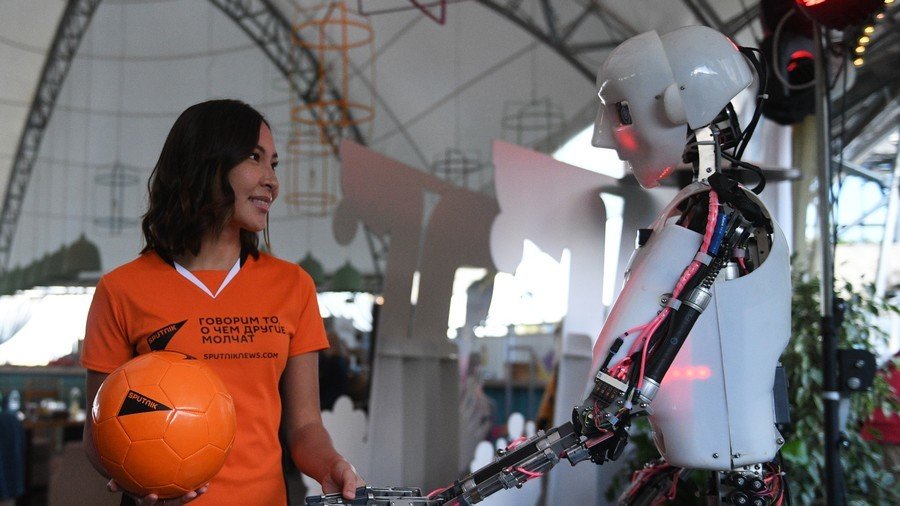 Russian engineers this week unveiled the first undersea drone armed with a rifle. The robot is the latest in a line of Russian-made machines conquering battlefields, surgeries, and even the entertainment industry.
With robots set to play an increasingly significant role in our world, engineers from across the globe are developing new types of machines to automate everything from warfare to healthcare. Russia is no exception and is leading the development of robotic systems in some fields.
Underwater
This week saw engineers from the Russian state-run technology company, Rostec, present an underwater drone unlike any other currently in development by major defense firms. The 'Nerpa' (ringed seal) is an underwater drone that can operate at depths of up to 50m and function autonomously without refueling for four hours, moving at a speed of one knot (1.8kph).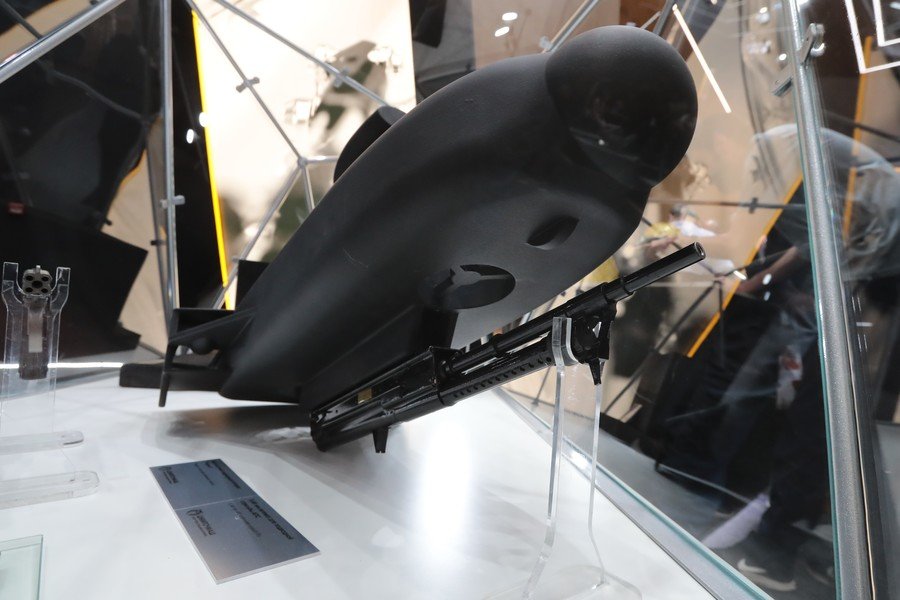 Designed to protect port facilities, bridges, vessels and naval bases from enemy combat divers and terrorists, its unique feature is that it is equipped with an underwater assault rifle. What's more, the firm is already working to fit other types of armaments to it.
READ MORE: 'Doomsday weapon': How could the West respond to Russia's nuclear underwater drone?
In air and space
This year's Victory Day military parade in May introduced two new domestically produced unmanned aerial vehicles (UAVs) to Russia's arsenal: the rotorcraft Katran and the fixed-wing Korsar, the country's first strike-capable drone.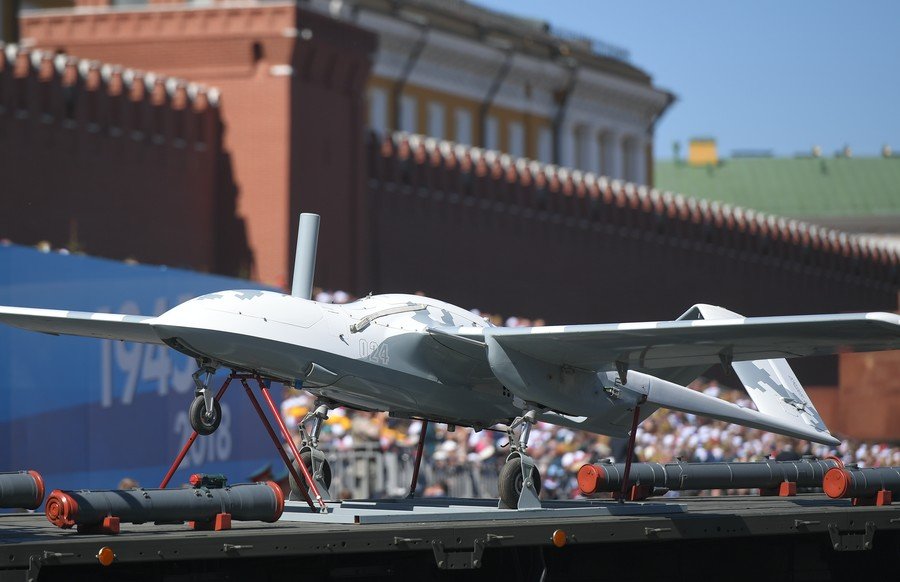 Russian engineers, however, are already looking further ahead, as they plan to send a robot into space with the humanoid-looking android called FEDOR (Final Experimental Demonstration Object Research).
Created in 2014, it can insert a key, extinguish a fire, get into a car, use a saw, and perform welding operations. At some point, the developers "taught" him to use dual-wield pistols and shoot with both hands.
However, those of you fearing that FEDOR will become a Russian version of the killer robot in Hollywood's 'Terminator' franchise can rest easy. The machine will be launched into orbit as part of a manned mission in 2021.
On the ground
For machines who like to keep their tracks firmly planted on the ground, Russian engineers have produced an impressive list of state-of-the-art vehicles that have already seen action in warzones like Syria.
The Uran-6, a squat, six-ton, remote-controlled machine that looks like an angry tank-bulldozer hybrid, has been developed for safer de-mining operations. Capable of withstanding explosive blasts, it has already seen combat and has been used to clear mines in Syrian villages that were liberated from jihadist militants.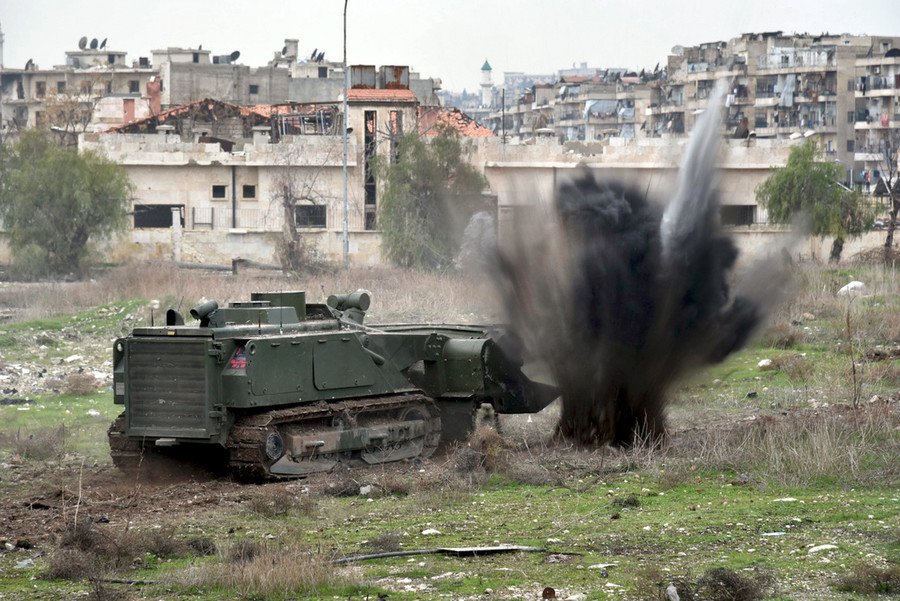 Its more impressive 'big brother,' the Uran-9, was unveiled in May and is designed to destroy enemy tanks and light fortifications. The 12-ton Unmanned Ground Combat Vehicle (UCGV) comes heavily armed with a 30mm 2A72 automatic gun, a 7.62mm PKTM machine gun, Ataka anti-tank missiles, and can even be fitted with Shmel-M rocket-propelled anti-personnel flame throwers.
Another UCGV currently in development is the Soratnik ('Fellow Soldier'). Once operational, it will be able to pick, track, and shoot targets while using data from a network of surveillance drones. Russian engineers are also working on a fully fledged remote-controlled infantry-fighting vehicle (IFV) called the Vikhr ('Whirlwind').
Renowned Russian arms maker Kalashnikov, however, has a taste for more futuristic concepts, with comparisons being made to machines from popular movies. Its four-meter-tall "controlled bipedal walker" that was presented by the company at the Army-2018 expo was likened to ED-209, which faced off against Robocop in the iconic 1987 movie by Paul Verhoeven and AT-ST from 'Star Wars.' The robot is dubbed 'Igoryok,' an informal version of the Russian name Igor.
Saving lives away from battlefield
Off the battlefield, Russian-made robots being developed to assist in complicated surgeries may even surpass advances already made overseas, such as the Da Vinci system developed in the US, according to developers.
READ MORE: Cutting-edge: Russian robot operates on pig in futuristic gynecology surgery (PHOTOS)
One such device allows surgeons to monitor an operation both on 2D and 3D screens, while making only small cuts and incisions. Expected to enter mass production in two years, it is hoped that the robot will perform well in the fields of urology and gynecology, with heart surgery another possibility, provided it's under the supervision of an experienced doctor.
Entertainment
Fighting robots have been a mainstay of UK entertainment since the classic 'Robot Wars' first aired on TV in 1998, and Russian enthusiasts have started to get involved. In a taste of what may soon become a regular feature, a recent event in St. Petersburg saw a real "gladiator battle" between steel machines armed with axes, hammers and other 'hellish' weapons. A Russian team claimed victory over an English one in a fierce battle marked by clangs of metal, breathtaking speed and no mercy for the defeated.
For those looking for something a little less violent, robot rappers may soon be entertaining fans. In late 2017, two Russian-made robots faced off in a rap battle at Moscow Technological Institute (MTI). The two gleaming-white human-sized androids fitted were with voice recognition modules, as well as cameras that can photograph and then recognize up to 1,000 people. They also had a memory bank filled with 100,000 specific phrases, which they used in a verbal battle for the amusement of spectators.
Future is now
The pace of robotic development in Russia has been so fast-paced that even lawmakers are suggesting that special regulations may be required in the near future.
Calling issues of artificial intelligence a "top priority," State Duma speaker Vyacheslav Volodin said in 2017 that the "question of relations between humans and artificial intelligence, between a human and a robot, is the question that we will have to describe in our bills in the nearest future."
One robot that has already had a brush with politics is Promobot, which introduced itself and shook hands with none other than President Vladimir Putin last September, when the Russian leader visited a tech exhibition in the city of Perm.
Like this story? Share it with a friend!
You can share this story on social media: