Russia's 'Syria tested' robotic vehicle shows off its firepower (VIDEO)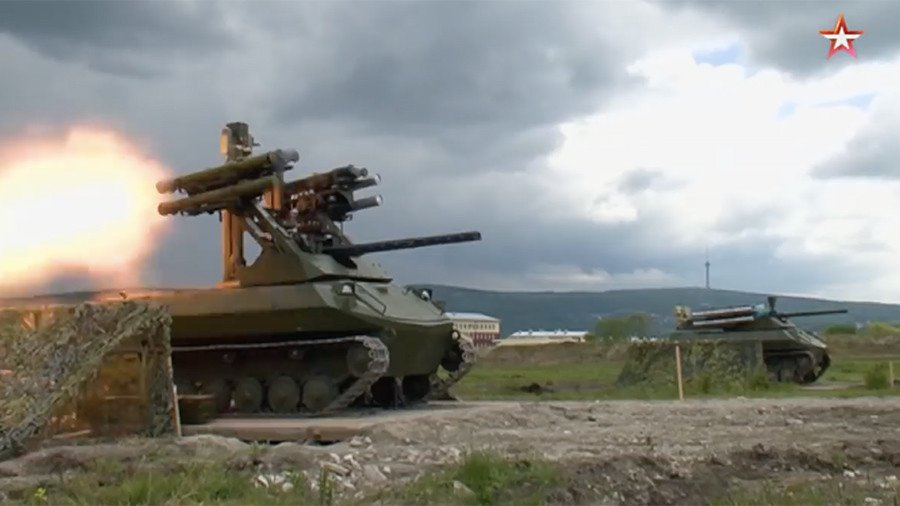 A test-run of Russia's cutting-edge Uran-9 Unmanned Ground Combat Vehicle has been caught on video. The machine, which has been deployed in Syria, will be among the newcomers in the upcoming V-Day parade in Moscow.
The remote-controlled Uran-9 is seen maneuvering through mud and firing off salvos in the latest video released by Russian Zvezda TV, an official outlet of the defense ministry. The war machine has already been seen at rehearsals for the 2018 V-Day parade, which will take place on May 9 on Red Square.
The sophisticated 12-tonne vehicle is capable of destroying enemy tanks and light fortifications. It is armed with a 30mm 2A72 automatic gun and a 7.62mm PKTM machine gun. It is also equipped with Ataka anti-tank missiles. One of the Uran-9 vehicles featured in the video is fitted with six Shmel-M rocket-propelled anti-personnel flame throwers. To hide its position, the Uran-9 is equipped with a special system which helps it cheat enemy radar.
On Sunday, the Russian Defense Ministry released a video of a test run of the BMPT Terminator tank-support vehicle, another weapon system that will be on display in the Victory Day parade.
Think your friends would be interested? Share this story!
You can share this story on social media: