'Hello, Vladimir Putin, I am a robot!' President shakes hands with Russian-made android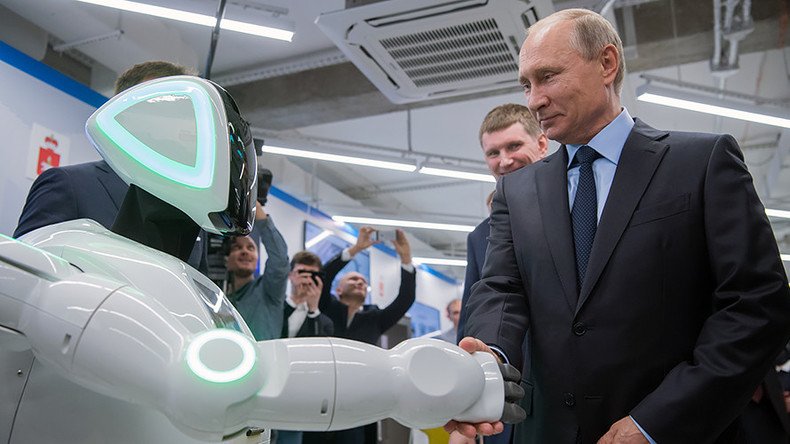 Popular Russian welcome robot Promobot, which has made headlines around the world over the past several years, surprised Vladimir Putin when he recognized him at a tech forum, and started enthusiastically introducing himself.
The Russian president was making a tour of an IT exhibition in Perm, which is vying to become the country's Silicon Valley, and stopped by the big-eyed, three-fingered, human-sized machine.
Its inventors began delivering a presentation about their brainchild, when Promobot suddenly began flashing after spotting the president, and said "Hello, Vladimir Vladimirovich Putin, I am Promobot," and reached out with his hand, which Putin shook.
Promobot, which is used as a guide, bank assistant, and eye-catching salesman in dozens of places across Russia, keeps a database of regular clients, and – as it turns out – prominent public figures.
By recognizing who he is talking to, he can adjust his script, and offer personalized assistance and conversation.
Designed by a group of 20-something Perm designers three years ago, the robot, which was intentionally modeled to resemble beloved androids from films – such as C-3PO from Star Wars, JARVIS from Iron Man, and VGC-60L from Robot & Frank – has been the subject of several viral stories.
Last year, a prototype model was said to have escaped from its testing laboratory, while a video released by the developers two months ago showed a Promobot seemingly saving a small girl from being crushed by a bookshelf, in a behavior it supposedly learned by itself.
Its makers say that they have sold the machines, which are priced at $20,000 and up, in numbers around the globe.
During his Perm speech to local start-up companies, Putin encouraged them to develop more Russian tech, particularly in sensitive areas such as security, and said that he believed that the internet-of-things would be a key practical innovation in the coming years.
You can share this story on social media: