Race of the war machines: Russian battlefield robots rise to the challenge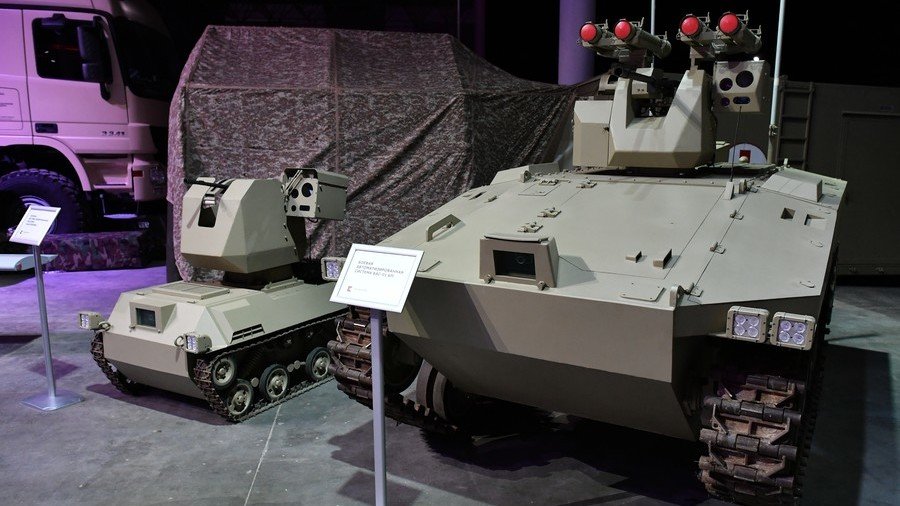 The battlefields of the future look set to be the province of robots duking it out on the field as their operators sit pretty, miles away. Russia is moving in leaps and bounds towards fielding its own unmanned forces.
Modern robots are nothing like the Terminator: Fielding human-shaped automatons for combat is much more trouble than it's worth, so most ground robots are more or less tank- or car-shaped. They aren't fully controlled by an artificial intelligence, either – not just yet, at least.
With its enormous war budgets and military industrial sector, it's no surprise the US has been at the forefront of unmanned combat vehicle development. Its Predator drones have been raining death on Pakistan, Afghanistan and Yemen for over 15 years now, and it has been employing small, ground-based firing platforms like SWORDS for years, not to mention the multitude of bomb disposal and surveillance robots.
Russia is rapidly catching up. Within just the last five years, a slew of battle robots of various sizes and purposes have been conceived, developed and have cleared testing. Here are the most prominent examples.
The universal: Nerekhta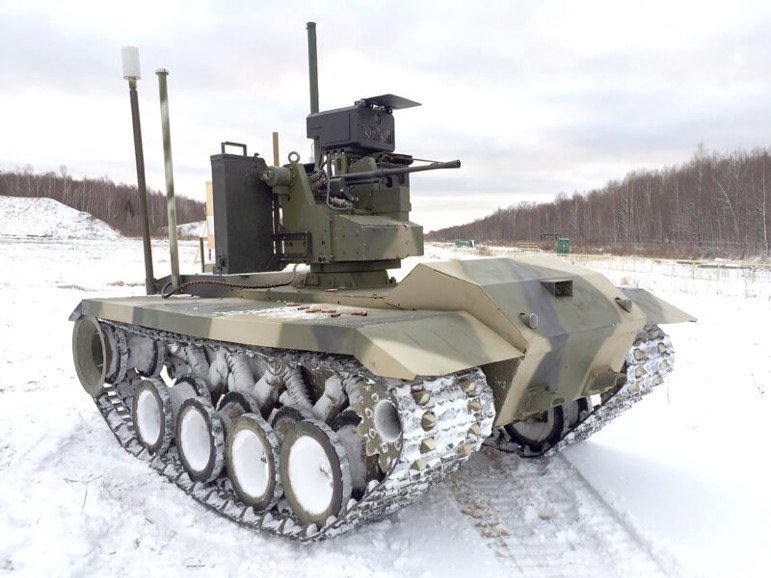 The remote-controlled Nerekhta, created by Degtyaryov Plant and approved for deployment in the Russian army in late 2017, is a modular vehicle based on a small, tracked chassis – 2.6m (8 feet) long and 0.9m (3 feet) tall minus the functional part. It comes in three distinct loadouts: combat, surveillance and transport.
The war machine variant features either a machine gun – which can be the 7.62 Kalashnikov PKT, or the anti-materiel 12.7 Kord – or a 30mm automatic grenade launcher. The surveillance variant is an artillery spotter, equipped with a suite of electronic and optic gear that can pick targets up to 5km away. The transport is little more than a cargo bed with, optionally, a loading crane on top of the chassis.
READ MORE: Russian combat robots conquer snowy battlefield in drill outside Moscow (VIDEO)
The practical: the Uran series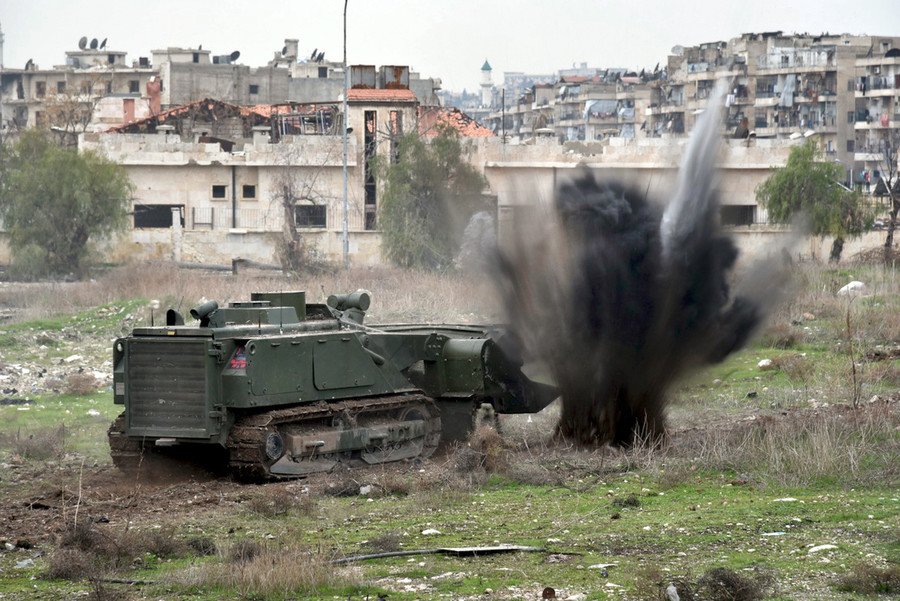 The Uran-6, which looks like an angry tank-bulldozer hybrid, is already busy clearing mines in Syrian villages liberated from jihadist militants. The squat six-ton vehicle features a variety of tools which can be changed to better suit the terrain, and thick frontal armor to ensure it can withstand a landmine blast in the face.
READ MORE: Russian experts & robots defuse over 1,500 mines in liberated Palmyra (VIDEO)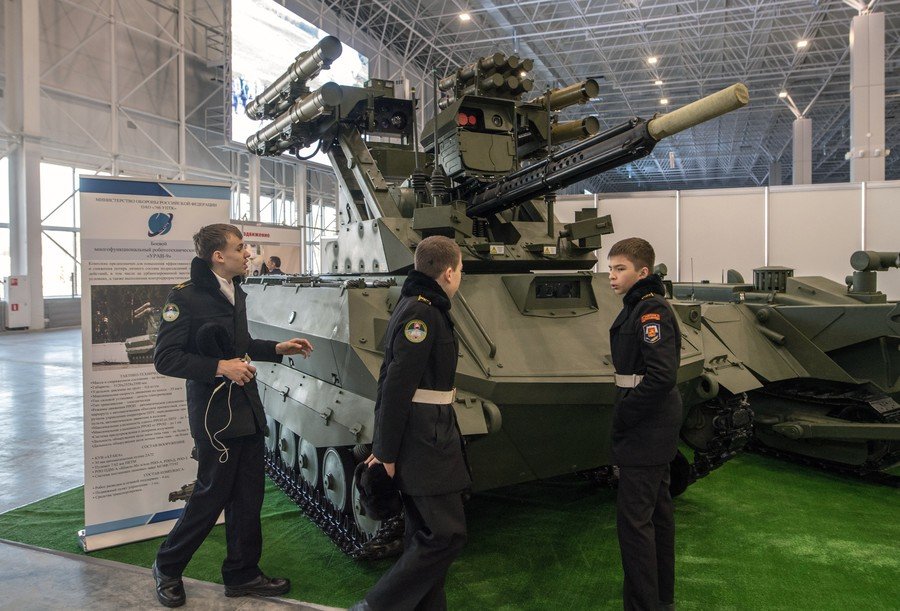 The Uran-9, currently in the testing phase, looks more like an actual tank, albeit somewhat more compact. It carries a 7.62 machine gun and a 30mm autocannon by default and can also be outfitted with anti-air or anti-tank missiles. It is envisioned as a fire support vehicle, capable of destroying enemy tanks and light fortifications. Its complex electronics allow for some autonomy in combat, like detecting enemy targeting lasers and deploying a smokescreen for cover. The Urans are the flagship product of the relatively unknown 766 UPTK company.
The smart: Soratnik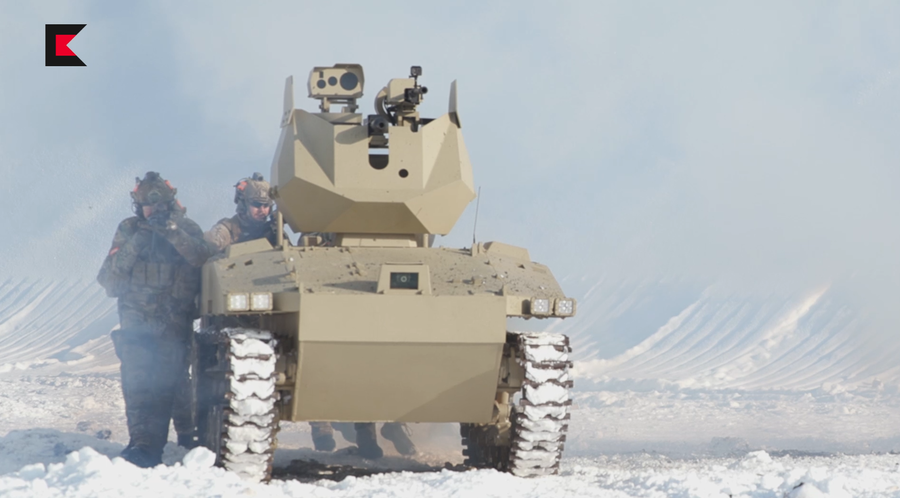 Kalashnikov Concern's Soratnik ('fellow soldier') finished testing in 2017. It's a seven-ton unmanned vehicle capable of autonomously picking, tracking and shooting targets with one of its possible weapons – which can range from an anti-personnel machine gun to anti-tank missiles. The Soratnik's electronics are designed to network with surveillance drones.
READ MORE: Russian 'drone tanks' take part in military drills (VIDEO)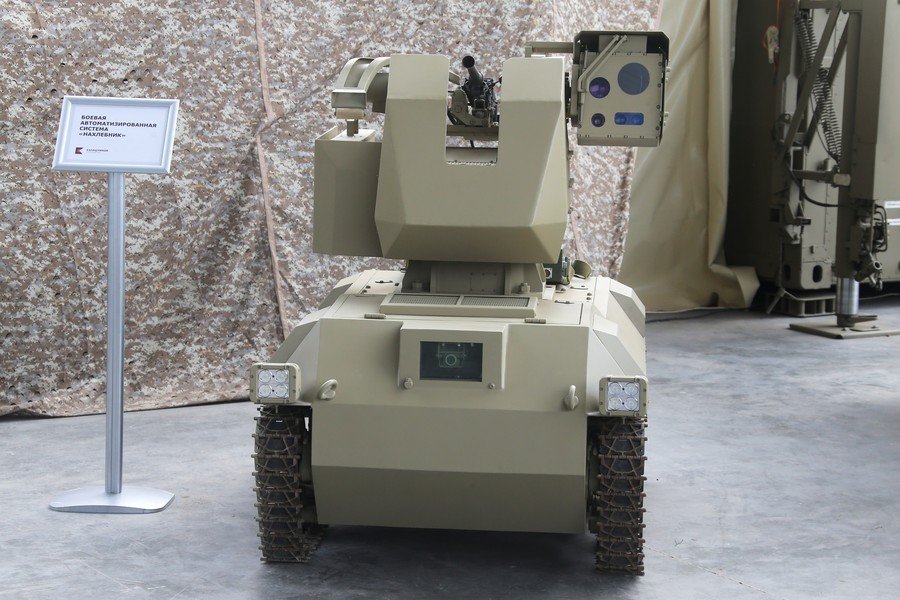 Kalashnikov also unveiled a prototype companion vehicle for the Soratnik in 2017. Dubbed Nakhlebnik ('hanger-on,' because funding for it was leeched off Soratnik's budget) is essentially a scaled-down copy of the Soratnik, armed with only an anti-personnel machine gun. It's designed to provide cover for its bigger fellow. However, neither of the two are slated for use in the military so far and both will most likely be used as base for further combat robot development projects.
The heavy: Vikhr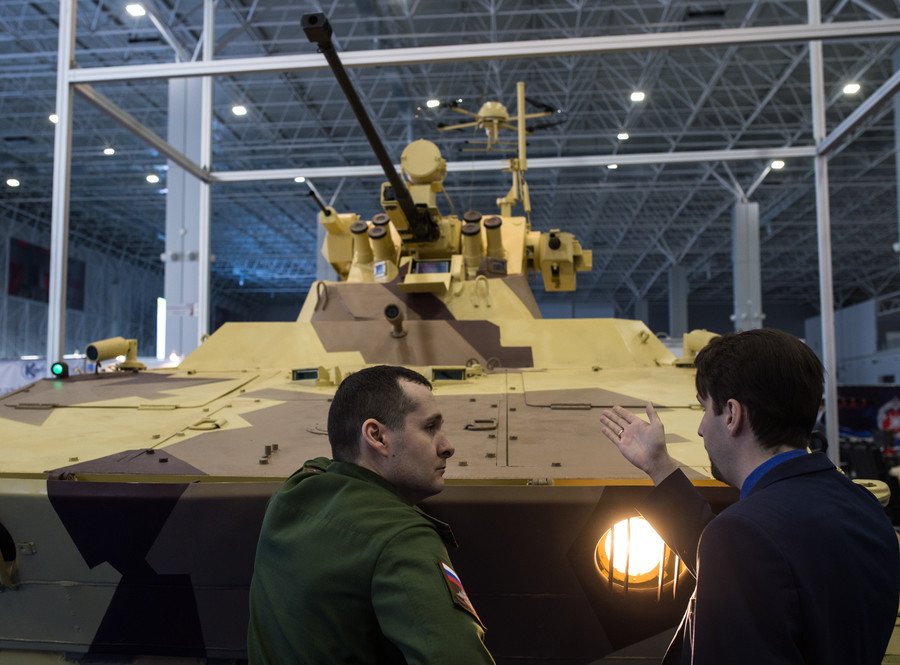 The heaviest of Russia's perspective combat robots, Vikhr ('whirlwind') is a full-sized infantry fighting vehicle (IFV). Stuffed with advanced electronics, it now has full remote control capabilities. At the moment it still takes a crew of three, just like a regular IFV of this type, but work is in progress to optimize controls so that it only requires one operator. In a pinch, the crew can still jump inside and drive the Vikhr as they would a regular IFV.
The Vikhr's arsenal includes a 30mm autocannon with a coaxial 7.62 machine gun, as well as an anti-tank missile launcher. Situational awareness is provided by on-board cameras, as well as a wing of small drones tethered to the vehicle via radio signal. The Vikhr can be remotely controlled from up to 5km away. The Vikhr is being perfected by the Russian Defense Ministry's R&D branch together with two prominent research institutions.
The expendable: Platforma-M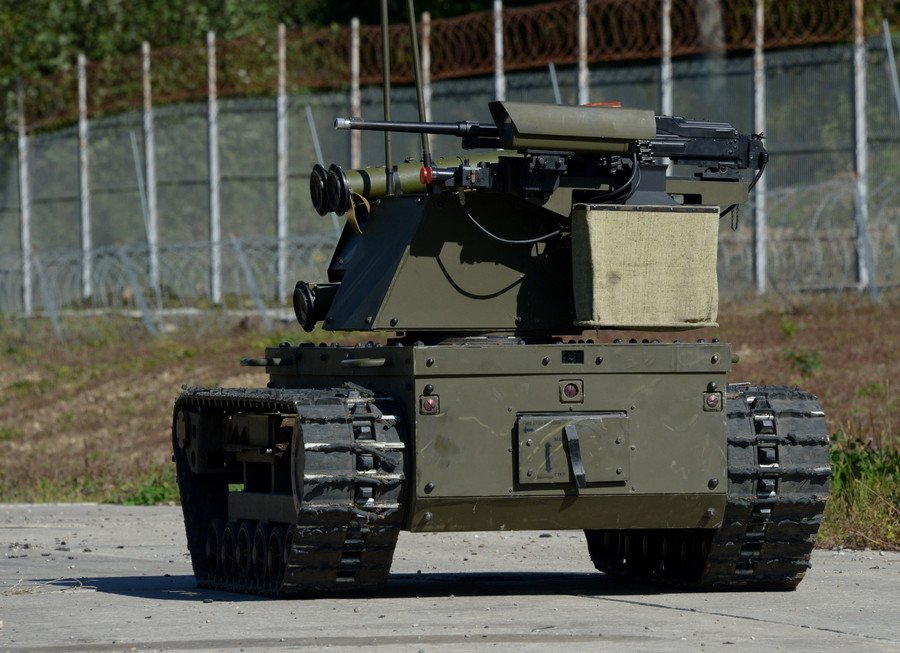 These have reportedly seen combat in Syria, fronting the government forces' advance in Latakia in 2016. Weighing less than a ton (small, as far as deadly war machines go), it carries four one-shot anti-tank RPG tubes and a 7.62 machine gun.
The Platforma-M has a number of drawbacks: armor only effective against small arms fire, a top speed of a mere 12 km/h, and remote control distance of just 1.5km. Still, it gets the job done in a cost-effective way, and is rather simple to control: photos from the field show soldiers steer it with what looks very much like a gaming console gamepad. The Platforma-M was created by the Progress research and technology institute.
In the air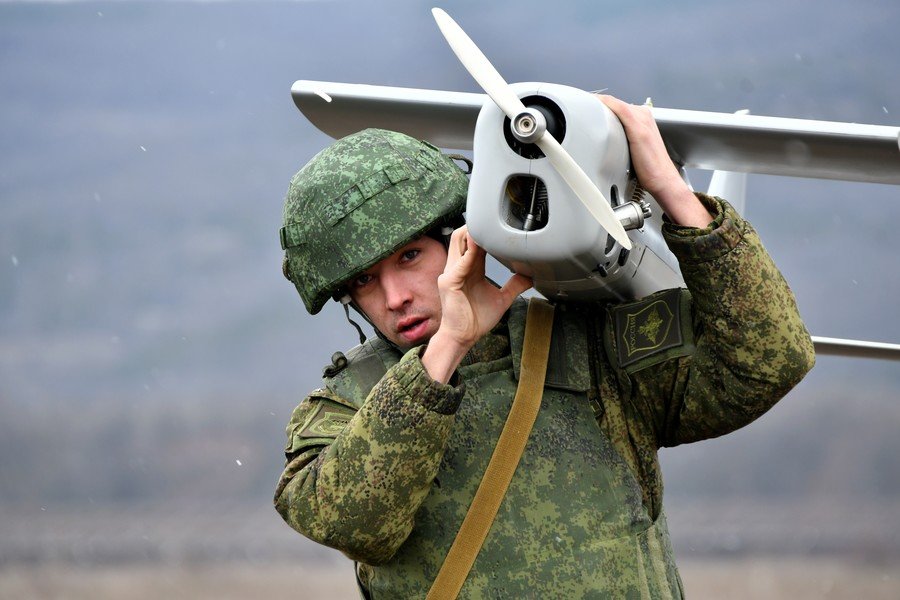 Unlike the US, where unmanned aerial vehicles (UAVs) are used extensively to bomb ground targets (which has led to hundreds of civilian casualties over the years), the Russian military uses them for scouting. A range of small and expendable flying drones, both Soviet- and Russian-developed and imported, have seen heavy duty across the recent years. Footage from Syria shows them used to scope out jihadist targets for pinpoint airstrikes.
Russia's two top aircraft manufacturers, MiG and Sukhoi, are both developing combat-capable drones, the first of which, made by MiG, are supposed to enter service in 2020.
At sea
Again, most research and development in this area is aimed to create surveillance and utility craft, capable of scouting out Russia's maritime approaches and performing search and rescue operations. One of the key concerns is for the underwater drones to be able to functions autonomously for weeks on end. Russia is currently using a number of imported sea robots, but R&D is scrambling to replace them with domestic models – with an eye particularly on Arctic areas and swarm technologies.
Like this story? Share it with a friend!
You can share this story on social media: