Russian combat robots conquer snowy battlefield in drill outside Moscow (VIDEO)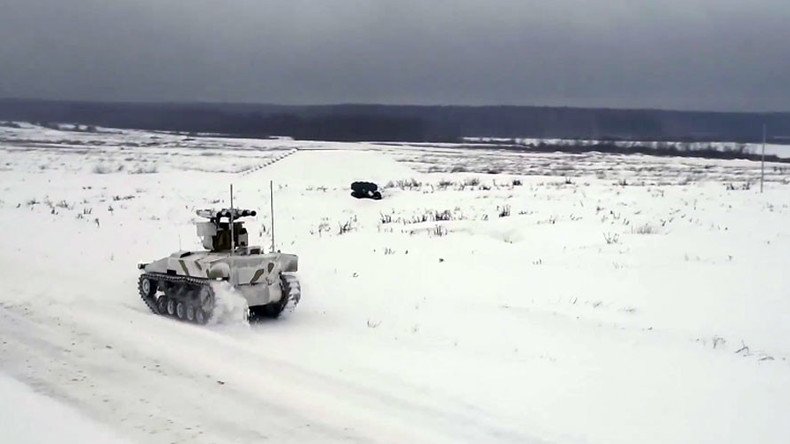 The Russian army is preparing to meet the challenges of modern warfare as it tests brand new combat robots in harsh winter conditions. A Defense Ministry video shows how cutting-edge robots are fighting alongside soldiers and manned armored vehicles.
The Defense Ministry has released a new video showing its two newest unmanned ground vehicles (UGVs), the Soratnik and the Nerekhta, taking part in an infantry winter exercise on the outskirts of Moscow.
In the video, both robots as well as BTR-82A infantry fighting vehicles are seen maneuvering along the battle lines of an army unit. The robots are suppressing "enemy" positions with machine gun fire; one of the vehicles is armed with four rocket launchers.
This is the first time that unmanned ground vehicles have being tested for interoperability with a conventional army squad, General Oleg Salyukov, commander of the Russian military's Ground Troops, told TASS.
"The vehicles do meet some of our requirements, and something is yet to be done, but the main criterion applied to these systems is their capability to be used by the troops," he added.
READ MORE: War machine: Robots to replace soldiers in future, says Russian military's tech chief

The Soratnik, a 7-ton tracked vehicle manufactured by the Kalashnikov concern, can be fitted with a 7.62mm or 12.7mm machine gun, a 30mm grenade launcher or even Kornet-EM anti-tank rockets. It can operate for up to 10 days in stand-by mode, and detect and destroy enemy targets at ranges of up to 2,500 meters.
Notably, it is also interoperable with unmanned aerial vehicles (UAVs) and is capable of conducting surveillance, patrol and minesweeping missions. The Nerekhta has similar features, but is only capable of mounting 7.62mm or 12.7mm machine guns. Ultimately, a more powerful machine gun may be specifically designed for the Nerekhta, TASS reported, citing a source in the manufacturing company, the Degtyarev Plant.
Russian armed forces have significantly progressed over the years in the development and use of various robotic systems. State-of-the-art weapons systems, such as the T-50 fifth-generation fighter jet or brand new Armata main battle tank, are said to involve robotic technologies or artificial intelligence.
Military industry officials also say robotic combat platforms will define future battlefields, gradually replacing human soldiers. "It would be powerful robot units fighting on land, in the air, at sea as well as underwater and in outer space," Lieutenant General Andrey Grigoriev, head of the Advanced Research Foundation (ARF) – viewed as Russia's analogue of DARPA – told RIA Novosti in July.
"The soldier would gradually turn into an operator and be removed from the battlefield," he said.
You can share this story on social media: