War machine: Robots to replace soldiers in future, says Russian military's tech chief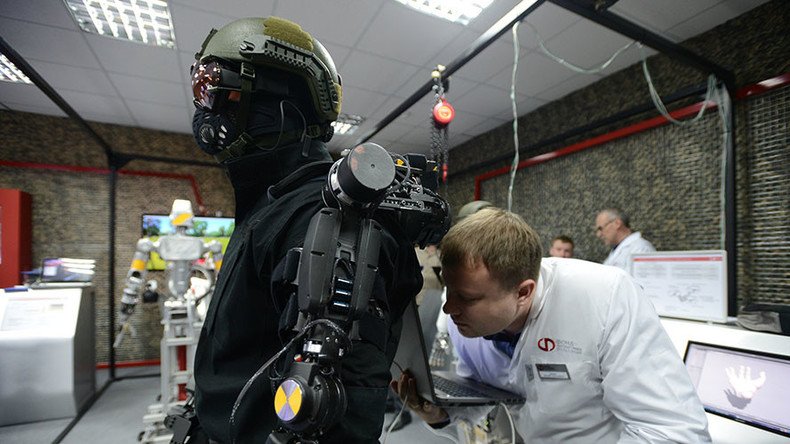 Future warfare will see sophisticated combat robots fighting on land, in the air, at sea and in outer space, the head of Russia's military hi-tech body has said, adding that the days of conventional soldiers on the battlefield are numbered.
"I see a greater robotization [of war], in fact, future warfare will involve operators and machines, not soldiers shooting at each other on the battlefield," Lieutenant General Andrey Grigoriev, head of the Advanced Research Foundation (ARF) – viewed as Russia's analogue of DARPA – told RIA Novosti in an interview on Wednesday.
He noted that future warfare will be determined by unmanned combat systems: "It would be powerful robot units fighting on land, in the air, at sea as well as underwater and in outer space."
"They would be integrated into large comprehensive reconnaissance-strike systems," Grigoriev added.
"The soldier would gradually turn into an operator and be removed from the battlefield," he stressed.
Last October, the United Instrument Manufacturing Corporation (UIMC) said it had developed the Unicum software package, which is capable of powering a group of up to 10 robotic systems. It can distribute 'roles' among robots, choose a 'commander' of the robotic task force and assign a combat mission to each individual machine.
Humans, however, will still play a role on the battlefield until robotized warfare becomes reality, Grigoriev stressed. While work on Russia's infantry combat system Ratnik 2 is underway, the AFR is already looking for a next-generation upgrade.
The Legionnaire, a new project, would involve brand-new firearms, communications systems as well as enhanced protection from bullets and shrapnel, allowing an infantryman "to feel comfortable in any environment."
Last year, Russia unveiled a constellation of sophisticated robots armed with machine guns, automatic cannons, grenade launchers and non-lethal equipment. Russia's latest main battle tank, the T-14 Armata, will also get robotized features which are likely to make it the deadliest unmanned ground vehicle (UGV) ever known.
In June last year, Grigoriev also told reporters that Russia was developing a cyborg "resembling a human in appearance" and designed to operate in hostile environments. The humanoid will learn how to run, jump, overcome obstacles and even ride a motorbike, he announced.
In March of this year, Uran-6 mine-cleaning robots were used by Russian bomb disposal units deployed to the Syrian city of Palmyra on a de-mining mission. The robots were said to be capable of carrying out controlled explosions or destroying explosive devices they encounter.
You can share this story on social media: