Prepare to be Terminated: Russia readies first robot tank, shows off Armata at arms expo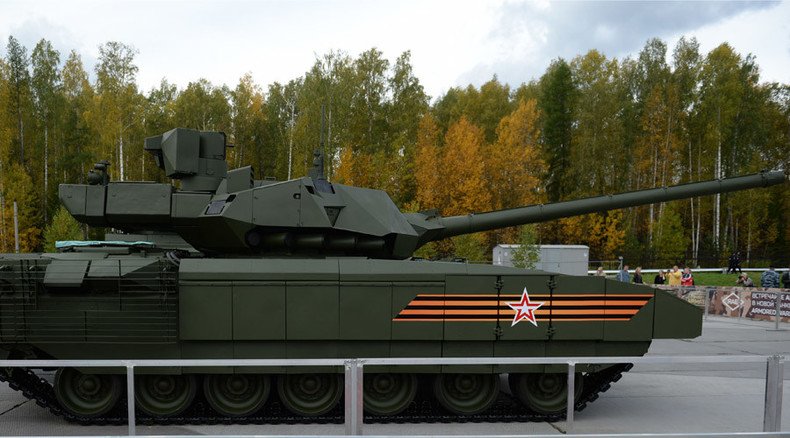 Russia's military says it is ready to start producing a fully autonomous armored combat system to operate on the battlefield with only remote control and support from personnel. This system is Russia's T-14 Armata tank.
"The future belongs to unmanned [battle] vehicles. To ensure transition to fully robotic machines, we must achieve new levels of automatization, and secure the principles of remote control," Andrey Terlikov, the chief designer of the T-14 Armata tank, told RT.
"This vehicle has everything necessary to take the decisive step towards remotely controlled autonomous combat vehicles," he added.
So, is Armata going to fight by itself? Not just yet, the designer says, but soon. "Armata is a manned tank, but its ability to operate without crew is a matter of the immediate future," Terlikov said.
Russia's military has shown off the Armata tank for the Zvezda military TV channel.
Christopher Foss, Editor at Jane's Defense weekly, said it was very impressive to see the Armata tank and the T-50 5G fighter jet at the ongoing Russia Arms Expo 2015 in Nizhny Tagil.
READ MORE: Engineers envisioned T-14 tank 'robotization' as they created Armata platform
There are many other defense exhibitions around the world, yet few of them have a firepower and mobility demonstration, so to see vehicles performing was of particular interest, Foss said.
READ MORE: Network-centric: Russia's new Armata tank 'to absorb all battlefield intel'
"For an hour and a half your potential customers see the vehicles being put through their paces and firing their weapons… in that respect it's unique," Foss told RT.
READ MORE: Armata T-14: 10 things we know about Russia's state-of-the-art tank
You can share this story on social media: