Network-centric: Russia's new Armata tank 'to absorb all battlefield intel'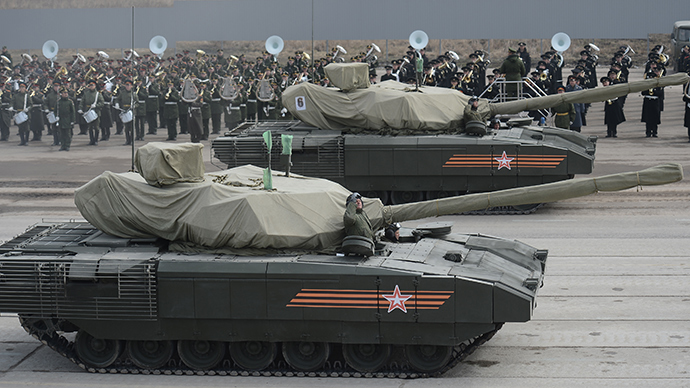 Russian battle armor manufacturers have outfitted their latest vehicles with cutting-edge electronic systems allowing for the gathering and analysis of battlefield data from multiple sources in the blink of an eye, sources claim.
Network-centric warfare is a military doctrine first pioneered in the US in the 1990s, which promotes the importance of having an information advantage and using it to coordinate the actions of all forces on the battlefield, through the use of computer technology and high-tech communication systems.
Russia's new vehicles, including the T-14 Armata main battle tank, which the general public will see for the first time at this year's Victory Day parade in Moscow, reportedly come fully-equipped for such warfare.
"New communications equipment allows the vehicles' crews to see the whole tactical situation in real time and communicate with command points and other military units within a single system of automated combat control," a representative of state corporation Rostec said.
The new electronics will make the tanks a part of a network which also includes drones, electronic countermeasure systems and targeting devices. The creators say it will take less than a minute after a target is detected for its exact coordinates to be transferred to weapons crews.
"All the information received will be displayed on a screen," Geopolitical Problems Academy President Konstantin Sivkov told RT. He says the most important thing in tank combat is to have a system which allows for commanding officers to quickly detect and designate targets and orders to target and fire.
READ MORE: Is that Russia's top-secret Armata tank? Video leaked ahead of Victory Day parade
Sivkov compared Russian systems to foreign analogues.
"There is such a thing as reaction time. For American and German tanks it's three to four seconds. For old Russian tanks it's five to six seconds. The new Armata tanks will have a quicker reaction time, most likely on par with the American and German machines."
Another important issue is the range of the tank's main gun. Older Russian tanks have a range of up to 2.5km, compared to modern American and German tank ranges of 3 to 3.5km. Armata is expected to shoot farther than 3.5km.
Sivkov also mentioned that newer Russian tanks like the T-90MS are fully competitive with its foreign counterparts, and the only problem is the low number of T-90s in the army.
However, he warns that network-centric systems can be unstable.
"Electronics are a very sensitive thing," Sivkov said. Should the system get suppressed, the tank's crew could be left practically helpless, unless they are also trained in more old-school style of combat.
Apart from the T-14 Armata, the new network-centric electronics will be installed on new models of armored troop carriers, infantry combat vehicles and armored cars.
You can share this story on social media: