Is that Russia's top-secret Armata tank? Video leaked ahead of Victory Day parade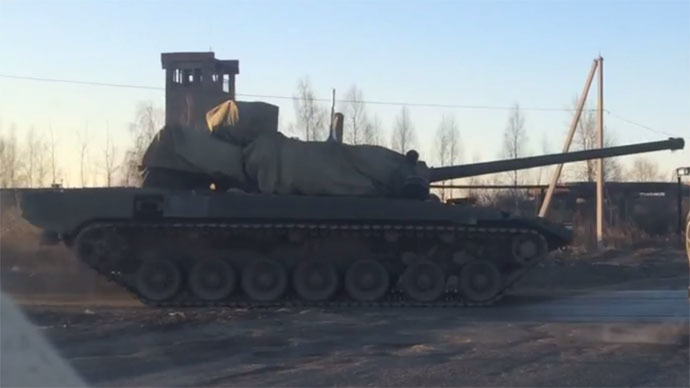 A video allegedly showing Russia's brand new T-14 Armata tank, which will only be revealed to the public during the Victory Day parade on May 9, has been leaked on the internet.
READ MORE: Russia's new Armata tank on Army 2015 shopping list
The tank was shot on the move in Sverdlovsk region, located in Russia's Urals, judging by the license plates of the escort vehicle.
The tank turret was covered in tent-cloth, but T-14's branded seven-wheel design was still distinguishable.
According to Sputnik news agency, the armored fighting vehicle in the footage featured a new generation 125mm extended-length smoothbore gun.
Previously, the photos of camouflaged Armata T-14 tanks, being transported to the Alabino range near Moscow for training ahead of the parade, were posted online.
The first ever photo of the Object 148 'Armata' new-generation MBT, taken today! pic.twitter.com/prRX4LvD9m

— Private Joker (@pfc_joker) March 23, 2015
The Armata armored tracked platform is capable of hosting a fifth generation conventional land tank, heavy APC, artillery, and a missile launcher – and possibly a fully robotic assault armored vehicle.
It took five years of development for the Uralvagonzavod Research and Production Corporation to finalize the manufacturing of the first batch of new tanks.
Twenty units have reportedly been produced and issued to Russian military troops for hands-on training.
Armata tanks have been included in Russia's 2015 defense order. According to preliminary estimates, 2,300 units will be required to satisfy the military's demand.
In addition to the Armata tank, the May 9 parade will feature Russia's newest military hardware – such as advanced Kurganets 25 and Bumerang tracked armored vehicles, Taifun-U armored cars, Coalitsia-SV self-propelled artillery pieces, and Kornet-D missile systems.
You can share this story on social media: