Fall of 'Jupiter'? Macron's popularity down, as hopes for the 'political wonderboy' seem to vanish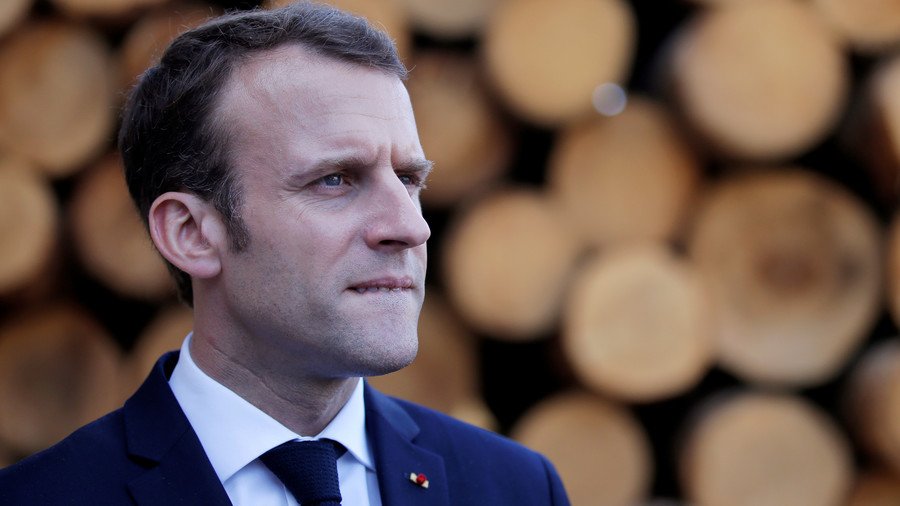 Emmanuel Macron became the president of France following a landslide victory a year ago. The man, who was once seen as a symbol of hope and renewal, seems to have turned into a source of "dissatisfaction" for the French.
In early May 2017, Macron won the French presidential elections with 66.1 percent of the vote, which was one of the most decisive results in the history of the French Fifth Republic. A month later, his party, 'Republic on the Move' (LREM), scored another impressive victory by winning a majority of seats in the French parliament.
Sweeping into office on a broad platform (though many pointed out that the public had to wait to hear what exactly he had in mind), Macron was regarded as fresh-faced and blessed with an aura of success. The 39-year-old newcomer, who was described as a "political wonderboy" and France's "youngest leader since Napoleon Bonaparte," famously promised to renew France and bring the nation together.
However, a year after his inauguration, it still remains to be seen whether Macron will manage to fulfill his promises. His public image has definitely lost its appeal with the people, after many became disillusioned with the leader they dubbed the 'President of the Rich,' who they believe is "unfair" and does not care about the needs of ordinary citizens.
'President of the Rich'
Some of Macron's complex reforms attempted to revive the French economy and increase the country's competitive advantage on the international stage. They targeted labor laws and social benefits – the cornerstone of the social and economic structure of French society, which has remained unchanged for decades, guarded by powerful trade unions. The reforms were also aimed at reducing the country's high unemployment rate.
READ MORE: Millions of French workers go on strike against Macron labor reforms
A former investment banker, Macron sought to grant employers more power to negotiate employment conditions with workers, making it easier for them to hire and fire staff, while capping payouts. The new measures also involved job cuts and salary freezes across the public sector, including in education, transportation and the courts. The move immediately sparked outcry among a significant part of French society, and the reforms were branded an "assault on the workers' rights." Some also argued that the president had decided to fight the unemployed instead of fighting unemployment.
Dissatisfaction with the president's policies soon spiraled into massive protests, which have been sweeping France throughout his term. These demonstrations have often turned into clashes between angry protesters and police.
READ MORE: What's wrong with Macron? 6 awkward comments the French leader has made about Africa
Macron's policies also angered students to the extent that they blocked several educational facilities across France, including the famous Sorbonne, in response to the government's plans to introduce admission criteria and rank young people who apply to universities.
Meanwhile, rail workers began staging rolling rail strikes, which severely disrupted train services across the country, with the intention of forcing Macron to abandon his plan for a major overhaul of state rail operator SNCF.
In the face of widespread public discontent, which still shows no signs of waning, Macron has remained uncompromising in his drive for reform.
Notably, reforms that typically take time to take effect have already started to yield results for the president. He has already managed to reduce unemployment to its lowest rate in nine years, to slightly increase GDP growth, and to attract some investment into the French economy.
His people, however, still accuse Macron of infringing upon worker's rights and doing favors for corporate "bosses" at the cost of others.
'Tell him France is not a monarchy'
Against the background of the already tense social climate that was affected by his reforms, Macron once told the workers of a bankrupt plant, who were battling to save their jobs, to look for some other jobs instead.
Elsewhere, he unceremoniously branded all opponents of his reforms as "lazy… cynical or… extreme." He also said that France is not open to reforms because the French basically just hate them. Both of these remarks quickly sparked massive outrage on social media – but the public reaction was seemingly still not sufficient to warrant any sort of response from the president.
Macron's habit of portraying himself as royalty has seemingly become another point of contention. The president was first criticized in this regard after his inauguration, when he reportedly told his former presidential rival, Jean-Luc Melenchon, that "the king was elected four months ago." Twitter then exploded with sarcastic comments, calling on people to "tell him that he is not a king."
On another occasion, Macron even vowed to follow the style of Jupiter in ruling the country, apparently referring to the god of gods from Roman mythology.
More recently, the president's spokesman compared Macron to a monarch once again. He called the leader's touch "performative" and "fundamental," reminding readers that, when "the king touches you, God heals you." The high-flown and apparently inappropriate comparison predictably sent Twitter into another meltdown.
Macron's lavish lifestyle also seems unlikely to increase the French leader's popularity. His decision to celebrate his birthday in the giant Renaissance-style Chateau de Chambord, a UNESCO World Heritage site and once the stomping ground of French royalty, only provoked another wave of criticism from the opposition.
The French people, however, were not the only ones to experience Macron's perceived arrogance firsthand. In August 2017, he openly claimed that Poles deserve a better government that would not isolate the country from the rest of Europe. Previously, the French leader also made a number of awkward blunders, embarrassing several African nations during a trip that was aimed at improving relations with West African states.
Immigration policy mess
Macron also tried to resolve another pressing issue that has haunted France in recent years: the refugee crisis.
He first unveiled a bold plan to "house everybody in a dignified manner." Later, he adopted a tougher position and said that France would immediately expel all undocumented migrants who committed crimes on its territory.
READ MORE: Macron's broken promise? Hundreds still freezing on Paris streets
None of these approaches seem to have yielded any significant results so far. In early 2018, almost half a year after Macron made his promise to deal with the issue, hundreds of refugees and migrants were still freezing on the streets of the French capital, while local residents were threatening to stage a hunger strike over migrant camps.
France is back?
The leader, who declared that "France is back" on the world stage, seems to have little to boast about in the field of foreign policy. Apart from a highly controversial trip to West Africa, the list of his endeavors also includes an unsuccessful attempt to convince US President Donald Trump not to abandon the nuclear deal with Iran, and his participation in strikes carried out jointly by the US, the UK and France in Syria.
The strikes, conducted under the dubious pretext of an alleged chemical attack in the Syrian city of Douma before any investigation of the incident even began, sparked public concerns about France's involvement in the operation. In addition to this, Macron witnessed a backlash in the European Parliament when, during his speech, more than a dozen MEPs protested by holding signs reading "Hands off Syria!" and "Stop the War in Syria."
READ MORE: At least 55% of French 'dissatisfied' with President Macron – poll
After a year in office, the president, who once vowed to improve France's image both domestically and abroad, is having to deal with his own waning popularity. Public support for Macron has diminished to 44 percent, while around 55 percent say they are "dissatisfied" with the president's performance.
Like this story? Share it with a friend!
You can share this story on social media: