French police oust protesting students from iconic Sorbonne University (PHOTOS)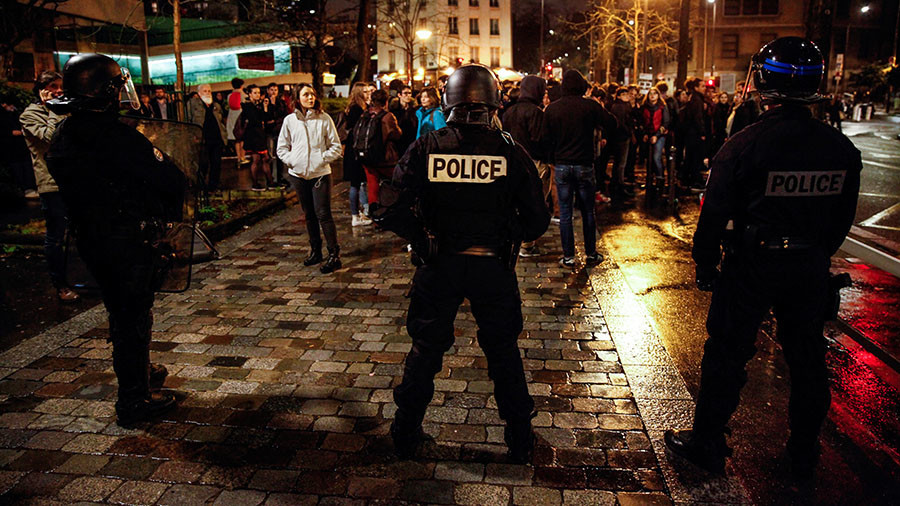 Police removed some 200 students who occupied the famous Sorbonne University in Paris. Several universities across France remain blocked by protesters raging against a new educational reform.
The demonstrators in the University of Paris, commonly known as the Sorbonne, occupied the spaces inside the building on Thursday afternoon. The university authorities attempted to negotiate with the protesters but when three-hour talks failed, they called for police intervention. The evacuation of the students which took place in the early hours of Friday was "calm" and "without incidents," according to the police statement.
The students were protesting against the government plans to grant universities the power to set up admission criteria in order to avoid overcrowding. The opponents of the reform insist that the law would violate the basic French principle of education for everyone.
On Friday, the Sorbonne announced on Twitter that it would shut for at least two days for "security reasons."
The university, one of the oldest in Europe, was the epicenter of student protests 50 years ago in May 1968, a pivotal moment in modern French history. The protests at that time slammed capitalism, American imperialism and traditional values.
Also on Thursday, police units were called to the Paris-Tolbiac University, which has been occupied by protesting students since late March. However, officers didn't remove the demonstrators. "We are going to stay here because we want the government to hear us, people are angry," a female student from the university told L'Obs.
The protest in the Sorbonne is the latest in a string of demonstrations against the new educational reforms that have taken place across the country since March. According to the Education Ministry, four universities – in Toulouse, Montpelier, Rennes and Saint-Denis – either remain completely blocked by protesters or closed. Nine more have been struck by partial blockades and protests.
On Thursday, President Emmanuel Macron stressed that he would push more for the reforms and called those who protest in the universities "professional agitators, professionals of disorder." His pro-market reforms in the early days of his presidency were also met with student protests. Once regarded as a breath of fresh air, Macron has seen his approval rating slide among left-leaning voters. His popularity is rapidly collapsing following overwhelming presidential and parliamentary wins in summer 2017.
In less than a year in office, Macron, a former investment banker, has been already dubbed "the President of the Rich" for his lavish lifestyle. On several other occasions he was slammed for his royal birthday celebration, comparing himself to a king and advising workers protesting job cuts "to look for work."