'Black Tuesday': French rail workers begin 1st day of rolling strikes to protest Macron's reforms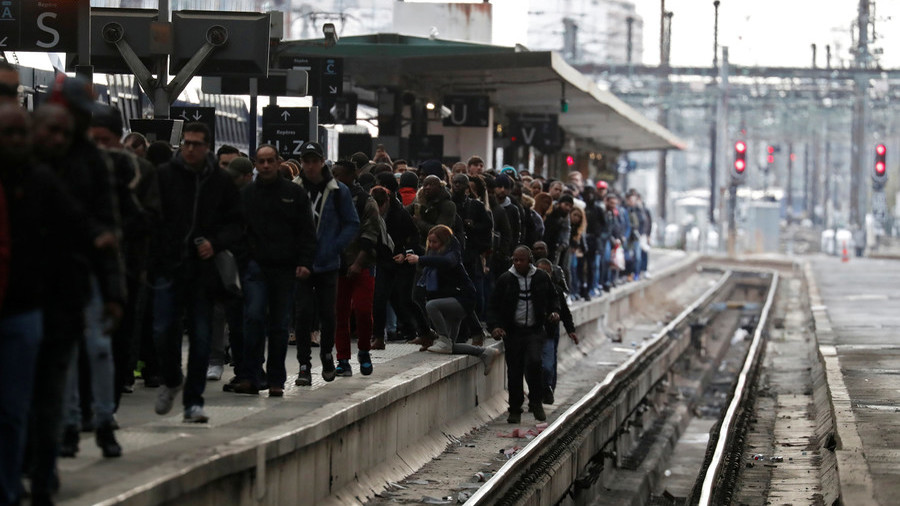 Three months of rolling rail strikes have started in France, in protest against reforms by French President Emmanuel Macron. Train services have been severely disrupted across the country.
The Tuesday strike is the first day of the planned action, which will see rail stoppages on two days out of every five, until June 28, unless Macron ends his plan for a major overhaul at state rail operator SNCF. Some 48 percent of train drivers are taking part in the strike, which has been dubbed 'Black Tuesday' by the French press.
"I want to be very clear... the strike action will no doubt be widely adhered to and is going to make the lives of a lot of people very difficult," SNCF boss Guillaume Pepy said in a radio interview, as quoted by Reuters.
Only one in eight TGV services – France's intercity high-speed rail service – are currently operating. Regional TER and Intercite train services have also been severely affected. Less than half of RER trains – which service Paris and its suburbs – are operating. The rail disruptions have led to extremely heavy traffic jams on roads around Paris.
International trains are also being affected. No trains are set to run between France, Switzerland, Italy, and Spain. Only one in every three trains to Germany is operating, while three out of four Eurostar trains – which connect London, Paris, and Brussels – are running.
The move is aimed at protesting against Macron's plan to transform the national SNCF – which is in massive debt – into a profit-maker ahead of the EU opening up state railways to competition from 2023.
The French president wants to phase out lucrative SNCF contracts, which give workers a job-for-life guarantee, automatic annual pay rises, a generous early retirement policy, and free rail tickets for relatives. Unions say Macron is paving the way for privatization.
"We're defending the French public service, not just rail workers," Emmanuel Grondein, head of Sud Rail, one of the four unions behind the industrial action, told Reuters.
Meanwhile, France is set to be hit by even more strikes on Tuesday, with garbage collectors, some energy sector staff, and Air France employees walking off from their jobs. Air France is set to operate 75 percent of its flights, as staff seek a six percent pay rise and stage their fourth strike in a month.
The actions are expected to mark the most significant wave of industrial action since Macron was elected in May 2017. This is in addition to strikes in recent weeks by pensioners, students, and public sector workers.
The strikes have left Gabriel Attal, a spokesman for Macron's Republic on the Move (LREM) party, unimpressed. "We need to rid this country of its strike culture," he told France Inter radio on Monday.
Despite the planned rolling strikes by rail workers, Macron plans to push through the SNCF overhaul by executive order, which will allow him to avoid parliamentary debate. His critics have slammed the move as undemocratic.
The SCNF reforms are part of wider reform goals being pushed by Macron, who was elected last year on a platform of economic transformation.
Think your friends would be interested? Share this story!