French truckers block borders to protest 'unfair competition' from eastern Europeans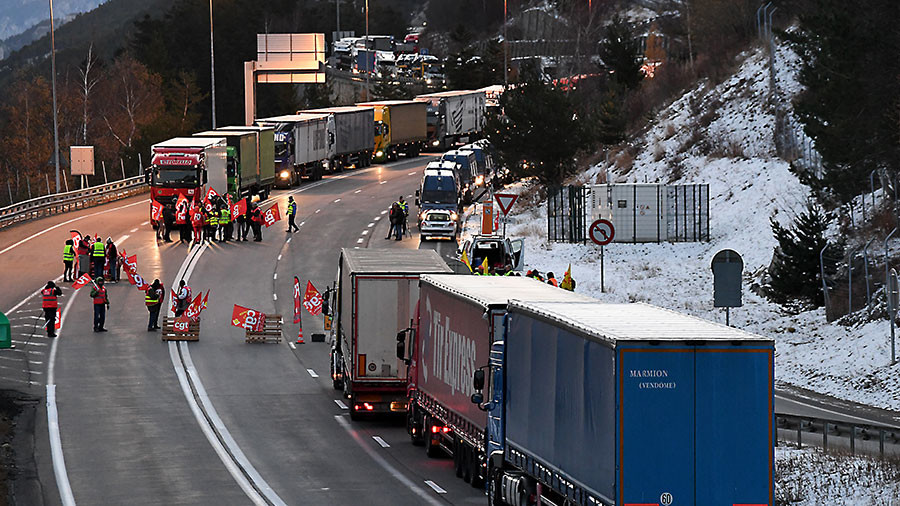 French truck drivers have blocked traffic at border crossings with Italy, Belgium, Spain and Germany to protest EU regulations which they say fail to protect their jobs from a cheaper Eastern European workforce.
The drivers blocked the Frejus tunnel in Modane before dawn Tuesday, with 200 trucks gathering at the crossing with Italy at some point. The same amount of lorries organized a blockade at the border crossing into Rekkem, Belgium. The protesters let cars pass but prevented access to all trucks, with the traffic jam there stretching some 10 kilometers.
Traffic on the main motorway from the French city of Lille to Ghent in Belgium was also disrupted. Similar actions took place at crossings into Germany and Spain, while on the Luxembourg border, truckers drove slow to obstruct traffic.
Read more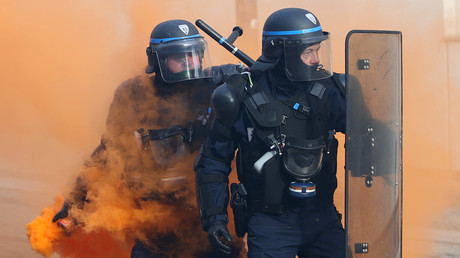 The protests, which lasted for several hours before the trucks cleared the way, were "a warning for Europe," Pascal Goument of the CFTC union said as cited by AFP. The French truckers are unhappy with the manner in which their president renegotiated the Posted Workers Directive with EU.
During talks in October, Emmanuel Macron, reached a compromise with Brussels to cut the time a foreign worker can be posted abroad to 12 months, with a possible half-year extension at the request of the employer. However, under pressure from Poland, Hungary and Spain, the road transport sector wasn't included in the deal.
Five trucker unions demanded a meeting with Macron Tuesday to discuss the issue, saying that French drivers are facing unfair competition from their cheaper EU colleagues, who pay taxes and social charges at home and cope without free meals and lodging.
"Widening gaps in pay and conditions endanger French firms and workers," Pascal Favre of the FO union told Reuters. "[There are] those who work for lower pay because they spend more time behind the wheel on jobs the French do not do because of unfair competition," he said.
READ MORE: Tear gas used in Paris as strike against Macron's labor reforms grips France (VIDEO, PHOTOS)
French drivers demand "equal work for equal pay – right now, not in 10 years," thundered Patrick Blaise of the CFDT union. Antoine Fatiga of the CGT union said, "We don't want drivers to be slaves on the road." When drivers from Poland, Hungary and elsewhere "come to work here for two times less than us, we struggle to keep our work."