'Will Macron heal empty wallets?' Twitter goes mad after spokesman's 'King touches you' comment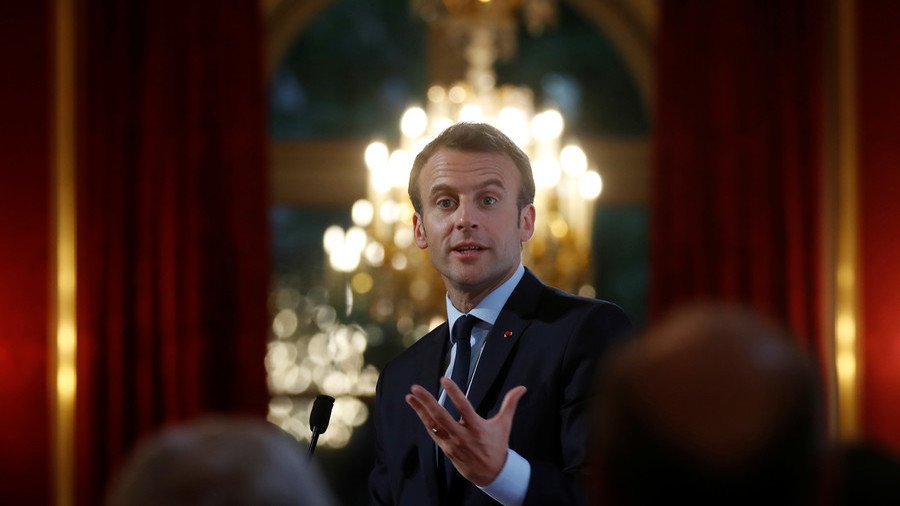 French Twitter is melting with 'King Macron' comments and barbs, after the President's spokesman called the leader's touch "performative " and "fundamental," reminding readers that, when "King touches you, God heals you".
The 'royal' scent that has emanated from Emmanuel Macron just won't leave him. This time social media went viral following a Le Monde story written by Bruno Roger-Petit, former journalist and now Macron's spokesman.
In a lengthy article dubbed 'Emmanuel Macron, one year of imperious presidency' Roger-Petit speaks about the results of the ambitious centrist's first year in power and his "accession to the Elysee [Palace]". His presidency has "monarchical symbolism," the spokesman has realized.
A separate paragraph is devoted to the leader's interactions with crowds. "For [Emmanuel Macron], the touch is fundamental; it's a second language. It is a performative touch: 'The king touches you, God heals you.' This is a form of transcendence," said Roger-Petit, who once wrote for a number of French media outlets, including France Inter and France 5.
The grandiose 'King-God' comment wasn't specifically coined by Macron's spokesman. The phrase refers to the old traditions among French monarchs of touching their people, with the intent to heal them of various diseases.
Being not very loyal subjects, French people immediately took to social media to write mocking 'royal' comments about the former investment banker who became head of state.
The 'healing' issue apparently worried one of the Twitterati. "If he could for starters heal empty wallets," he sarcastically wished.
"I don't know if King Emmanuel Macron cures everything he touches, but his courtesan counsellors have a fever!" one person noted, apparently referring to the pretentious wording of Le Monde article.
@PPElysee : Pour #Macron, le toucher est fondamental, c'est un 2ème langage. C'est un #toucher performatif : "Le roi te touche, Dieu te guérit." Il y a là une forme de transcendance» 5/5/18Versailles - saison 3 - épisode 10 : "Le Roy te touche, que Dieu te guérisse" ⤵️#WTFpic.twitter.com/H157IqyXhA

— Emmanuel Sorin (@sorin_emmanuel) May 6, 2018
The anger of some Twitterati was also directed towards the newspaper and its alleged "biased analysis" in particular.
"I thought for a moment that I was reading a propaganda article. And then I pulled myself together," one person confessed in comments under the story, while another wondered if Macron "is God."
"He was elected to enrich the richest and crush the poorest, we agree," one more person noted.
Jupiter, King, President of the Rich – these epithets have become a significant part of the French Twitterati's lexicon for quite some time. His opponents, especially his presidential rival and most trenchant critic Jean-Luc Mélenchon, view Macron as a self-styled emperor. His predecessor Francois Hollande once couldn't resist calling Macron (who'd once served as the economy minister in his own administration) "the president of the VERY rich."
Macron's lavish, high-class lifestyle has caused Twitter-storms for a while. Imaginative people make collages on social media, putting Macron's and his wife's faces onto the bodies of a French king and queen (or mistress).
Last weekend, tens of thousands of anti-Macron protesters marched in Paris against Macron's proposed labor reforms and many of the demonstrators were carrying signs depicting the centrist president as a king.
You can share this story on social media: