Macron says he's not an 'interventionist'... less than a month after bombing Syria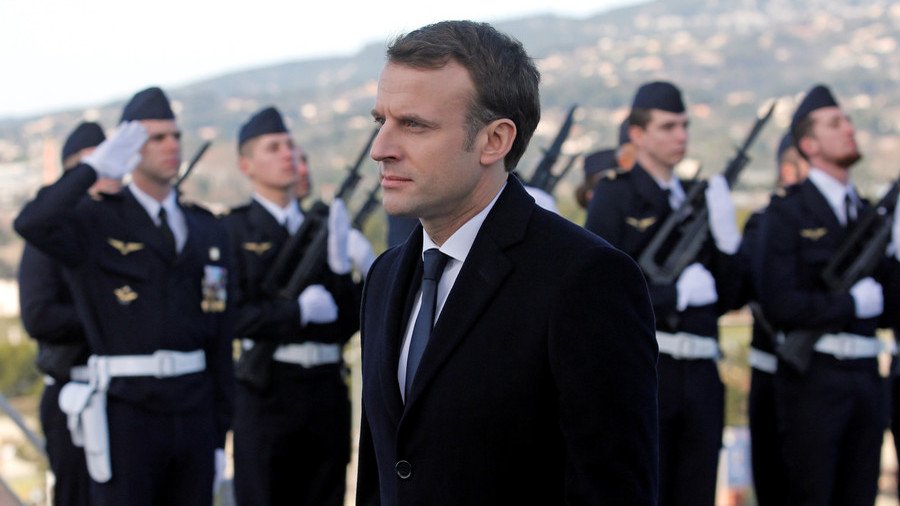 French President Emmanuel Macron says he has convinced Vladimir Putin he's no "interventionist or neo-conservative," and that the recent Western strike on Syria was a "legitimate" response to a "red line being crossed."
In a feature dedicated to his worldview, published Le Journal du Dimanche, Macron described a meeting between the two leaders in Versailles last year.
"Vladimir Putin understood that I am not a neo-conservative, I am not an interventionist, I do not want to make war on the Syrian regime, I would never have intervened in Iraq, or even in Libya without having, in the latter case, a diplomatic roadmap," Macron said.
But what about last month's strikes on Syria? After over 100 rockets were launched at government-controlled targets by US, France and UK, Macron boasted that it was him who persuaded Trump to take action against the country. He added that the allies' involvement in Syria should remain "long-term," though was later forced to qualify his words, saying that the fight against terrorism would determine the length of stay for the French and US forces currently in the country.
Well they don't count – as they weren't about intervention, but "respect."
"If France wants to be respected in the region, we have to talk to everyone but also be able to act when red lines are crossed. This is an essential element of credibility, because if the Americans had done nothing, we would have resigned ourselves to being helpless," said the president.
But there didn't appear to be much "talking to everyone" and, in fact, not seeking a UN resolution before the strike, isn't that a little like the neocon strategies used by George W. Bush's White House prior to the Iraq war?
"The fact that Russia found itself in the minority on the vote of its own resolution to the UN after these strikes showed that the strikes enjoyed a framework of legitimacy," states Macron.
Wouldn't another factor that migh add a "framework of legitimacy" be waiting for the results of the OPCW chemical weapons experts' inspection of the Douma site, the dubious strike against which served as the pretext to the strike by France and friends?
"On the day of the strikes, I call Putin to tell him that we have the evidence of the chemical attack and that we can even attribute it," recalls Macron. "He starts a 'dialogue of the deaf' about the forthcoming OPCW inspection. But I remind him that this same OPCW and the United Nations have had their control mechanism abrogated by a Russian veto, so I tell him that I know, that he knows that I know, that there is no doubt about the outcome and that I do what duty imposes on me."
So, after the Russian military conducted its own inspection, and not only failed to establish that the government forces were liable for the attack, but also whether any attack took place at all, does Putin still believe that his counterpart at the Elysee is a non-interventionist? Does anyone else?
You can share this story on social media: