Alyssa Milano branded a hypocrite for 'armed security' at anti-NRA rally (VIDEO)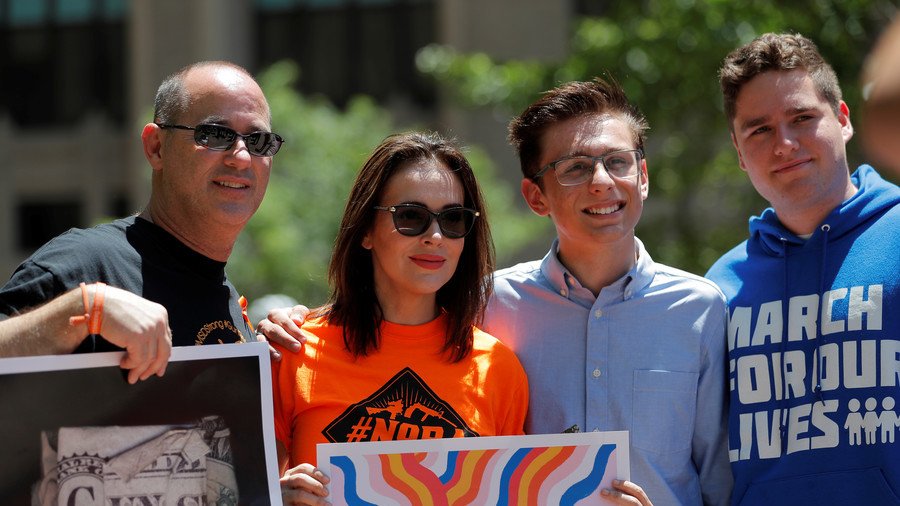 US actress Alyssa Milano has been branded a hypocrite by NRA activists for allegedly attending an anti-NRA protest with armed guards as personal protection.
Milano spoke at the NoRA protest in Dallas on Saturday, a demonstration organized to coincide with the National Rifle Association's (NRA) annual convention.
READ MORE: 'Shameful & obscene': France slams Trump over claim gun owners could've stopped Paris attacks
Footage shared by writer Ben Howe shows NRA member Will Haraway ask security guards beside Milano whether they're armed. In the clip, the guard ignores the question and repeatedly asks him to leave, escorting him away from Milano. "Alyssa you're a hypocrite," Haraway shouts. "You have armed security here!"
The video prompted outrage and cries of hypocrisy from NRA supporters across social media. NRA spokesperson Dana Loesch shared the footage, criticizing Milano for having "armed security chase Texans out of a public park simply because they asked if she uses armed defense (that she wants to deny others)."
"For the record, my personal bodyguard was not armed," Milano later tweeted of the confrontation.
Haraway and his supporters accused the activist actress of lying, sharing close-up screenshots of what they said was an apparent weapon concealed beneath the guard's jacket.
"This was event security, not my bodyguard," Milano responded. "But regardless, this security guy has had training and passed a background check. These are the common sense gun reform policies we are fighting for for everyone."
Milano later spoke to Haraway at the event, but the full video of the conversation is yet to be shared. An NRA TV host shared two short clips of the encounter.
The NoRA group says it's not anti-gun or anti-Second Amendment, but wants responsible gun ownership, increased checks and balances for gun purchasers, and for the NRA's potential influence on lawmakers through campaign funding reduced.
The ethics of Milano's guard being armed or not was further argued online by both sides of the gun ownership debate.
Think your friends would be interested? Share this story!
You can share this story on social media: