What's wrong with Macron? 6 awkward comments the French leader has made about Africa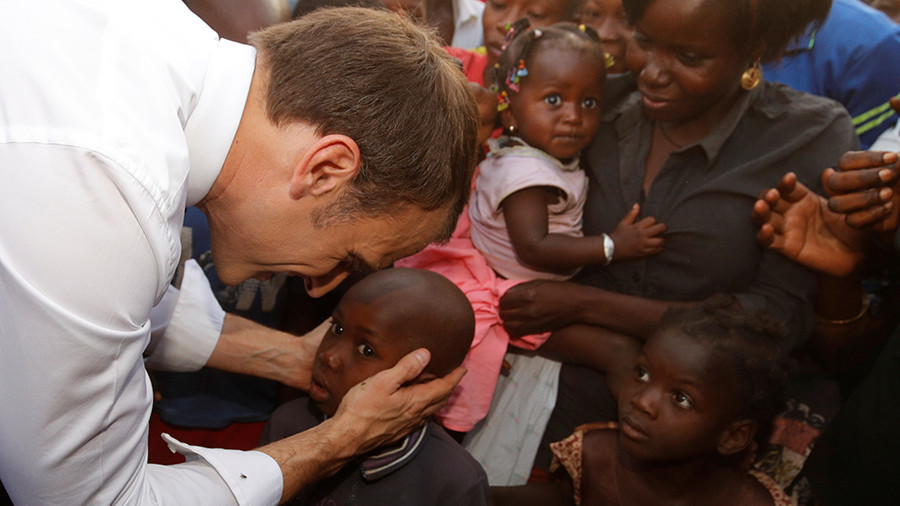 French President Emmanuel Macron is on an African tour, presenting himself as the leader of a new generation that will not lecture Africans. Nevertheless, he has been handing out quite a bit of advice, and not all of it went down well.
'It's your president who should deal with electricity'
Speaking with students of the University of Ouagadougou in Burkina Faso, the French leader said that the tradition of African nations reproaching France whenever something goes wrong should come to an end.
"Sometimes you talk to me like I'm still a colonial power. But I do not want to deal with electricity in universities in Burkina Faso," Macron said, and the audience reacted with laughter and applause. Warmed up by the response, the French leader carried on. "It is the work of the president [of Burkina Faso]," a smiling Macron said, pointing to President Roch Marc Christian Kabore, who was listening to Macron's speech from the same stage.
At this point, Kabore suddenly stood up and left the room. "He's leaving… Stay there! So, he went to repair the air conditioning," Macron said as the president was leaving. Kabore did not comment on Macron's statement on Twitter, but tweeted that he only had "positive" memories regarding the visit.
A video posted by Macron on Twitter leaves out his "air conditioning" comments addressed to Kabore. However, social media has been flooded with the 'full version' of Macron's speech.
Macron's former presidential rival, Nicolas Dupont-Aignan, criticized his behavior in Burkina Faso. "Emmanuel Macron was arrogant with the [Burkina Faso] authorities, his behavior borders on racism," he told Europe1 radio.
'You owe French soldiers your applause'
Another comment that caused controversy was also made at Ouagadougou University. A female student wondered why the number of French soldiers in her country surpassed the number of freshmen from Burkina Faso in France.
"Imagine that you are a young woman living in Angouleme, France," Macron, who claims to have been raised as a leader on the speeches of Nelson Mandela, said. "She has never seen Ouagadougou. She may not even have heard of Ouagadougou. And her younger brother fighting alongside French troops died last month to save you. And you? You don't have a younger brother who is currently fighting on Belgian or French soil."
"Do not come and talk to me like that of the French soldiers," he told the girl. "You only need one thing to do for the French soldiers: to applaud them!"
The comment divided people on Twitter, with some praising Macron, and others saying that French soldiers often abuse the population of Burkina Faso rather than protecting it.
'Who are the traffickers? They are Africans'
Macron also lost his temper in Burkina Faso when he was asked about human trafficking.
"Who are the traffickers? Ask yourselves – being the African youth – that question. You are unbelievable. Who are the traffickers? They are Africans, my friends. They are Africans. Ask yourselves the question."
Macron continued: "It's not the French who are the traffickers, it's the Africans. So everyone should understand the responsibility, and we've started to do that, to dismantle them. But stop the argument saying, 'It's someone else. Show me a French, Belgian, German person, who carried out trafficking between Nigeria and Libya. This person doesn't exist."
Burkina Faso is the first stop on Macron's first African tour. He will next try to reset French relations with Ivory Coast and Ghana.
'Civilizational' problems & '7-8 children per woman'
Speaking in Hamburg in June, Macron created a social media stir after saying that Africa had "civilizational" problems and one of its main challenges was women having too many children.
"When countries still have seven to eight children per woman, you can decide to spend billions of euros, but you will not stabilize anything," he said.
Following his speech, critics lashed out at the French leader, accusing him of colonialist and racist views towards Africans.
Joke about death boats from Comoros
While giving a speech in Brittany in June, Macron ironically compared fishing boats to boats used to transport migrants from the former French colony of Comoros in horrible conditions.
"The kwassa-kwassa isn't really used for fishing; it's used to carry Comoran," he said with a laugh. Kwassa-kwassa doesn't always mean a fishing canoe, but people who die each year while trying to reach the French overseas territory of Mayotte, a major destination for illegal migrants.
Comoran Foreign Minister Mohamed Bacar Dossar called Macron's migrant boat joke "shocking" and "scornful," and demanded a public apology. The Elysée Palace later issued a statement, saying that Macron's "unfortunate" comment was "inadvertently" hurtful.
'If you are not in danger, go back to your country'
In November, speaking at a charity event in Paris, the French president was confronted by a Moroccan woman who asked for asylum. The woman said that her visa had expired but her parents live in France. The president, however, was not in the mood for charity, as he said that France can't "welcome all the misery of the world."
"If you are not in danger, you should go back to your country," Macron told the woman. "You are not in danger in Morocco. I cannot give French papers to everyone who doesn't have them. How would I deal with the people who are already here and can't find a job?"
You can share this story on social media: