EU wants to 'replace' US after it ditched Iran nuclear deal. But can it?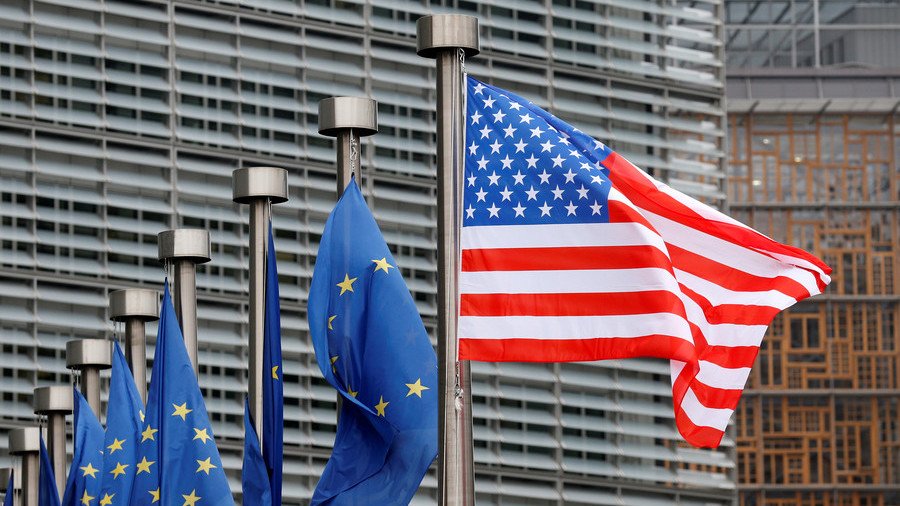 Europe needs to replace the US as the world leader as Washington is no longer fits this role, the EU Commission head said following Donald Trump's withdrawal from the Iran nuclear deal. Whether the EU can do it is another matter.
"At this point, we have to replace the United States which as an international actor has lost vigor, and because of it, in the long-term, influence," President of the European Commission Jean-Claude Juncker said while speaking to Belgium's Flemish regional parliament on Wednesday. He went on to say that Washington had been turning away from constructive international relations "with a ferocity that can only surprise us."
The top European official accused the US of being unwilling "to cooperate with other parts in the world." His words came just days after the US President Donald Trump announced that he would pull the US out of the Iranian nuclear agreement, which he repeatedly denounced as the "worst deal ever negotiated." Despite facing criticism from other parties to the deal, as well as some other members of the international community, the US leader seems to be sticking to his decision.
Juncker never addressed whether Europe is actually capable of overtaking the US at the top, though. Meanwhile, the latest attempt from EU leaders to exercise their influence – by convincing Trump to stay in the Iran deal – was a spectacular failure.
Now, the European leaders vow to work together and do their best to keep the Iranian deal in place. It remains to be seen if they can do it, even with the help of Russia, China and Iran itself, who all reaffirmed their commitment to the agreement.
Economic & political giant?
While being comparable with the US in terms of some general economic indicators such as GDP in current prices, the EU is much more inhomogeneous in its structure, as there is still a wide gap between the prosperous Western nations and the newer Eastern members of the bloc when it comes to economic performance.
Besides, the EU's economic future is uncertain, as the bloc is set to lose one of its biggest net contributors – the UK – to Brexit. This prospect has already forced Brussels to draft a new EU budget that involves spending cuts and demands for more financial contribution from the member states at the same time. These proposals are likely to provoke outrage from the Eastern European countries that are still the major recipients of the so-called cohesion funds, which are used for development in poorer European nations.
Political issues also erode the EU's unity. The Union still struggles to develop a common refugee policy, as its Eastern members vehemently refuse to accept more migrants, which Brussels demands.
Recently, Europe has also been facing a wave of populism coupled with the rise of the right in many countries, another headache for Brussels. The EU authorities are particularly at loggerheads with Poland and Hungary over what they call violations of the rule of law. The EU already repeatedly threatened the two Eastern European states with sanctions, which Warsaw and Budapest call political pressure.
Apart from that, France and Germany seem to be pushing for a deep reform of the EU, calling for even more cohesion within the bloc as a significant part of the European population appears to be leery of the Union in its present stance.
Military dwarf
The US may have "lost vigor," but it still pays for a large part of European defenses via NATO. Juncker's ambition for the EU's global leadership might be stunted by the Union's own lack of military power.
Washington is spending about 2.5 times more on NATO than the rest of the allies combined, and Trump has repeatedly lambasted European nations for failing to keep up. Only five out of 28 NATO nations now meet the two percent of GDP spending mark — the US, the UK, Estonia, Greece and Poland.
Europe's own joint army plan was first touted in the 1950s, and it is still a long way from reality. The Permanent Structured Cooperation (PESCO) pact, which is the closest thing to a sort of military cooperation agreement the EU has, only entered into force in December 2017. It involves a limited number of cooperation projects – such as a Cyber Rapid Response Team and a European Medical Command, and it's still unclear whether it will all work as intended.
Apart from that, even such a European economic powerhouse as Germany seems to be suffering from a crisis over its armed forces. The Bundeswehr, one of NATO's largest militaries, has recently been a steady source of news about planes that can't fly and tanks that break down. At some point, an unfortunate incident effectively left Germany without its entire submarine fleet.
As if it were not enough, the reputation of the German military has recently suffered from a series of scandals ranging from reported rapes and cases of sexual abuse to alleged Nazi sympathies among some soldiers.
In February 2018, it also turned out that Germany was ill-prepared for leading NATO's 5,000-strong high-readiness force, which it was scheduled to lead by 2019.
With so many internal issues undercutting the EU's world leadership drive, it might have to lag behind the US for a while yet.
Think your friends would be interested? Share this story!
You can share this story on social media: