Changing EU treaty 'not taboo' for France anymore – Macron after meeting Merkel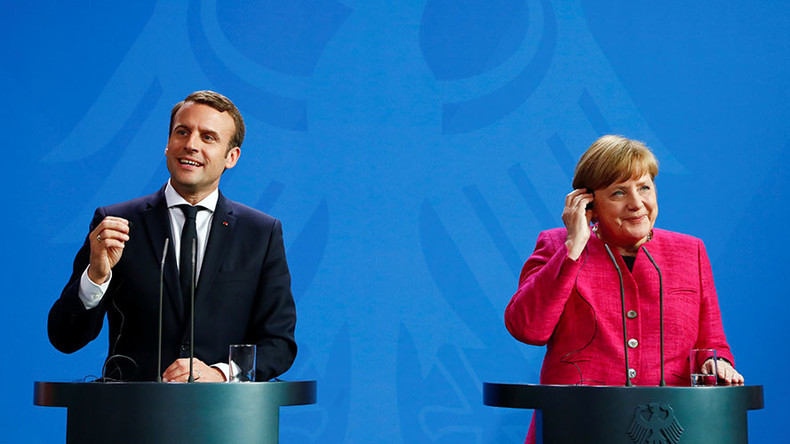 The European Union's need for deep reforms is so dire that even the idea of changing the EU treaty is "not taboo," new French President Emmanuel Macron said at a joint news conference with German Chancellor Angela Merkel in Berlin on Monday.
During Macron's first foreign visit since his inauguration Sunday, he told Merkel that he was "happy" to work together with Germany "on a common roadmap for the European Union and the eurozone."
The French leader said that "deep reforms" are required for the EU that "need common work" from Paris and Berlin.

"In the past, the subject of treaty change was a French taboo. It will no longer be the case," Macron said, as cited by Reuters.

Merkel supported the French leader, saying that change in treaties could be possible if they "strengthen the eurozone," but stressed that such amendments were not expected in the short term.

"First, we need to work on what we want to change, and then if it turns out it needs a treaty change, then we're prepared to do that," she said.

The EU operates in accordance with two key deals: the Treaty on the Functioning of the European Union (1957) and the Treaty on European Union (1992), as well as various additional accords. Amending the EU treaties requires agreement and ratification from all the bloc's member states.
READ MORE: Centrist Macron beats right-winger Le Pen in French presidential election
Some of the key EU principles, such as the freedom of movement, have been contested by a number of member states in connection with immigration control. The UK had notably pushed for more restrictions on its borders while London's calls for amending the EU treaties have been rebuffed, contributing to the outcome of the Brexit vote. With that in mind, commenting on the Macron-Merkel meeting, a Guardian article has even called their statements on reforms "a painful blow to British politicians and diplomats."
More integration but no joint Euro debt
The German Chancellor called Macron's visit a sign of deep friendship between the two main drivers of European integration and the bloc's leading economies.

"We each represent the interests of our own countries, but the interests of Germany are naturally closely tied to the interests of France," Merkel said, as cited by AP.

"Europe will only do well if there is a strong France, and I am committed to that," she said, adding that she hoped for a "new dynamism" in relations between the two nations.
Macron also pointed out that there were "several areas" in which Paris and Berlin could start cooperating immediately, including on a "common asylum policy, posted workers and bilateral trade."

"All these will have an impact on our citizens. We need more pragmatism, less bureaucracy and a Europe that protects our citizens," he said.
Macron, at 39 the youngest-ever French president, also dismissed speculation by German media that he backed turning national debts of euro zone countries into a joint euro zone debt.

"I have never defended [the idea of] Eurobonds or the mutualization of existing debt in the euro zone," Macron said.

The statement was a clear nod to Germany, which has been vigorously opposing the idea of taking responsibility for the debts of weaker, crisis-hit EU member states.

"What I know is that we have investments to make [in Europe], and so we have to work on investment mechanisms for the future," the French leader added.

The redevelopment of ties between Paris and Berlin will continue with a meeting of the Franco-German Council of Ministers, which is scheduled for July.

Macron, who appointed Edouard Philippe from the center-right Republicans party as his prime minister earlier Monday, refused to answer specific questions about his choice in Berlin.

The president only told journalists that Philippe was part of a new French political landscape that he was promoting.
READ MORE: 'Keep it over there': Brits wary of French plans to renegotiate border deal
Macron previously met Merkel in Berlin in March while still a candidate and called for a "new Franco-German deal" that would see "much more structured cooperation" on the countries' investment, EU border security and defense.

In strategic terms, France will also be the only EU member on the UN Security Council and the bloc's only country with nuclear weapons after the UK leaves the union in 2019.