'Bad day for our enemies': European leaders take 'historic' step toward joint EU army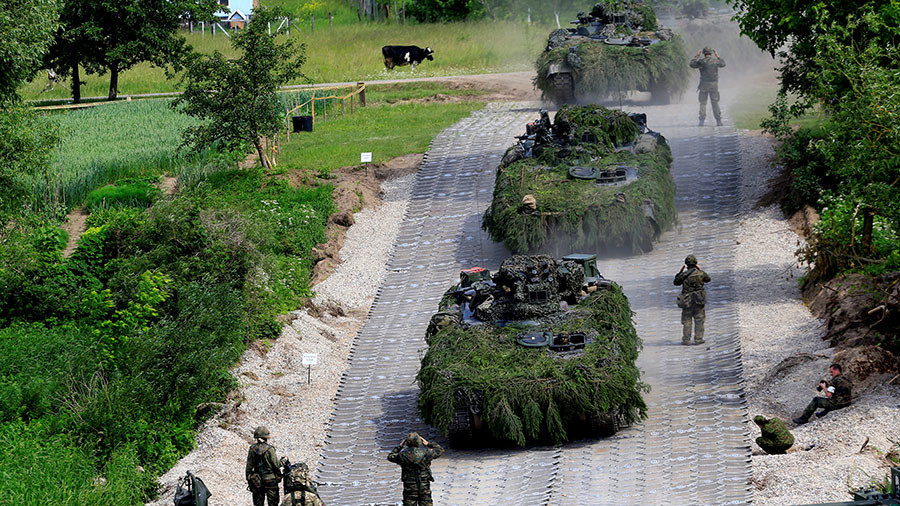 Leaders of 25 European Union states have signed the Permanent Structured Cooperation (PESCO) pact that will see them undertake more joint projects and increase their defense budgets with the idea to likely create a permanent EU army.
Arriving at a summit in Brussels, EU High Representative Federica Mogherini hailed a "historic decision that turns the European Union into a credible security provider, globally," saying that the EU is already contemplating "the possibility of deploying one of our battlegroups in one of the crisis theaters."
Today dream becomes reality. #PESCO is a practical expression of our will to build European defence. Good news for EU and for our allies. Bad news for our enemies.

— Donald Tusk (@eucopresident) 14 December 2017
"For many years the strongest argument against PESCO had been the fear that it would lead to the weakening of NATO. But it is quite the opposite - strong European defense naturally strengthens NATO," said EU President Donald Tusk.
"This is why PESCO is not only good news for us, but it is also good news for our allies and bad news for our enemies," he added, before heading to the leaders' group photo call and signing ceremony.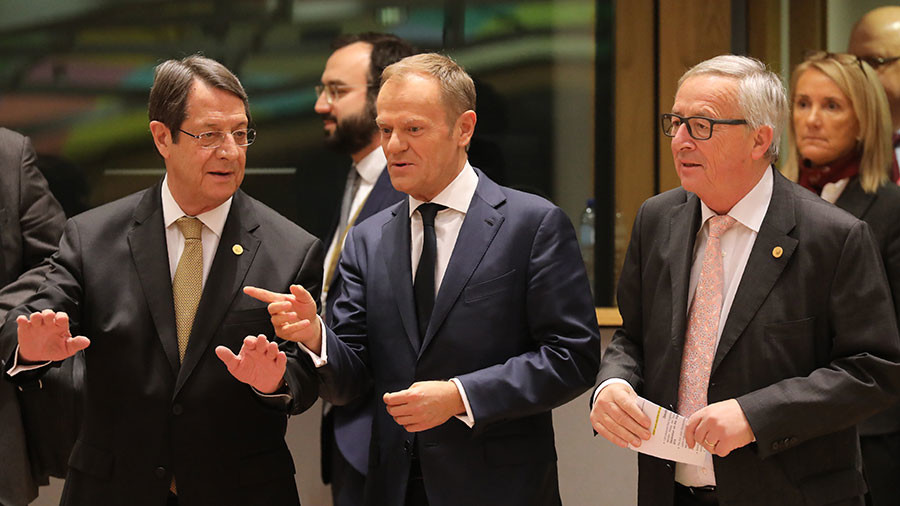 While European officials have refrained from referring to the future force as an EU army, mentioning only a series of 17 projects – such as a Cyber Rapid Response Team and a European Medical Command – EU Commission President Jean-Claude Juncker did not conceal that the EU is aiming to create an independent military structure of its own.
"25 EU member states have woken up the sleeping beauty of the Lisbon Treaty – today we take a giant leap toward the real Defence Union I have long called for," he tweeted, referring to the ten-year old EU agreement that included a provision for a potential permanent force.
The three EU states that have not joined the initiative are Denmark, Malta and the UK, which is leaving the bloc.
Britain was an ardent opponent of an EU army, which Eurosceptics often cited as an example of EU overreach as it moved from an economic alliance to a "super state," but Brexit has provided a clear opening for the more committed member states to go ahead with the single force plan, which was first touted in the 1950s.
European leaders have also been pushed closer together by a shared antagonism toward US President Donald Trump. Washington is the traditional leader of NATO, which includes most PESCO members, but Trump's erratic nationalist foreign policy and his excoriation of European states for not contributing their share of defense spending provided impetus to the new pact.
To Trump's possible bemusement, the new agreement stipulates "regularly increasing defence budgets in real terms in order to reach agreed objectives." With the UK out of the European Union, 80 percent of NATO's budget will come from non-EU states, and NATO leaders are concerned about both duplication and a lack of cooperation.
"We cannot risk ending up with conflicting requirements from EU and from NATO to the same nations," NATO Secretary-General Jens Stoltenberg warned on his arrival in Brussels, despite insisting that he "welcomed" the new pact.
While EU leaders studiously avoided namechecking Russia, a strong focus on cyber security in the announced projects ties in with continental concerns about alleged Kremlin-backed hacking, and in the run-up to the negotiations several officials cited Brussels' impotence during the 2014 crisis in Ukraine as a decisive point in the project to ramp up capacity.
Moscow has said that it is watching developments closely, but last month a senior Russian official noted that so far PESCO is "just words."