Hasta la vista, NATO? All systems go for a European fighting force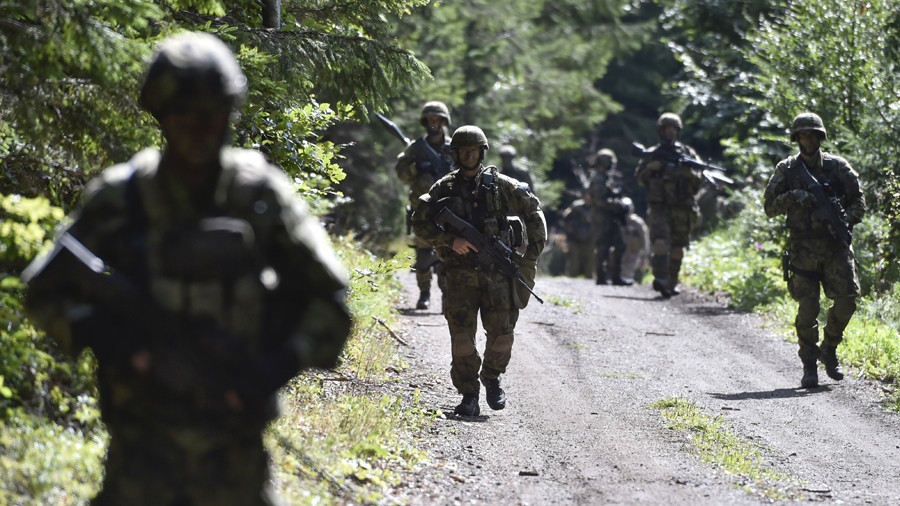 Amid an atmosphere of growing uncertainty between the US and EU ever since Donald Trump took control in Washington, Brussels is pushing ahead with its long-awaited plan for an integrated European fighting force.
Talk of creating a European army seems about as old as Europe itself; French President Charles de Gaulle first proposed the idea shortly after the end of World War II. This week, however, Brussels took the first step in making that dream a reality as it convinced 23 members of the 28-strong entity to join the Permanent Structured Cooperation (PESCO) defense initiative.
Although details regarding PESCO's primary duties remain unclear, early reports say the fighting force will coordinate "defense planning, operations and weapons development," with the potential for "rapid deployment" to crisis zones, Reuters reported.
Just a stone's throw from NATO headquarters in Brussels, European foreign policy chief, Federica Mogherini, called the deal a "historic moment in European defense."
German Foreign Minister Sigmar Gabriel also gloated over the initiative, saying it represented a "great step toward self-sufficiency and strengthening the European Union's security and defense policy - really a milestone in European development."
But not everyone was ready to break out the champagne. The UK, which is now going through the painful formalities of leaving the EU, maintains its opposition to an independent European army.
"We are going to continue to oppose any idea of an EU army or an EU army headquarters, which would simply undermine NATO," Defense Minister Michael Fallon told an EU assembly meeting last September, as talk of the EU fighting force was gaining ground. "We are leaving the European Union, but we remain committed to the security of Europe and putting more troops into Estonia or Poland next year."
The UK apparently fails to make the connection that EU leaders are reigniting plans for a European army largely because the UK is quitting the EU. That decision will place a heavy financial burden on EU defense, which currently receives some 25 percent of its funds from the UK.
And speaking of funds, who could neglect to mention the influence of the mighty Trump?
Taming 'The Donald'
Although many EU members point to "Russian aggression" – the bogeyman under every European bed - as the driving force behind the creation of a European army, that explanation falls wide of the mark.
High on the list of reasons for Brussels pushing forward with its European army is the rise of Donald Trump, and his disconcerting message regarding the future of "obsolete" NATO, juxtaposed against his "America First" political philosophy.
Addressing NATO members at a summit in May, Trump did not fail to impress, and not in a positive way. While falling short of declaring the end of the 29-member military bloc, the US maverick made firm demands that countries pay their membership dues, which is about two percent of GDP.
"NATO members must finally contribute their fair share and meet their financial obligations," Trump told the fidgeting audience. "Twenty-three of the 28 member nations are still not paying what they should be paying and what they are supposed to be paying for their defense. This is unfair to US taxpayers."
That was a lecture that EU leaders in the audience, including Emmanuel Macron of France and Germany's Angela Merkel, would not soon forget.
Shortly after that humiliating dressing down, Chancellor Angela Merkel, on the campaign trail in her native Germany, struck a chord with the home crowd when she said, "The times in which we could rely fully on others are over ... we must fight for our future on our own, for our destiny as Europeans."
German Defense Minister Ursula von der Leyen echoed those comments this week when she said: "It is important for us, especially after the election of the American president, to establish ourselves independently."
James Jatras, political analyst, had a different take on the initiative. He told RT that PESCO could be a creative way of tamping down the rise of populism on the continent.
"With the rise in populism in Europe, as we just saw in the Austrian elections, there is a more assertive European mentality, but it exists in individual countries, and not necessarily favorable to Brussels," Jatras said.
"Perhaps PESCO is directed toward populism in Europe to say, 'Look, we can act like a real state, with a real army.' But I think it will flop," he added.
US, Russia & the direction of foreign policy
Presently, Brussels seems to have very little control over EU foreign policy objectives, except where and when they meet Washington's national interests. This has been abundantly clear with regards to Russia, which has been accused of just about everything - from manipulating the results of Western elections to conducting full-scale military offensives against its neighbors.
These preposterous charges, easily rebuked with 15 minutes of surfing the internet, are resulting in a climate of animosity not seen since the days of the Cold War.
Whether or not European leaders can see the writing on the wall remains to be seen, but one thing is crystal clear: If Europe wants to enforce its own foreign policy separate from that of Washington's, it will require an independent military force to do so - and certainly not in the mold of present-day NATO.
Foreign policy, whether it be good or bad, won't get very far without a standing army. Yet Europe is allowing itself, under the dictate of Washington, to serve as the front line to any hypothetical US-Russian conflict. Although geography practically dictates Europe's dilemma, having some control over its foreign policy - and military - would certainly help Europe to determine its destiny.
Ivo H. Daalder, former US envoy to NATO who is now the director of the Chicago Council on Global Affairs, summed up the situation best when he told the New York Times that "the United States is heading into a direction on key issues that seems diametrically opposite of where Europe is heading."
Indeed, the United States, taking advantage of a 24/7 anti-Russia fear-mongering campaign (which really went into hysterical mode around the same time Moscow decided to enter the Syrian fray in September 2015) is parking a lot of military hardware in Eastern Europe, smack on the Russian border. And it should be noted that this militarization – as evidenced by the construction of a US missile defense shield in Eastern Europe - was happening long before the current downturn in bilateral relations started.
It is tempting to ask how EU-Russian relations would stand now if Europe had been fielding its own military force years ago, with a foreign policy totally independent of NATO and US control. It is easily imaginable that the militarization of Eastern Europe would never have happened, and EU-Russia relations would be achieving some level of normality.
Today, as Europe attempts to exert some control over its defense and security, away from American influence, the question is a timely one: Is it too late?
The statements, views and opinions expressed in this column are solely those of the author and do not necessarily represent those of RT.