Bundeswehr breakdown: What's gone wrong for Germany's army?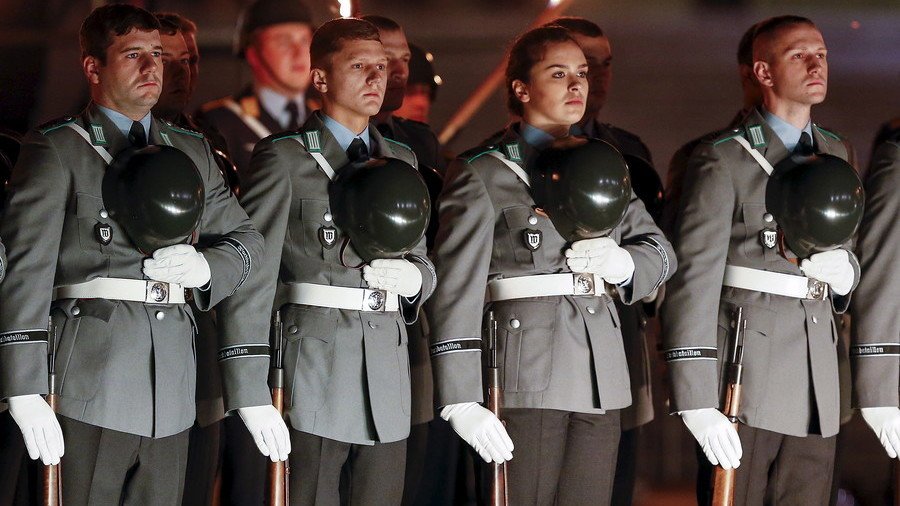 The Bundeswehr, one of NATO's largest militaries, is now a steady source of news about planes that can't fly, tanks that break down and troops that admire the Nazis. So what exactly has gone wrong in Germany's army?
It emerged last week that the German military can't find enough money to fund a long-awaited modernization of its newest Puma infantry fighting vehicles – which to many didn't exactly come as a surprise.
Indeed, the news added to a steady stream of stories describing how poorly the Bundeswehr is performing, both in peacetime and during overseas deployments in conflict zones. Local newspapers are full of accounts about combat aircraft that lack vital parts or suffer technical failures, tanks and armored vehicles that can't operate, or soldiers that sympathize with the Third Reich and its armed forces, the Wehrmacht.
This defies the stereotypes many people have about the Germans, who are known for being ultra-organized and notoriously pedantic. They excel in engineering and technology, and their arms manufacturers ThyssenKrupp, Kraus-Maffei and Rheinmetall are in the top 100 of the world's defense contractors, according to the Stockholm International Peace Research Institute (SIPRI).
Moreover, the Germans are historically known for producing a fierce army during two world wars, and one which became a key NATO tool to protect Western Europe from the perceived threat of a Soviet offensive during the Cold War.
Recent events have thrown the nation's military prowess into question, however, and beg the question: what exactly is wrong with the German military, and is it actually vanishing as a fighting force?
Underequipped & overstretched
In September 2014, the Bundeswehr sent a mechanized battalion to take part in NATO's wargames in Norway. It was later reported that the German unit, trained as part of NATO's Rapid Response Force, was short of small arms and night vision goggles, and its Boxer armored vehicles had no weapons at all. But the soldiers – in the best traditions of Teutonic genius – knew what to do. They took broomsticks, painted them black and mounted them on their Boxers' turrets to simulate 12.7mm heavy machine guns.
German command tried to downplay the incident, insisting the soldiers didn't need the weapons at all. However, the broomstick-wielding German battalion quickly made headlines and left a lasting impression on the public – who didn't need to wait all that long until more revelations arrived suggesting that one of world's economic giants was turning into a military dwarf.
In November of last year it became known that more than half of the Bundeswehr's tank fleet is unfit for service. Only 95 out of 244 Leopard 2 main battle tanks were said to be combat-ready, while the remaining tanks were either disarmed or lacked critical spare parts. Putting boots on the ground in hostile zones was also a tough task for Germany, as soldiers deployed as part of a UN mission to Mali ran into trouble with their armored vehicles, which have been forced out of action because of heat, dust and irregular terrain.
The state of the German Air Force doesn't appear to be any better. In 2014, Spiegel magazine reported that a confidential defense paper described the Luftwaffe der Bundeswehr – the army's air arm – as being in catastrophic disrepair. Painting a grim picture, it said only seven of the 67 CH-53 transport helicopters were in top condition – including those used in Afghanistan at the time. Later, in 2016, the air force began to repeatedly ground its Cold War-era Tornado jets due to technical mishaps, including "loose screws" that threatened pilots' safety and poor cockpit lighting.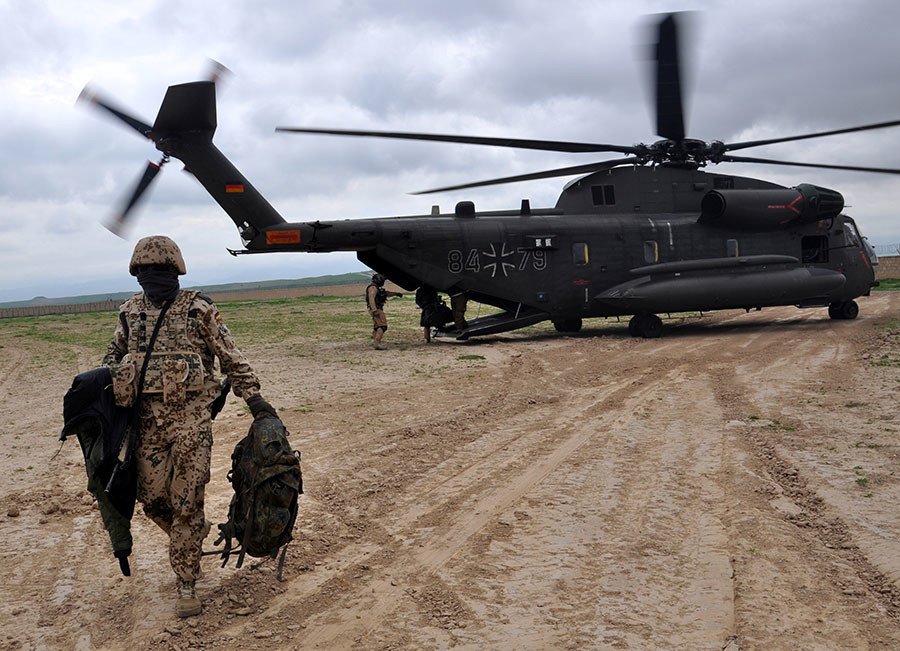 Tragically, the poor condition of the aircraft fleet seems to have been a factor in an incident in August last year, when a Tiger attack helicopter crashed while on a combat mission in Mali, killing two pilots on board. The Defense Ministry admitted the helicopter had lost rotor blades and other parts 10 seconds before ramming into the Malian desert. The helicopter's full fuel tanks and weapons load turned it into a "fireball," leaving no chance for the crew to survive.
The stories of faulty equipment and failures aren't limited to tanks and grounded jets. German submariners, whose forbearers wreaked havoc on Allied convoys some 80 years ago, have similar problems, too. Last October, the German Navy's newest Type 212A submarine – said to be capable of navigating submerged for over two weeks without resurfacing – hit a rock during a diving maneuver off the Norwegian coast.
The unfortunate incident effectively left Germany without its entire submarine fleet, as two other Type 212A vessels are undergoing scheduled maintenance and will be fit for deployment no sooner than the second half of 2018. Another two subs are also in need of repairs after suffering damage.
It would be unfair to say that German military chiefs are doing nothing to fix their army. The Defense Ministry reportedly plans to spend some €100 million (US$124 million) on global consultancy firms, including the Big Four's Ernst & Young and KPMG, to make the army's logistics and procurement more efficient. The defense minister, Ursula von der Leyen, has repeatedly said she is determined to push for change to make the Bundeswehr a more capable force.
In a somewhat bizarre step, the army itself has even launched a reality show – Die Rekruten, or 'The Recruits' – in a bid to revive manpower.
However, this merely served to uncover a whole new set of problems.
Soldiers and scandals
German soldiers, with their reputation of being disciplined, reliable and well-trained fighters, have always been the strongest part of the nation's armed forces down the years. Today, this image has been tarnished by a series of high-profile scandals, ranging from professional soldiers being detained on pedophilia charges to the rising number of reported rapes and cases of sexual abuse in the Bundeswehr.
Among other scandals, some deal with the controversial topic of Nazi sympathies among some soldiers. The Bundeswehr was officially created months before West Germany's entry into NATO in 1955, and was founded by former officers of the Third Reich.
Hasso von Mannteufel, who came up with the name 'Bundeswehr', invaded the USSR as a tank battalion commander, while Adolf Heusinger, the first senior officer-in-command of the Bundeswehr, was one of the Wehrmacht's main strategists who planned the invasions of Poland, Norway and France.
A concept of 'citizens in uniform' was introduced, and the defense chiefs officially stated in 1982 that the Wehrmacht – a name still notorious to many Russians and Europeans – does not serve as the "foundation of a tradition" for the Bundeswehr.
Yet this doesn't seem to have fully taken root. Last year, numerous Wehrmacht memorabilia and Nazi-era artefacts were discovered inside several barracks. These included posters glorifying Nazi soldiers, as well as distinctive German steel helmets and replicas of the Wehrmacht's standard issue weapons.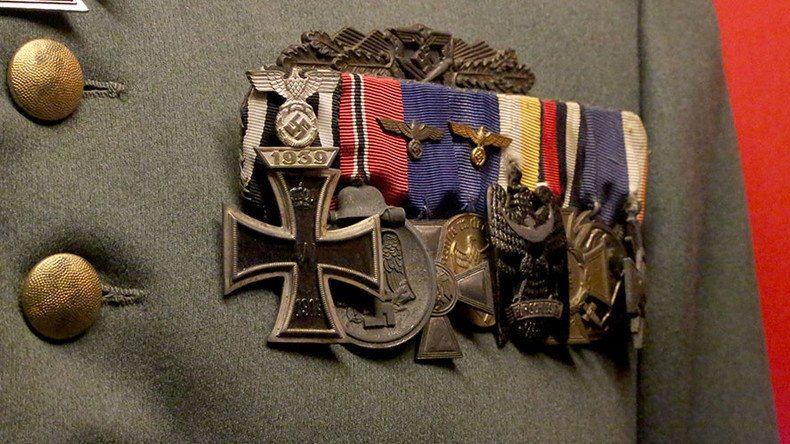 The uncomfortable revelation prompted the military to launch a thorough probe, with Defense Minister von der Leyen saying: "we need a broad process in the military itself, that we must travel together, from recruits to generals, from instructors to the minister."
The far-right row was preceded by another scandal that revolved around Franco Albrecht, a 28-year-old first lieutenant who was allegedly plotting a hate-motivated terrorist attack.
Investigators alleged the officer had been living a double life for more than a year, serving in the army while receiving state benefits under a bogus identity as a supposed Syrian refugee. Posing as an asylum seeker-turned-terrorist, he reportedly planned to shift the blame for an attack onto migrants – a kind of a false-flag operation. However, investigators ultimately came to the conclusion that there was no acute danger.
Later, German media added fuel to the row sweeping the Bundeswehr ranks after members of Germany's elite KSK special forces unit were accused of staging a controversial farewell party for an outgoing officer. The party featured what was described by some media as a sex worker invited as a "prize" for the KSK commander, some songs of by ultra-right rock band Sturmwehr, as well as Nazi gestures which the elite soldiers preferred to a standard, internationally adopted military salute.
As outrage mounted, military leaders were forced to act. "If we want to modernize the 35-year-old set of the Bundeswehr's traditions, we must also address the issue of names given to [army] bases," von der Leyen said at the time. "I think that the Bundeswehr must make it absolutely clear that it does not stand for the traditions of [Nazi Germany's] Wehrmacht," she said.
Among the measures proposed was a push to rename German bases bearing the names of Nazi soldiers, including the 9th Armored Training Brigade's base, which carries the name of Adelbert Schulz, one of Hitler's generals, who participated in the 1940 invasion of Belgium and then fought the Soviet Army in Ukraine in 1944. Another facility, the air force's NCO school, was named after Hans-Joachim Marseille, a Luftwaffe pilot glorified by Nazi propaganda as the 'Star of Africa'.
German boots on foreign soil: Bundeswehr goes global
Since the end of the Cold War, the Bundeswehr has taken part in numerous conflicts around the world. Afghanistan, Mali and Iraq – where the Germans train Kurdish militias – are on the list of current deployments, but the government in Berlin is signaling there could be more.
"A quarter century of contraction is over. It is time for the Bundeswehr to grow again," von der Leyen announced in 2016. The German military is expected to develop qualitatively and quantitatively, with more troops being sent abroad as part of multinational operations.
Experts say, however, that the ambitious strategy runs counter to with Germany's own laws. "As long as the Bundeswehr isn't operating strictly according to the UN Charter, the Federal Government violates the use of the Bundeswehr contrary to its own Constitution and the Soldiers' Act," Willy Wimmer, a former state secretary to the German defense minister, told RT.
The Basic Law says Berlin has no right "to participate in a war of aggression," Wimmer argued, with the 1999 Yugoslavia War and other operations clearly appearing to violate this provision. "Under the constitution, Germany has to contribute to [ensuring] peace in the world. This doesn't come by participating in wars of aggression and / or disregard of the UN Charter," he said.
These broader questions on the Bundeswehr's role, coupled with the steady stream of news on its deficiencies, leaves Germany's military officials and politicians with much to think about. It will take all of the renowned German invention and attention to detail to get the armed forces back in fighting shape.
Like this story? Share it with a friend!
You can share this story on social media: