'Time for Bundeswehr to grow': Germany announces 1st army expansion since Cold War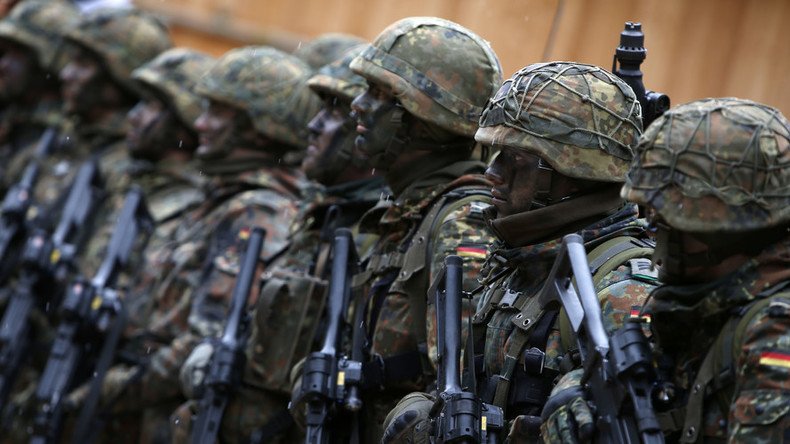 Germany is marching towards rebuilding what was once western Europe's largest army, with a "long overdue" decision to recruit 14,300 additional soldiers over the next seven years, to counter modern threats and overcome pressures "in all areas."
"A quarter century of contraction is over. It is time for the Bundeswehr to grow again," Ursula von der Leyen, the defense minister said in a statement announcing the expansion. "The Bundeswehr is under pressure to modernize in all areas. We have to get away from the process of permanent shrinking."
Around 7,000 new troops will be recruited in the initial drive, with some 4,400 civilian personnel working alongside them. The defense ministry has already announced that its budget will grow from the current €34.2 billion ($38.9bn) to €39.2 billion ($44.6bn) by 2020.
Von der Leyden said that the country is already engaged in 16 foreign missions, including fighting Islamic State in Syria and Iraq, monitoring the inflows of refugees from across the Mediterranean, and providing support for NATO allies in the east, alarmed by tensions in eastern Ukraine. A recent internal review confirmed what national media had widely reported – that manpower was stretched, and some equipment, including rifles, and Cold War-era fighter jets, was obsolete, or less reliable than it had been assumed to be.
At the height of the Cold War the Bundeswehr comprised some 670,000 personnel, both military and civilians. Currently, there are 87,000 civilian personnel and 177,000 military staff employed by the army. A cap of 185,000 troops imposed back in 2011 will now be broken with the announced expansion.
Even considering the cuts, Germany has the second biggest armed forces in the EU behind France, and ahead of the UK.
But the US has criticized Berlin and other NATO allies, with Barack Obama accusing them publicly of "complacency." The alliance says its members should spend 2 percent of GDP on their military, while Germany expenditure is currently at 1.2 percent.
Von der Leyden said that many of the new professionals would be trained in cyber warfare, and other technologically demanding areas of modern war.
The army association, the Bundeswehrverband, praised the move as a "180-degree turn," but said von der Leyden faces a struggle in recruiting the requisite amount of specialists, particularly since conscription was abandoned in 2011.
"As far as personnel is concerned, it's long overdue," its chief André Wüstner told news agency DPA. "It's only regrettable that now a lot of money has to be spent advertising for all the skilled labor for the Bundeswehr that had to be pushed out of the Bundeswehr for cost-cutting reasons."
You can share this story on social media: