At least 55% of French 'dissatisfied' with President Macron – poll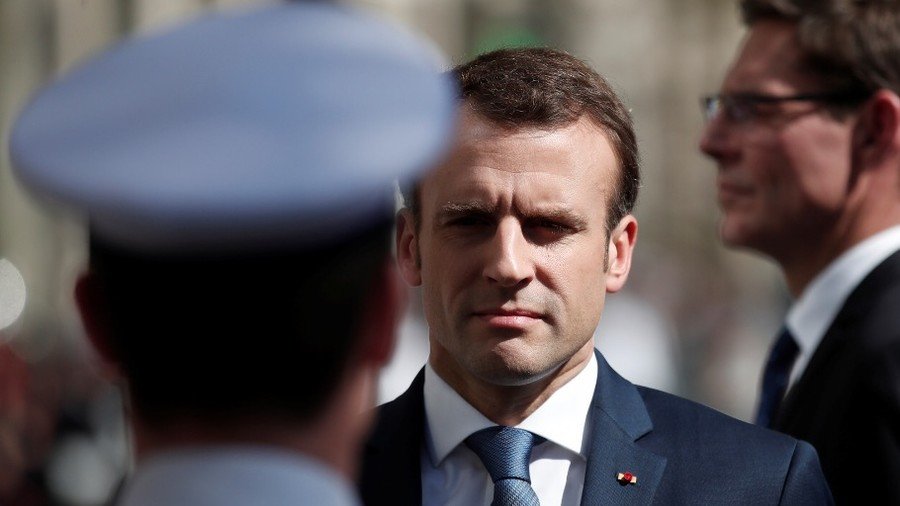 Over half of the French people broadly disapprove of President Emmanuel Macron's job performance, according to a new poll that took place around the time Paris joined US-led airstrikes on Syria, and amid protests over reforms.
As many as 55 percent of the respondents said they are "dissatisfied" with the president's performance, says Ifop poll, published by Le Journal du Dimanche newspaper.
The study was conducted online and by telephone, from April 12 to 21, with a sample of nearly 2,000 people polled.
People were asked: "Are you satisfied or dissatisfied with Emmanuel Macron as President of the Republic?" Only 44 percent of those polled said they were, with five percent of those "very satisfied" and 39 percent "rather satisfied." Around 23 percent said they were "very dissatisfied," and 32 percent "rather dissatisfied." One percent did not answer.
A previous Ifop poll released on Wednesday showed that only 42 percent approve of Macron as the leader. Less than one-third of those polled (30 percent) said that Macron was "in touch with people's concerns." The survey was conducted between April 12 and 16 and included 1,200 people.
The past three months have seen thousands protesting Macron's decision to adopt wide-ranging reforms. Earlier this week, riot police in the French capital fired tear gas and used water cannons to disperse protesters angry at Macron's decision to pursue job cuts and salary freezes across the public sector, including education, transport, and the courts.
Students and staff at Paris, Toulouse, Montpellier, Bordeaux, Strasbourg, and Rennes universities have also voiced their outrage with the new reforms. Macron's initiative to rebuild the education system was resisted by students who occupied universities across the country and had them shut down.
There are also mounting concerns about France's involvement in coalition strikes against the Syrian government. Dozens of protesters gathered in Paris on Saturday to denounce "the false pretext" of this intervention and show their support for the government of Bashar Assad.
Macron confirmed last week that jets from the Armée de L'Air were part of an operation to strike military targets and suspected stockpiles of chemical weapons in Syria. The aerial bombardments, also involving the US and UK, were in response to reports of a chemical attack in Douma, allegedly carried out by Assad's forces – an allegation that has been denied by both Damascus and Moscow.
You can share this story on social media: