France to deport all criminal undocumented migrants – Macron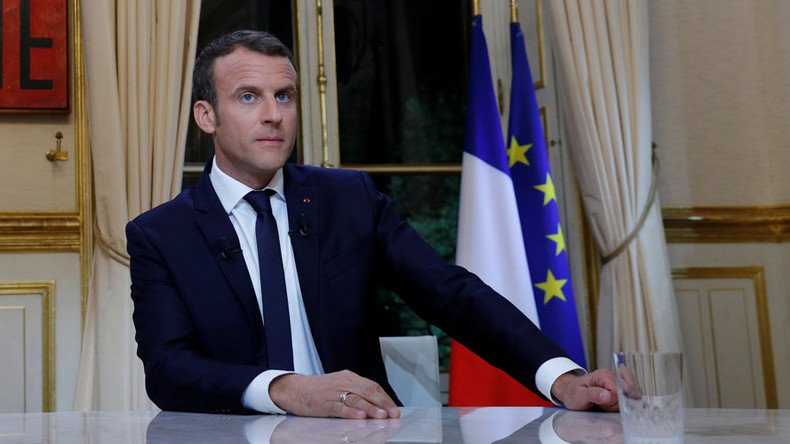 French President Emmanuel Macron has vowed to follow through on the "radical" immigration reform promised prior to his election, with all undocumented migrants convicted of a crime to be deported.
In his first televised interview since taking office, Macron also staunchly defended his record in power.
"We're taking care of the France where things aren't going well," Macron said on Sunday, as cited by the AFP. "I'm doing what I said I would do during the election campaign."
Immigration reform featured prominently in Macron's election manifesto, with a draft update of migration law in France expected in spring 2018. However, Macron has experienced a dip in his overall approval rating, fuelling speculation that his tough rhetoric on immigration is designed to court members of France's far-right voter base.
For context, Macron's televised interview took place just two weeks after Ahmed Hanachi stabbed two women to death at the Saint-Charles train station in Marseille.
Hanachi has been in police custody for shoplifting in Lyon just two days prior to the attack. He was released by police the following day despite not having the correct documentation to prove that he was in the country legally.
He had a history of petty crime but police have yet to find any links to jihadist groups which would corroborate claims by IS (formerly Islamic State, ISIS/ISIL) that it coordinated the Marseille stabbing attack. Hanachi reportedly had a total of seven aliases.
READ MORE: Radicalized French prisoners suspected of plotting attacks days before release
Macron discussed the so-called "double penalty" which means that, following conviction, a custodial sentence or financial penalty for undocumented migrants is forgone in favor of immediate expulsion from the country as ordered by the French Ministry of the Interior.
The European Court of Human Rights has repeatedly criticized efforts by members of France's far-right for pushing such reforms. The ECHR condemned seven such cases in 2015 reports Le Monde.
"There is a kind of practice where those who are in our territory illegally can be checked several times as they have become accustomed to the inability to bring them back to the border. This will change," warned Macron, adding that "it will not happen overnight."
You can share this story on social media: