Anonymous hacker Jeremy Hammond pleads guilty to Stratfor breach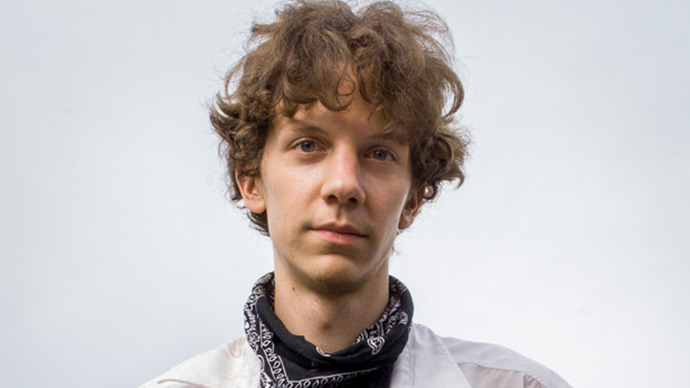 Hacker and activist Jeremy Hammond pleaded guilty Tuesday morning in a New York courtroom to violating the Computer Fraud and Abuse Act as a member of the Internet collective known as Anonymous.
Hammond, 28, was arrested last March and charged with hacking into the computers of Strategic Forecasting Inc., or Stratfor — a global intelligence company based out of Austin, Texas. He has been held in jail for nearly 15 months since being apprehended and faced a potential life sentence if convicted by a jury. After spending more than a year behind bars — with weeks spent in solitary confinement — Hammond pleaded guilty early Tuesday for his role in the Stratfor hack as well as eight other computer network intrusions.

"I took and disseminated information in a way I knew was against the law," Hammond told the court, according to tweets sent by eyewitness Nicky Ocean.
Jeremy had to repeat the crimes he committed. " I took and disseminated information in a way I knew was against the law" #freehammond

— Nicky Ocean ⚓ (@SeaNick_) May 28, 2013
Hammond is now slated to be sentenced on September 6 and faces no more than 10 years in prison.

When Anonymous successfully infiltrated the networks of Stratfor in 2011 as part of "Operation AntiSec" the group uncovered a trove of personal emails between the company's executives in which a number of shadowy operations were revealed, including evidence of Stratfor being contracted by corporations and government entities alike to surveil political protestors and activists, including members of People for the Ethical Treatment of Animals (PETA) and Occupy Wall Street.

"Corporate-government surveillance is one of the most rapidly expanding threats to civil liberties
today," Abi Hassen, mass defense coordinator for the National Lawyers Guild, said in a statement Tuesday. "The Stratfor leak is a glimpse into a secret world of corporate spying that is incompatible with this country's democratic values."
Anonymous would go on to release personal information pertaining to thousands of subscribers of Stratfor's consulting service on Christmas 2011, and the following year whistleblower website WikiLeaks began publishing the executive's emails as part of the "Global Intelligence Files." When WikiLeaks began publishing the correspondence last February, the website described Stratfor as "a company that fronts as an intelligence publisher, but provides confidential intelligence services to large corporations."

"The emails," wrote WikiLeaks "expose the revolving door that operates in private intelligence companies in the United States. Government and diplomatic sources from around the world give Stratfor advance knowledge of global politics and events in exchange for money. The Global Intelligence Files exposes how Stratfor has recruited a global network of informants who are paid via Swiss banks accounts and pre-paid credit cards. Stratfor has a mix of covert and overt informants, which includes government employees, embassy staff and journalists around the world."

In a statement penned by Hammond and released by his Defense Committee after the plea was made, the hacktivist explained that he opted to make a plea in lieu of letting his case go to trial to avoid complicating his legal woes even further.

"If I had won this trial I would likely have been shipped across the country to face new but similar charges in a different district. The process might have repeated indefinitely," he wrote. "Ultimately I decided that the most practical route was to accept this plea with a maximum of a ten year sentence and immunity from prosecution in every federal court."

In addition to pleading guilty for the Stratfor hack, Hammond said he also took the blame for compromising the computers of military and police equipment suppliers, information security firms and law enforcement agencies.
"I did this because I believe people have a right to know what governments and corporations are doing behind closed doors," Hammond wrote. "I did what I believe is right."

According to Twitter user @subverzo, who was in attendance during Tuesday's hearing, one of those other eight hacks involved the compromising of Combined Tactical Systems, a Pennsylvania-based munitions manufacturer that has exported weapons to repressive regimes across the Middle East. In 2011, Amnesty International said the company shipped roughly 46 tons of ammunition to Egyptian security forces, including "chemical irritants and riot control agents such as tear gas."
#freehammond also plead to hacking Combined Tactical Systems, @statedept teargas exporter of choice to #egypt#bahrain#saudi despots

— Lex Hortensia (@subverzo) May 28, 2013
In the indictment filed against Hammond in March 2012, he was accused of also participating in hacks that targeted the California Statewide Law Enforcement Association, as well as computer servers used by various New York State police chiefs.

"California police have a notorious history of brutality and therefore have been on our hit list for a good minute now," Anonymous members wrote after the January 2012 hack of CSLEA. In response, CSLEA President Alan Barcelona called Anonymous "criminal terrorists."

Before taking up arms with Anonymous, Hammond spoke at the 2004 DefCon hacker convention in Las Vegas to discuss electronic civil disobedience. When someone in the crowd had words for Hammond similar to what Barcelona would say eight years later, a then-19-year-old hacktivist said, "One man's freedom fighter is another man's terrorist."

Elsewhere in his statement released this week, Hammond wrote, "I believe in the power of the truth"
and explained that by pleading guilty he is once and for all able to discuss his crimes — which, as suggested by the testimony published on his behalf on Tuesday, he still stands by.

"This non-cooperating plea agreement frees me to tell the world what I did and why, without exposing any tactics or information to the government and without jeopardizing the lives and well-being of other activists on and offline," Hammond wrote.

Previously, Hammond wrote his supporters from prison to urge for reform of the Computer Fraud and Abuse Act, the law used to target information activist Aaron Swartz, security researcher Andrew Auernheimer and others.

"The sheer number of everyday computer users who could be considered criminals under these broad and ambiguous definitions enables the politically motivated prosecution of anyone who voices dissent. The CFAA should be found unconstitutional under the void-for-vagueness doctrine of the due process clause. Instead, Congress proposed bills last year which would double the statutory maximum sentences and introduce mandatory minimum sentences, similar to the excessive sentences imposed in drug cases which have been widely opposed by many federal and state judges," Hammond wrote in February.
Although Swartz took his own life before his CFAA trial came to a head, Auernheimer was sentenced to 41 months in prison earlier this year. Under his plea deal, Hammond faces roughly triple that.

Jason Hammond, Jeremy's twin brother, said in a statement that his sibling "has taken responsibility for what he's done, but he should not face such a harsh sentence for an act of protest from which he did not personally benefit."

"I'm glad he's moved one step closer to freedom but today I'm asking for the judge to consider a sentence appropriate to what is nothing other than a non-violent political protest," he said.

Hammond was arrested on March 5, 2012 as part of an international raid that targeted alleged members of Anonymous and the hacker offshoot LulzSec. After arrests were made, it was revealed that the alleged "ringleader" of LulzSec, a hacker using the alias Sabu, had been feeding information about the groups' activities to the Federal Bureau of Investigation. Sabu has been identified as Hector Xavier Monsegur, a single father from New York, who as recently as this year was still cooperating with the FBI.

Earlier this month, Britain residents Ryan Cleary, Jake Davis, Mustafa al-Bassam and Ryan Ackroyd were sentenced for a handful of crimes conducted under the umbrella of LulzSec. None of their sentences
exceeded 32 months. Barrett Brown of Dallas, Texas is expected to stand trial starting this September for a number of charges, including one relating to the release of Stratfor subscribers' credit card numbers. He faces a maximum of 100 years in prison.
You can share this story on social media: