Reddit co-founder Aaron Swartz commits suicide in midst of controversial trial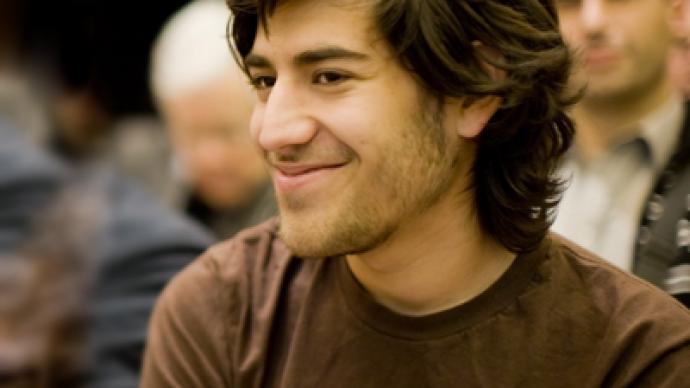 The co-founder of social news website Reddit committed suicide in New York City. Aaron Swartz was facing a possible sentence to decades in jail and a $1 million fine over the alleged theft of journal articles with intent to post them online.
"The tragic and heartbreaking information you received is, regrettably, true," Swartz' attorney, Elliot R. Peters, said in an email to The Tech.
Swartz hanged himself on Friday in his Brooklyn apartment weeks before he was to go on trial, police reported. His body was found by his girlfriend, who called the emergency services
The 26-year-old was the co-founder of Reddit and executive director of Demand Progress, a website that focuses on policy changes for civil liberties, civil rights, and government reform in the US. He advocated making information freely available online and cooperated with Creative Commons, a non-profit organization aiming to facilitate sharing of creative works.
Swartz was also a renowned programmer. By the age of 13, he created his first web application which was essentially the same idea as Wikipedia, according to his website. He contributed to the creation of the RSS, a popular web feed format used to alert users about updates of content.
In 2011, Swartz was charged with allegedly stealing more than four million academic journals from JSTOR, an archive of scientific journals and academic papers, via an open connection at the Massachusetts Institute of Technology (MIT).
He faced 13 felony charges, including breaching site terms and intending to share downloaded files through peer-to-peer networks, computer fraud, wire fraud, obtaining information from a protected computer, and criminal forfeiture. He was also accused of evading MIT's attempts to kick his laptop off the network while downloading millions of documents from JSTOR.
Many say the lawsuit is unfounded because MIT allows guests access to JSTOR – and Swartz, who was undertaking a fellowship at Harvard's Safra Center for Ethics at the time of downloading, was a guest.
The case has also been deemed highly controversial because it wasn't JSTOR – the alleged victim in the case – which referred Swartz to the federal government, according to the company's vice president of Marketing and Communications, Heidi McGregor. She says JSTOR was content once it reclaimed the works from Swartz.
"We stopped this downloading activity, and the individual responsible, Mr. Swartz, was identified. We secured from Mr. Swartz the content that was taken, and received confirmation that the content was not and would not be used, copied, transferred, or distributed," the company said in its statement on the prosecution.
The statement went on to say that the investigation was directed by the United States Attorney's Office.
And while the US government was threatening Swartz with decades in prison and a hefty fine, some say the move was entirely unfounded.
"This makes no sense. It's like trying to put someone in jail for allegedly checking too many books out of the library," Demand Progress Executive Director David Segar said in a statement, as quoted by Wired magazine.
"It's even more strange because the alleged victim has settled any claims against Aaron, explained they've suffered no loss or damage, and asked the government not to prosecute," Segal said.
His family blamed the United States Attorney's Office for his death.
"Aaron's death is not simply a personal tragedy. It is the product of a criminal justice system rife with intimidation and prosecutorial overreach. Decisions made by officials in the Massachusetts US Attorney's office and at MIT contributed to his death," they said in a statement released Sunday.
Feeling he had no other choice, Swartz surrendered himself to authorities in July 2011 and was released on bond. In September 2012, he appeared at the hearing in court and pleaded not guilty. His trial was scheduled for February 2013.
Many of the charges stemmed from Swartz allegedly breaching JSTOR's terms of service agreement.
"JSTOR authorizes users to download a limited number of journal articles at a time," the latest indictment said. "Before being given access to JSTOR's digital archive, each user must agree and acknowledge that they cannot download or export content from JSTOR's computer servers with automated programs such as web robots, spiders, and scrapers."
The case would have tested the reach of the Computer Fraud and Abuse Act, which was created to reduce the cracking of computer systems and federal domains-related offenses. The law, which was passed in 1984, enhances the government's ability to prosecute hackers who accessed computers to steal information or disrupt computer functionality.
But according to plaintiff attorney Max Kennerly, Swartz may not have violated the law at all.
"It is by no means clear that Swartz has actually violated the Computer Fraud and Abuse Act. Recently, the Fourth Circuit joined the Ninth Circuit in alleging that violating the terms of service does not constitute a crime under the CFAA. In contrast, the Fifth, Seventh and Eleventh Circuits have held that it can be a crime. Swartz' case is in the First Circuit. This is the classic sort of Circuit Split that prompts Supreme Court review," Kennerly said on his blog.
If he would have been convicted, Swartz would have faced up to 35 years in prison and a $1 million fine.
You can share this story on social media: