Anonymous-tied hacktivist faces prison for sharing link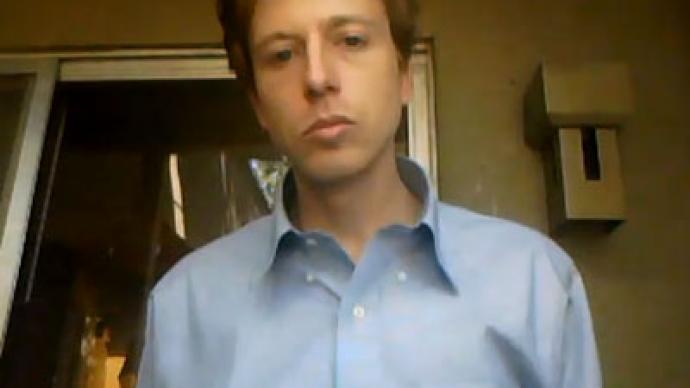 A federal grand jury has indicted Barrett Brown, an activist from Texas with links to the Anonymous hacktivist movement, on a dozen federal charges for sharing a hyperlink inside of an Internet chat room.
Brown, 31, had been in federal custody for nearly three months awaiting trial for unrelated crimes when the US District Court for the Northern District of Texas, Dallas Division, unsealed a new grand jury indictment against him on Friday, December 6 [pdf].
Brown was arrested in September and charged with making online threats against a federal officer after posting a series of YouTube videos and tweets sharply criticizing an FBI agent. Now he has been charged with 12 unrelated counts stemming from his alleged involvement in the high-profile hack of Strategic Forecasting, or Stratfor, late last year.
On top of his previous charges, Brown now faces decades of additional prison time if convicted on the newest crimes, including one count of traffic in stolen authentication features, one count of access device fraud and 10 counts of identity theft.
According to the indictment, Brown is at fault not for hacking into Stratfor during a massive security breach in 2011, but for posting a link to the hacked files while in an online chat. Prosecutors say that during last Christmas, Brown affected interstate commerce by knowingly trafficking without authorization the credit card information of 12 subscribers to the Stratfor global intelligence company's newsletter, information authorities say he knew "were stolen and produced without lawful authority."
Although Brown is not being pegged with personally hacking Stratfor or obtaining, collecting and categorizing the credit card data in question, the Justice Department is attacking the hacktivist for copying a link to a downloadable archive of the compromised data from one Internet Relay Chat (IRC) channel and pasting it into another.
"Brown transferred the hyperlink 'http://wikisend.com/download/597646/Stratfor_full_b.txt.gz' from the Internet Relay Chat (IRC) channel called '#AnonOps' to an IRC channel under Brown's control called '#ProjectPM," the authorities charge, which in turn provided access to stolen Stratfor data including "in excess of 5,000 credit card account numbers, the card holders' identification information and the authentication featres for the credit cards known as the Card Cerficivation Values (CVV)."
"[B]y transferring and posting the hyperlink, Brown caused the data to be made available to other persons online without the knowledge and authorization of Stratfor Global Intelligence and the card holders," the indictment continues.
Although Brown is only being charged with transferring the credit card data obtained in the Anonymous-led assault on Stratfor, his alleged role is but a very miniscule one in the grand scheme of the hack. While Brown is being charged for sharing a dozen credit card numbers, the information obtained by Anonymous included in all thousands of sensitive information as well as a trove of millions of emails from within Stratfor. That collection of correspondence was handed over to the website WikiLeaks after the hack and has been steadily published by the whistleblower site in the months since as part of the "Global Intelligence Files."
As RT reported last month, 27-year-old activist Jeremy Hammond of Chicago has been charged with a direct role in illegally accessing Stratfor's servers and has been told by the court that prosecutors could seek a life sentence if he's convicted. That future of that case has been put in the air, however, after details emerged recently that the presiding judge is married to one of the thousands of Stratfor customers whose credit cards information was compromised.
When RT reported on developments in the Hammond case last month, we indirectly linked to an archived copy of the very files that Brown is alleged to have shared in an IRC channel. Further research reveals that the archive of Stratfor data has been shared countless of times since publicized last September, and is easily available across the Web without any warning that extracting the data contains information obtained without authorization and therefore in violation of federal law. Absent from the indictment, even, is a tweet from Brown sent on December 29, 2011 linking to a copy of the files hosted on Megaupload.com. As of this writing, that message has been re-tweeted dozens of times and word of his latest indictment has spawned a "RightToLink" campaign on Twitter."
"Link Barrett accused of sharing was also posted on Cryptome + several blogs. Will these websites be indicted for 'transferring link' too?" UK journalist Ryan Gallagher asked on Twitter over the weekend.
When Anonymous went public with the Stratfor hack last year, Brown published a statement regarding the compromise while on his part never citing any role he may have had.
"In the wake of the recent operation by which Stratfor's servers were compromised, much of the media has focused on the fact that some participants in the attack chose to use obtained customer credit card numbers to make donations to charitable causes. Although this aspect of the operation is indeed newsworthy, and, like all things, should be scrutinized and criticized as necessary, the original purpose and ultimate consequence of the operation has been largely ignored," Brown wrote.
"Stratfor was not breached in order to obtain customer credit card numbers, which the hackers in question could not have expected to be as easily obtainable as they were. Rather, the operation was pursued in order to obtain the 2.7 million e-mails that exist on the firm's servers. This wealth of data includes correspondence with untold thousands of contacts who have spoken to Stratfor's employees off the record over more than a decade."
"Although Stratfor is not necessarily among the parties at fault in the larger movement against transparency and individual liberty, it has long been a 'subject of interest' in our necessary investigation," he wrote. "The e-mails obtained before Christmas Day will vastly improve our ability to continue that investigation and thereby bring to light other instances of corruption, crime and deception on the part of certain powerful actors based in the US and elsewhere."
The earlier federal indictment against Brown, unsealed in early October, charges him with Internet threats, conspiracy to make publically available restricted personal information of a federal employee and retaliation against a federal law enforcement officer [pdf]. In that case, he is alleged to have made threats against FBI Agent Robert Smith, one of the officers involved in a March 2012 raid on Brown's residence that coincided with an international crack-down on alleged Anons with roles in the Stratfor hack from only a few months prior. Although Brown was not charged with any crimes related to the hack at the time, his computers was taken into custody and in the days before his September arrest he demanded they be returned to him.
During that March 2012 raid, the FBI executed a search warrant for all evidence relating to Anonymous, the LulzSec offshoot and IRC and Twitter logs stored on his computers. In the only dispatch from behind bars published online, Brown wrote, "I am not and never have been the spokesman for Anonymous, nor its 'public face' or, worse, 'self-proclaimed' 'face' or 'spokesperson' or 'leader.'"
You can share this story on social media: