Anonymous claims Stratfor spied on OWS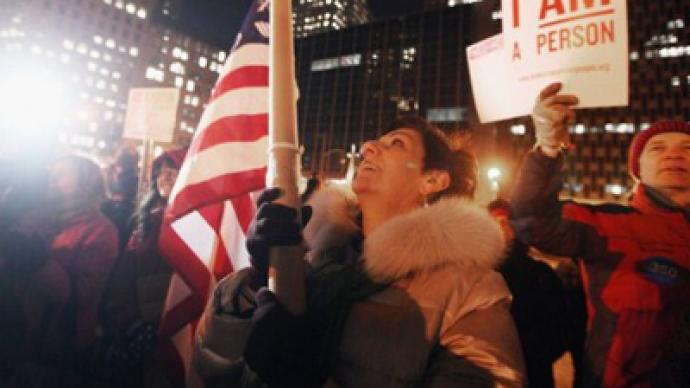 Anonymous promised that after hacking the intelligence firm Stratfor, called by some a "shadow CIA," they'd prove that they were more than just a consulting firm.
Now it looks like the private company worked along with law enforcement in attempting to bring down the Occupy movement.In some of the latest pieces of correspondence made public, however, information that many had already suspected about the role law enforcement played in infiltrating the Occupy Wall Street movement is brought to light. In an exchange of emails between Stratfor executives that has been published by hackers involved in the matter, employees of the firm go back-and-forth with one another in detail over information that Texas law enforcement supplied the firm after investigating an Austin Occupy meet-up.In the emails, Strafor employees discuss intel about the Occupy movement that was supplied to them by a "Texas DPS agent," or an officer within the ranks of the Lone Star State's Department of Public Safety. The DPS is a state-wide law enforcement agency that investigates suspicious activity and allegations of terrorism within Texas. The question of why state law enforcement shared that email with a private intelligence firm is open to interpretation, but certainly suggests that attempts to understand and perhaps undermine the local OWS chapter was more than just a minor operation.According to the documentation, which includes correspondence from late 2011, Stratfor employees discuss both Occupy Austin and the Deep Green Resistance, or DGR. While DGR is not directly affiliated with Occupy Wall Street, it is a similar movement — to a degree — that encourages environmental activism that isn't present in more mainstream campaigns. In a press release, the DGR attacks both Texas authorities and Strafor for their newly revealed roles."Deep Green Resistance condemns the surveillance and infiltration of activist groups by law enforcement and private corporations and calls on activists and their allies to expose and protest this violation of all of our constitutional rights," the group says in a statement published Thursday.Rachel Meeropol, a staff attorney at the Center for Constitutional Rights, adds that she is outraged over how Stratfor and the DPS were in cahoots over infiltrating Occupy Austin. "Law enforcement sharing information about local activism with private intelligence firms should be a huge scandal," writes Meeropol in Thursday's statement. "Privately funded surveillance and infiltration of activist groups is especially chilling, as time and again we see such corporations operate as if they are above the law and accountable to no one."In the emails, Stratfor staffers discuss how one of their own men went undercover to an Occupy Austin General Assembly and attempted to gain insight into how the group operates. Stratfor's Scott Stewart writes that the movement is considered by some to be "a terrible threat to corporations," but adds, "in reality, due to the history of anarchists, animal rights, anti-war and anti-globalization protesters, companies are well prepared for such hippy hijinks." As the Occupy movement continues to thrive more than three months after Stewart shared such words with other Stratfor employees, it is clear that that isn't the case.In a separate email sent a month later in November, Korena Zucha of Stratfor writes that a Texas DPS agent has shared information about both movements. In it, Deep Green is linked with Occupy Austin, which DGR shrugs off as speculation. Representatives for DGR believe that the correspondence suggests that surveillance of both groups was ongoing. In the back-and-forth, Stratfor staffers suggest that sources within Occupy Austin describe some of the DGR members as crazy, to which one adds, "that bothers me, because these Occupy people will tolerate just about anything."Stratfor's Marc Lanthemann, who signs his email as a "Watch Officer" for the firm, suggests that coordination between the DGR and Occupy movement could have dire consequences. Lanthemann writes in one email that he thinks Deep Green is an "eco-terror group is focused on creating a situation where violent confrontation will be the ultimate outcome.""It doesn't require an agent to get simple facts correct. Both of these assertions are just plain false," responds DGR.
You can share this story on social media: