Anonymous to prevail sans Sabu: 'He's a traitor; LulzSec long-dead; we have no leaders'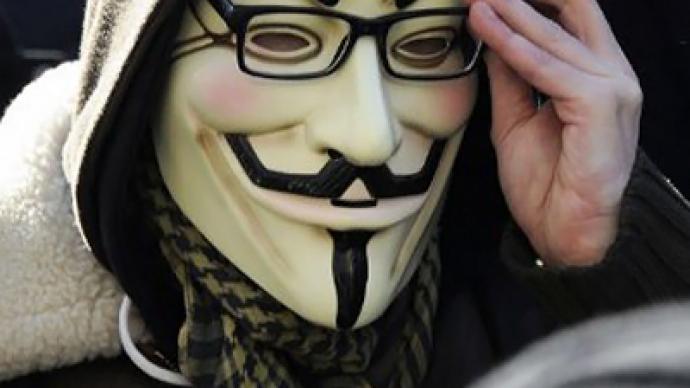 "Anonymous is a hydra, cut off one head and we grow two back."
It was one of thousands of micro-messages sent early Tuesday from Twitter accounts associated with the loose-knit yet internationally scattered and seemingly unstoppable hacking collective Anonymous. Seemingly unstoppable because a reign of high-profile assaults on governments, corporations and other entities with questionable connections has become a calling card of a group that has experienced few losses in a checkered online career that has at the same time spawned successful exploits against the likes of the FBI, CIA, SONY and the Motion Picture Association of America.
Seemingly, however, is a word absolutely worthy of emphasis in this instance.
Authorities announced early Tuesday that a handful of operatives allegedly involved with the Anonymous collective and a now defunct offshoot, LulzSec, had been arrested. What's more, adds officials, is that an alleged ringleader, a hacker who used the alias Sabu over the Web, had been cooperating with the Federal Bureau of Investigation since June 2011.
In all, the FBI announced they charged five hackers in the US and abroad on Tuesday, with a sixth pleading guilty for related crimes. "We're chopping off the head of LulzSec," an FBI official close to the investigation told media outlets early Tuesday. "This is devastating to the organization."
For Anonymous, however, the end is far from here.
The YourAnonNews Twitter account, an unofficial press liaison of sorts for the group, was quick to tweet to half-a-million followers that Anonymous will only get bigger. At a time when authorities are alleging that they have removed the center stone from the Web's most feared foe, Anonymous is responding that their war is only beginning. The hydra's second head was being birthed within mere moments; it's angry, too.
Anonymous says they aren't dead. It would even appear already as if they are opening up a second front: this time on one of their own.
Authorities say Sabu, born Hector Xavier Monsegur, plead guilty to charges relating to his involvement in the hacking group back on August 15. The FBI calls him an "influential member of three hacking organizations – Anonymous, Internet Feds and Lulz Security," and links him to Anon-led attacks on Visa, MasterCard, the US Senate, PayPal and even the governments of Tunisia and Zimbabwe, among others.
Within Anonymous, some members of the group add that Lulz Security, or LulzSec, has been an offshoot long dead, though. Since that collective officially announced its disbandment in late June, Anonymous has gone on to do other activities — arguably their biggest and ballsiest ever — without the aid of Sabu, it would seem. In the months since LulzSec stopped assaults under that umbrella, Anonymous has not only forged relationships with the Occupy Wall Street movement and Julian Assange's WikiLeaks, but have gone after numerous law enforcement agencies on an international scale, the private intelligence group Stratfor and most major entities of the United States government; upon announcement that INTERPOL arrested a few of their own last month, the worldwide policing group themselves saw their website crippled by an Anonymous-endorsed retaliation. "Anonymous is not a criminal organization," tweeted another popular account, @AnonOps, at the time.
Although the FBI calls Tuesday's raid a success, Anonymous members are charging that authorities arrested the culprit whose influence extended to a collective long passed and nothing else. The @p0isAn0N account, the subject of a Boston Police Department investigation over tweets related to an Occupy Wall Street protest there, was quick to counter on Tuesday that "LulzSec has BEEN dead"
"We don't have a leader," reads another tweet from the YourAnonNews account. "A movement against authority without leaders drives authority insane; they cant break down a movement by corrupting the leader," adds the account.

Not only has Anonymous long attested that no such hierarchy exists within the internationally-distributed band, but they have alleged that one of their own had been cooperating with authorities for quite some time. In July, an alleged Anonymous user raised suspicions of Monsegur and posted personal details of his online. At the time he published photos, family information, vehicles registered under his name and even his home address to the Internet. In an online chat between Sabu and another hacktivist named Virus from this past August, Virus wrote, "I'm absolutely positive, you already got raided, and are setting your friends up and when they're done draining you for information and arrests they'll sentence you and it'll make nose." Others had insisted that Sabu tried to entrap other hacktivists with money.
Sure enough, six months later that prophecy has come true. Much to the chagrin of law enforcement, however, what's left of Anonymous suggests that the war will rage on.
Barrett Brown, an occasionally Anonymous collaborator and founder of the group Project PM, flatly acknowledged what many others had hinted at. "Sabu is a traitor," tweeted Brown on Tuesday. That accusation seems appropriate, given that Brown says his own apartment was raided by the FBI on the same morning, and authorities went to another location to seek him out.
The YourAnonNews account echo's Brown's statement, saying that if "Traitor Sabu"is convicted, he faces a maximum sentence of 124 years in prison. Why should that matter to Anonymous, though?"Anonymous has no leaders, we will still be stronger than ever. LulzSec has been dead for a while," adds the account.
"Don't you get it by now? #Anonymous is an idea. #Anonymous is a movement. It will keep growing, adapting and evolving, no matter what."