DOJ 'admits' to targeting Aaron Swartz over his activism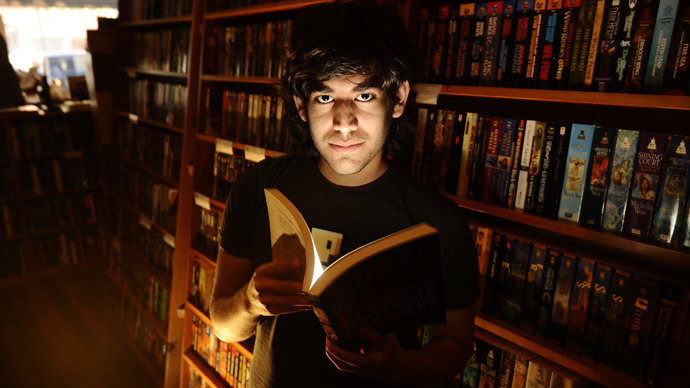 Aaron Swartz's past activism and 'Guerilla Open Access Manifesto' played a part in his prosecution, sources told US media. Prosecutors pursued him even though he had not yet leaked anything, as his manifesto proved his alleged "malicious intent."
Swartz's manifesto "demonstrated his malicious intent" in downloading documents on a massive scale, reads a Huffington Post's report quoting anonymous Justice Department representatives.
In his manifesto, Aaron Swartz stated that sharing information was a "moral imperative" and advocated "civil disobedience" against copyright laws. He called for action against the "privatization of knowledge," which he dubbed a "fight for Guerilla Open Access."
Swartz's statements played a role in federal prosecutors plan to indict him for downloading millions of scholarly articles from the JSTOR database in 2011, congressional staffers were reportedly told during a recent congressional briefing.
The briefing, held for the Congressional Oversight Committee, was part of an investigation into the government's prosecution of the late activist and coder, who committed suicide on January 11 at the age of 26.
Family, friends and supporters of Swartz have maintained the aggressive prosecution was a decisive factor in his suicide. At the time of his death, Swartz was facing a felony conviction, a prison sentence of up to 35 years and a $1-million fine.
The Justice Department has defended the federal prosecutors, denying the claims. Steven Reich, an associate deputy attorney general, reportedly said at the briefing the prosecutors acted "in a reasonable manner" and within the frame of "adequate deterrence to criminal conduct," in order to deter others from committing similar offenses.
It was also confirmed during the briefing that Swartz was offered a bargain for a guilty plea that would have given him a three-month prison sentence. The prosecutors were allegedly pursuing at least seven to eight years of jail time for Swartz.
Not everyone who took part in the briefing has agreed that the prosecution handled the case reasonably.
"Some congressional staffers left the briefing with the impression that prosecutors believed they needed to convict Swartz of a felony that would put him in jail for a short sentence in order to justify bringing the charges in the first place," Huffington Post reported, citing two aides with knowledge of the briefing.
Critics reacted to the report, saying the government persecuted Swartz for his views, without having any real evidence he had criminal intent.
Swartz's actions were criminalized by the government just because he was an "effective advocate of policies contrary to their views," human rights lawyer and blogger at Harper's magazine Scott Horton told Mashable.
Swartz's manifesto was "not quite as extreme as some make it out to be," blogger Mike Masnick wrote on Techdirt. It mostly referred to material that is out of copyright, and talked about buying access to databases before releasing its contents online, he explained.
"Apparently, the DOJ thought it was a reason to throw the book at Swartz, even if he hadn't actually made any such works available," Masnick wrote, referring to the fact that Swartz hadn't shared any of the JSTOR articles he allegedly downloaded.
The digital library itself has earlier stated it received confirmation from Swartz "that the content was not and would not be used, copied, transferred, or distributed."
Amid wide public concern over Swartz's case, the White House issued a directive expanding access to publicly funded scientific research. Last week's directive was hailed by Open Access supporters as a major victory in a fight in which Swartz took an active part.
You can share this story on social media: