War hawks mourn 'underfunded' US military that could 'lose next war' against Russia or China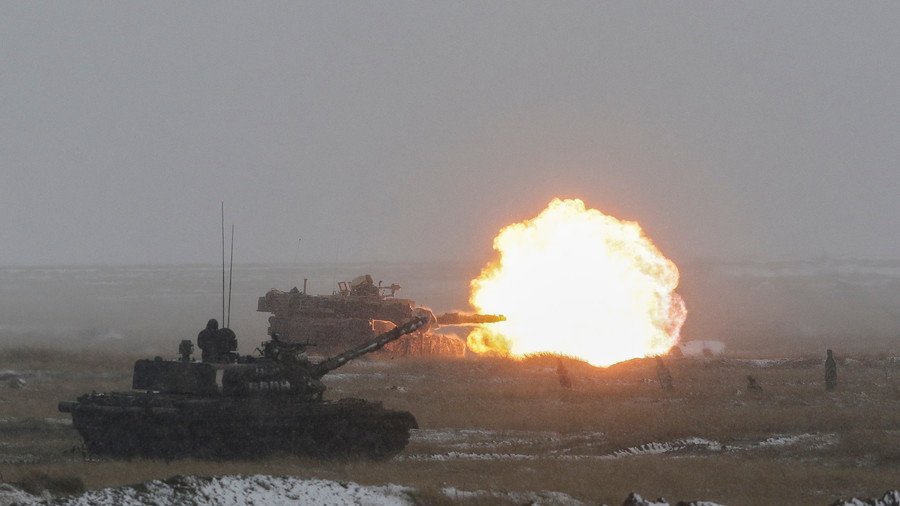 Although Washington spends more on its military than the next ten countries combined, a bipartisan commission now warns that the Pentagon needs even more money if the US is to maintain hegemony against threats by Russia and China.
The US military "could suffer unacceptably high casualties and loss of major capital assets in its next conflict" and might lose or "struggle to win" a war against China or Russia, says the 116-page document, produced by the National Defense Strategy Commission and published this week, concluding that "US military superiority is no longer assured" and that this has "severe" implications for US interests and security.
READ MORE: Chinese 'aggressive industry' threatens US military complex, 'stable budget' needed – Pentagon
We affirm strongly the view that the global role the United States has played for many generations has benefited our nation enormously, and that this role rests upon a foundation of unmatched military power,
wrote Eric Edelman and Gary Roughead, co-chairs of the commission. Edelman is a former career diplomat, while Roughead is a retired Navy admiral.
"US military power has been indispensable to global peace and stability – and to America's own security, prosperity, and global leadership," the report argues, noting that Washington's military superiority "has eroded to a dangerous degree" while Washington's ability to defend allies, partners and its own vital interests "is increasingly in doubt."
Moscow and Beijing dominate the concerns of the report's authors, appointed by House and Senate Armed Services committees to give an assessment of the Trump administration's new strategy, published earlier this year. The report makes 108 references to Russia and 105 to China. ISIS is brought up 29 times, while North Korea and Iran merit 23 and 20 mentions respectively.

The "war on terror" after 9/11 has led the Pentagon to focus on counter-terrorism and counter-insurgency, but also to lose the previously held advantage in everything from air and missile defense, naval warfare, artillery and electronics, the report says. The authors also endorse fully funding the planned modernization of the US "nuclear triad," the cost of which has been estimated at up to $1 trillion over the next decade.
While the 2011 Budget Control Act sequestered military spending in order to tackle the runaway deficits, the authors claim it weakened the military while not doing much to trim the fat at the Pentagon. Even as the number of active-duty military personnel has declined by over 100,000, the number of civilians employed by the Defense Department is "nearly equivalent" to levels before 2011, they note.
Manpower woes
Indeed, the US military will need more troops if it is to do all the things the report's authors want, from beefing up forces in Europe and Asia to continuing to garrison Afghanistan and the Middle East. That poses another problem: where to find them. According to the Pentagon, too many Americans are increasingly too fat, too stupid and too criminal to even qualify for service – and most of those that do aren't interested.
"In April 2018, service personnel chiefs testified that only one in four 17-to-24 year-olds meets the criteria to enlist in the military. This is due to several factors, including the rise in obesity, existing criminal records, and failure to meet basic educational requirements," the report says.
"Manpower challenges are further complicated by the fact that, among those eligible for service, only one in four exhibits the propensity to serve."
The report offers no solution to this, beyond calling for "creative steps to address the shortage of qualified and willing individuals" other than offering higher pay to volunteers. The words "draft" or "immigration" are not mentioned once, though.
All the money for all the weapons
The Pentagon must create a "cultural change" in the way it buys weapons and equipment, moving away from "a vulnerable few projects with timescale measured in decades, to a larger volume of smaller bets on groundbreaking technologies" and not being afraid of failure, the report says.
For those who were hoping this was a thinly disguised criticism of the $1.5 trillion fiasco that is the F-35 fighter jet program, the authors will disappoint: they demand "additional fifth-generation aircraft" to overcome Russia's advanced air defenses in Europe.
Grounded, yet again: Pentagon bans some F-35 jets from flying as fuel system flaws discovered
Current plans for the 2020 military budget are at $700 billion, but already the commission's report is being cited as argument for raising it to $733 billion, or more. These recommendations are music to the ears of Washington insiders like Bill Kristol, who back in 1996 co-wrote a call for US "benevolent global hegemony," but have also attracted condemnation from antiwar activists.
Meanwhile, the Costs of War Project at Brown University's Watson Institute for International and Public Affairs says the price tag of US wars following 9/11 will reach $6 trillion by the end of the fiscal year 2019.
For all the scaremongering about Russia and China, Beijing's military budget is a quarter of the current US one, while Moscow is spending less than one-tenth of it; yet, somehow, according to the commission, they are getting far more value for that money than American taxpayers.
Think your friends would be interested? Share this story!
You can share this story on social media: