Grounded, yet again: Pentagon bans some F-35 jets from flying as fuel system flaws discovered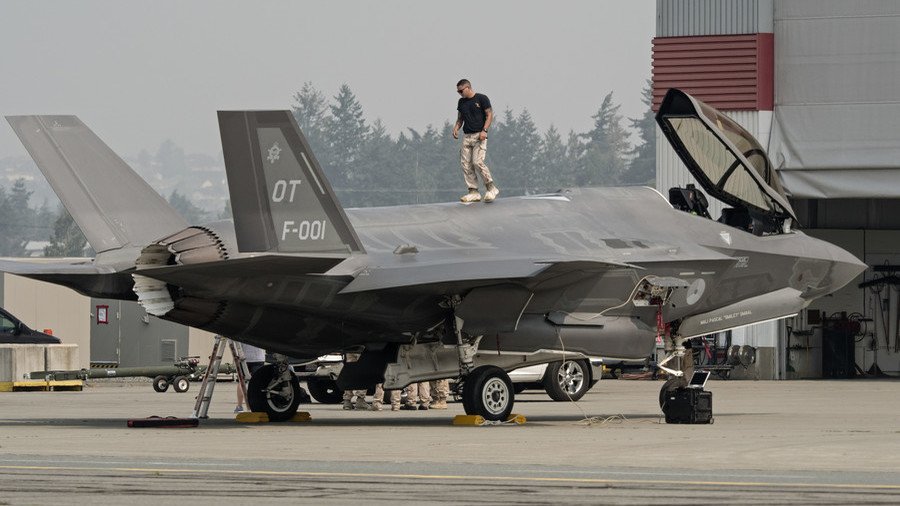 Some older-issue F-35s were removed from flight missions after new problems were discovered in the jet's faulty fuel system. The news comes only a couple of weeks after the Pentagon grounded the entire F-35 fleet.
The F-35s, which have accumulated more flight hours, will now be given detailed inspections, according to the Joint Program Office, which is the Pentagon-run management and acquisition body. In a vague statement, the JPO said "the analysis has identified two additional fuel supply tubes that require inspection."
A spokesman for the agency, who confirmed the news to the Marine Corps Times, refused to tell an exact number of jets affected by the grounding order. However, one source close to the controversial program said that several dozen F-35s would be grounded if necessary.
"While the two additional fuel tubes have not failed, engineering data collected during the ongoing investigation established the requirement for a time-phased inspection based on engine flight hours," the JPO told the Times. "The procedure to inspect and replace can be done by flight line maintenance without removing the engine."
The revelation comes just half a month after the Pentagon decided to ground all F-35s worldwide. The decision was made on the back of the first crash involving an F-35B – the jet had crashed outside the Beaufort Marine Corps Air Station in South California but the pilot managed to eject and survived.
An investigation that followed suspected that a widespread problem with the stealth fighter's fuel tubes may have led to the first-of-the-kind crash. Foreign F-35 operators, including the UK and Israel, have consequently grounded their jets for inspection.
Problems plagued the costly Lockheed Martin-produced since its inception. Lauded for its unparalleled maneuverability, firepower and stealth features, it gained notoriety for being riddled with hundreds of embarrassing deficiencies.
These issues are serious drawbacks that could be life-threatening, including oxygen-supply systems, unreliable software and potentially dangerous ejection seats. The program is estimated to have a lifetime cost of over $1.5 trillion, making it the most expensive weapons program in the US.
Like this story? Share it with a friend!
You can share this story on social media: