Chinese 'aggressive industry' threatens US military complex, 'stable budget' needed – Pentagon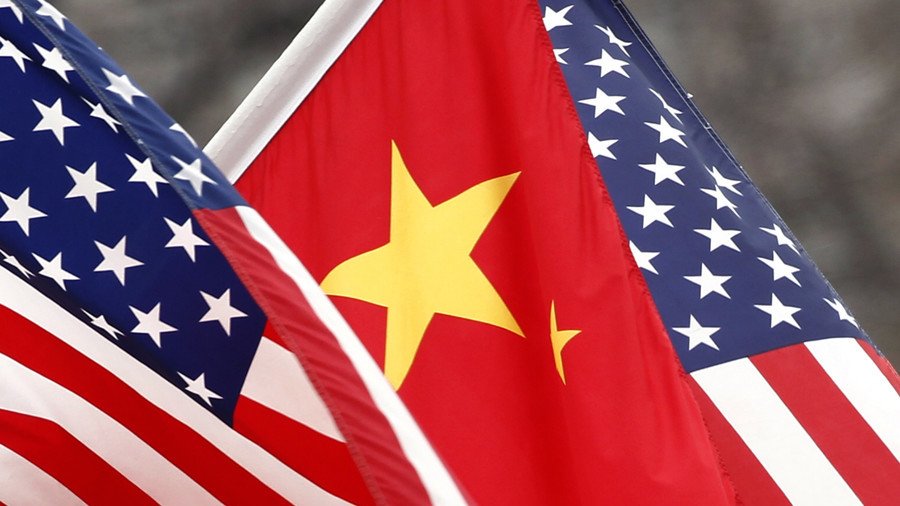 A new Pentagon report calls China the main threat to the US military-industrial complex, sounding alarm at declines in some "critical defense functions" due to actions by Beijing, to workforce shortages and to "unstable" funding.
"While multiple countries pursue policies to bolster their economies at the expense of America's manufacturing sector, none has targeted our industrial base as successfully as China," the report, titled 'Assessing and Strengthening the Manufacturing and Defense Industrial Base and Supply Chain Resiliency of the United States,' says.
READ MORE: America's next top villain: Is China lined up to replace Russia as the US' default enemy?
The document looks at other problems, such as the decline of certain sectors, namely shipbuilding, as well as the lack of skilled workforce and the unstable flow of contracts for strategic manufacturers, whose highly niche factories sit for years without work. But most of that can be fixed by a "stable and predictable" funding flow to the Department of Defense – which has already secured a record $719 billion budget for the next year.
The document singles out Beijing, branding it a "significant and growing risk" to the supply of the materials vital to the US military, and accusing it of "aggressive" industrial policies.
Beijing's activities have already allegedly rendered some of the US "critical defense functions" effectively extinct, namely "solar cells for military use, flat-panel aircraft displays, and the processing of rare earth elements." Other high-tech fields are also seriously "threatened" by China's actions, the Pentagon claims.
"China's actions seriously threaten other capabilities, including machine tools; the production and processing of advanced materials like biomaterials, ceramics, and composites; and the production of printed circuit boards and semiconductors," the report reads.
While Beijing has been focused on the high-tech sector over the past years, its achievements, according to Pentagon, are largely based "on both legal and illicit means, including foreign direct and venture investments, open source collection, human collectors, espionage, cyber operations, and the evasion of US export control restrictions to acquire intellectual property and critical technologies."
Apart from large-scale industrial espionage, China has achieved "domination" in several fields by unfair trade practices, the US military claims, naming the rare earth elements market as an example. Rare earths are used in the production of turbines, hybrid motors, fuel cells, electronics and other products.
"China has strategically flooded the global market with rare earths at subsidized prices, driven out competitors, and deterred new market entrants. When China needs to flex its soft power muscles by embargoing rare earths, it does not hesitate, as Japan learned in a 2010 maritime dispute," the document states.
Such accusations fall quite in line with the policies of US President Donald Trump, who has repeatedly accused China – and other countries – of being "unfair" to the US and engaged in the ongoing trade war, imposing restrictive tariffs on steel and aluminum. The US military had previously eagerly joined the China scare, sounding alarms over "rapidly" growing Chinese military capabilities.
While the report was commissioned by Trump back in July 2017, it has been released amid the new broadside attack on Beijing by the US administration. On Friday, US Vice President Mike Pence claimed that China was actually the number one meddler in US democracy, and even that alleged Russian interference "pales in comparison." Just as with accusations against Moscow, trumpeted over the past few years, the US attack on Beijing was not backed up by any evidence.
"China has initiated an unprecedented effort to influence American public opinion, the 2018 elections, and the environment leading into the 2020 presidential election," Pence said, stating that the alleged surge in China's activities meant that "President Trump's leadership is working" and Beijing wanted a "different American president."
"As a senior career member of our intelligence community recently told me, what the Russians are doing pales in comparison to what China is doing across this country," Vice President added.
China described Pence's speech as "unwarranted accusations," urging the US to stop producing the "malicious slander" and harming "China's interests and China-US ties." Beijing also accused the US itself of repeatedly violating the sovereignties of other nations.
"The international community already knows fully well who wantonly infringes upon others' sovereignty, interferes in others' internal affairs and undermines others' interests," China's Foreign Ministry said in a statement.
Think your friends would be interested? Share this story!
You can share this story on social media: