Semper fat? Marine Corps to overhaul chow bid to curb obesity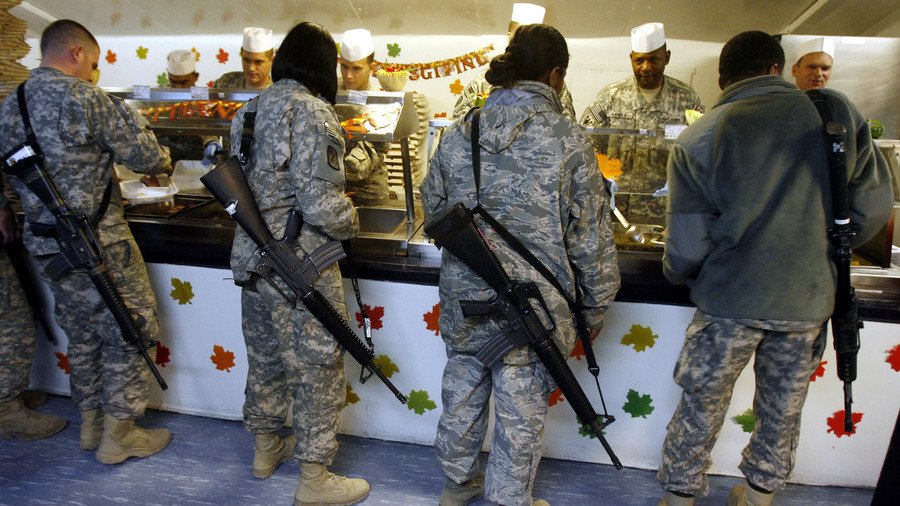 No more burgers or beer? The fitness-obsessed US Marine Corps is rolling out a color-coded food labeling scheme in a bid to trim the fat and fight the growing problem of its members being classified as overweight or obese.
Obesity is widespread in the US, and not even the military elite is safe. A 2017 Army report classified 17 percent of soldiers as 'obese,' and the problem is rearing its ugly head even in the USMC, which has the strictest physical fitness requirements of all military branches.
Keen to avoid the Devil Dogs from becoming unfit and blubbery, USMC leadership is starting the fight against obesity at the chow halls, reported Military.com.
Marines eating on base will now tuck into a menu designed to provide clean energy and better fuel their mental and physical needs. The offerings were inspired by the food served to elite college athletes, Force Fitness Division director Colonel Stephen Armes told Military.com.
Lean protein like bison meatloaf and mahi-mahi steaks will be offered at mealtimes, and grab-and go snacks will consist of yogurts, cheese, eggs, trail mix, and vegetarian options. Marines looking to grab a quick and dirty snack will now have to walk further: junk food options will be placed at the back of the chow hall, past all the healthier offerings.
If that walk of shame doesn't discourage Private Pudge from unhealthy snacking, the Corps hopes that its new color coding system will. The healthiest foods will be labeled green, or "eat as much as you want," while yellow labels will advise troops to "eat with caution." Red labels will be attached to the worst junk food, with Marines advised to "go minimal."
Similar changes are being made in other branches. The Army operates its own labeling system to help soldiers make informed choices, while the Navy cut out all fried foods and soda on its ships in 2014.
The Marine Corps still holds the honor of being the fittest branch of the military. Yet, according to a 2016 report, over 4,800 Marines are technically overweight. However, Marines who tip the scales can opt to be measured by their body fat percentage instead, as the standard Body Mass Index (BMI) scale unfairly considers some muscular marines 'overweight.'
As small as the Corps' obesity problem may be, for a force that calls itself the home of "The Few, the Proud, the Brave," it is still a problem, and one that leadership hopes they can head off in the kitchen.
"Incorporating the basic nutrition principles will build a foundation for mission readiness, cognitive performance as well as endurance performance," college nutritionist Nikki Jupe told MIlitary.com. "Using different nutritional strategies [can also help] prepare for deployment."
You can share this story on social media: