Unhealthy state of affairs: Three-quarters of young Americans unfit for military service, study says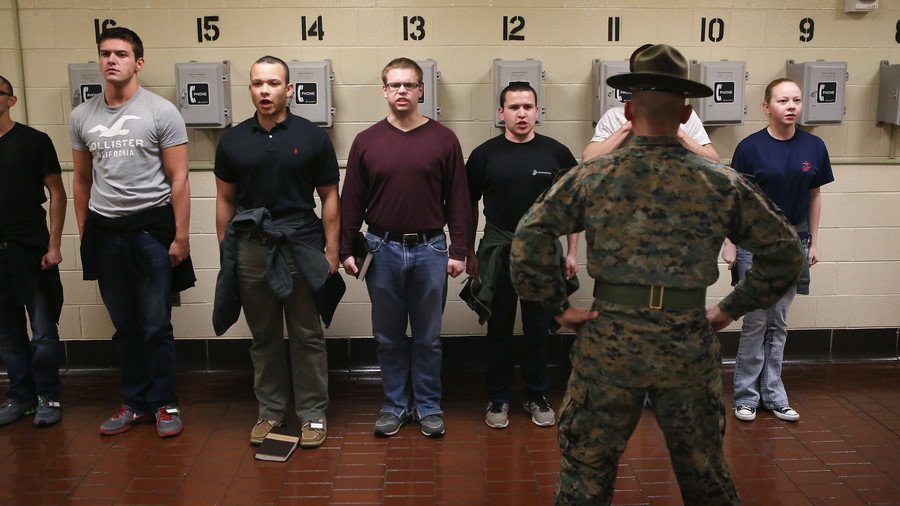 The US could be facing a security crisis and it has nothing to do with the Russians this time. According to a new study, the majority of military-age Americans don't meet the criteria for service – mostly due to health problems.
As many as 71 percent of young US citizens are ineligible to serve in the armed forces, research conducted by the Heritage Foundation in mid-February says. This state of affairs – which that the study describes as "alarming" – could soon lead to a serious shortage of recruits for the US military, which relies on a "constant flow of volunteers every year."
Out of 34 million people aged between 17 and 24, over 24 million are unable to join the armed forces, the paper says, warning that the US military will "inevitably suffer from a lack of manpower." It further adds that it is not a "distant problem" as the military is already experiencing problems with recruitment.
The US Army in particular is expected to have a hard time meeting its 2018 goal to enlist just 80,000 volunteers, the study says. "I would argue that the next existential threat we have… is the inability to man our military," Army Major General Malcolm Frost, the commander of the army's Initial Military Training Command, said during a panel discussion co-hosted by the Heritage Foundation back in October 2017.
Out of all those who are unfit for military service, almost 60 percent are ineligible to join the ranks of the US Armed Forces due to various problems related to their health or physical fitness. About one third are too obese to become soldiers. Some 27 percent of young Americans are "too overweight for military service," the study says, adding that about 15,000 potential recruits are rejected annually precisely due to this reason.
"The obesity issue is the most troubling because the trend is going in the wrong direction… By 2020 it could be as high as 50 percent, which means only two in 10 would qualify to join the army," the former commander of US Army Recruiting Command, Major General Allen Batschelet, said back in 2015. Other common health issues that prevent young Americans from joining the army are asthma, hearing and eyesight problems, as well as mental illnesses, the research says.
Particularly alarming for the US military is that the southern states that traditionally supply the armed forces with the largest percentage of new recruits are facing even more concerning health problems among their young population. Recruits from Alabama, Arkansas, Florida, Georgia, Louisiana, Mississippi, North Carolina, South Carolina, Tennessee and Texas are "significantly less fit, and consequently are more likely to encounter training-related injuries than recruits from other US states," according to a recent study conducted by the Citadel, the Military College of South Carolina, together with the US Army Public Health Center and the American Heart Association.
The 10 states mentioned in the study account for more than 37 percent of the new recruits, Task and Purpose reports, citing the data from US Army Recruiting Command. Health issues, however, are far from the only problem afflicting potential American soldiers.
The Heritage Foundation study also says that about a quarter of all those unfit for service are unable to successfully complete their high school education and are thus lacking "a basic understanding of written and cognitive skills … to complete an organized program."
The research further adds that those who are accepted by the military despite failing to complete their high school education, "rarely pass the Armed Forces Qualification Test (AFQT)" anyway. A further 10 percent of those considered unfit for service are rejected because of their criminal record.
You can share this story on social media: