'Who are you to warn us?': Duterte hits back after US warning to stay away from Russian arms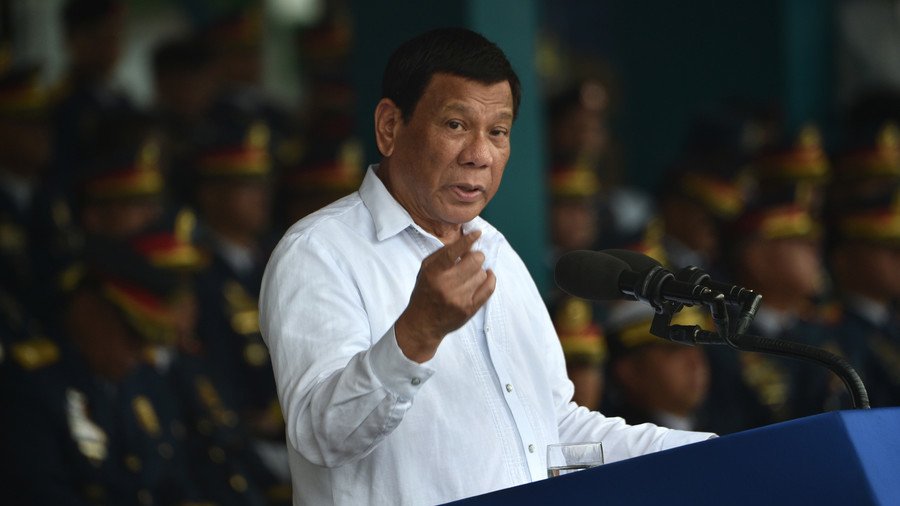 Philippine President, Rodrigo Duterte, slammed Washington for telling his country what weapons to buy, but appeased the Americans by saying that the submarines it may purchase from Russia won't be used against them.
Duterte was outraged by last week's statement from US Assistant Secretary of Defense for Asian and Pacific Affairs, Randall Schriver, who said that the Philippines "should think very carefully" about acquiring Russian subs and other weapons as it would jeopardize the alliance between Washington and Manila.
"Why? Did you stop other countries? Why are you stopping us? … You're warning us, who are you to warn us?" the Philippine leader said during a speech in Davao City on Friday as cited by the Inquirer.net website.
He challenged Schriver to repeat the same warning to his face, saying: "You meet me in a forum. You state your case why you are against my country acquiring [a] submarine. You give me the reason why and make it public."
"Is that how you want to treat an ally? And you want us to stay with you all the time?" Duterte wondered, adding that he was eager to ask US President Donald Trump the same questions "if I get to see him."
He blamed the US for trying to keep the Philippines "backward" in terms of defense capabilities. "Vietnam has seven [submarines]; Malaysia has two; Indonesia has about eight. We're the only ones without [submarines I the region]," the President argued.
However, the President calmed Washington by saying that "we are not using it [submarines] against you. Neither can we use it against China or anybody else because we are under-armed."
Duterte also criticized the Americans for selling refurbished helicopters to Manila, some of which, he said, have already crashed, while such countries like Russia and China simply donated used equipment to the Philippines and "never asked us even for a paper clip."
READ MORE: 'You can't create island & say air above it is yours': Duterte implores China to 'temper behavior'
Moscow and Manila have signed a military cooperation agreement last year, with Russia already supplying over 5,000 Kalashnikov assault rifles to Philippines for free to help it fight an Islamic insurgency.
Duterte's government is also considering the purchase of submarines, patrol boats, helicopters and armored vehicles from Russia.
In early August, Philippine Foreign Minister, Alan Peter Cayetano, vowed that the US pressure won't see the country giving up on Russian arms purchases, calling it "a test of our resolve for an independent foreign policy".
READ MORE: 'I'll have you killed!' Duterte scolds 100+ corrupt Philippines cops brought before him
Washington recently tried to persuade India and Turkey to refrain from buying Russian S-400 air defense missile systems, but was told that it wasn't its business by both New Delhi and Ankara.
Think your friends would be interested? Share this story!
You can share this story on social media: