Nazis, racists, terrorists & thieves: Meet the scandals of the US congressional midterms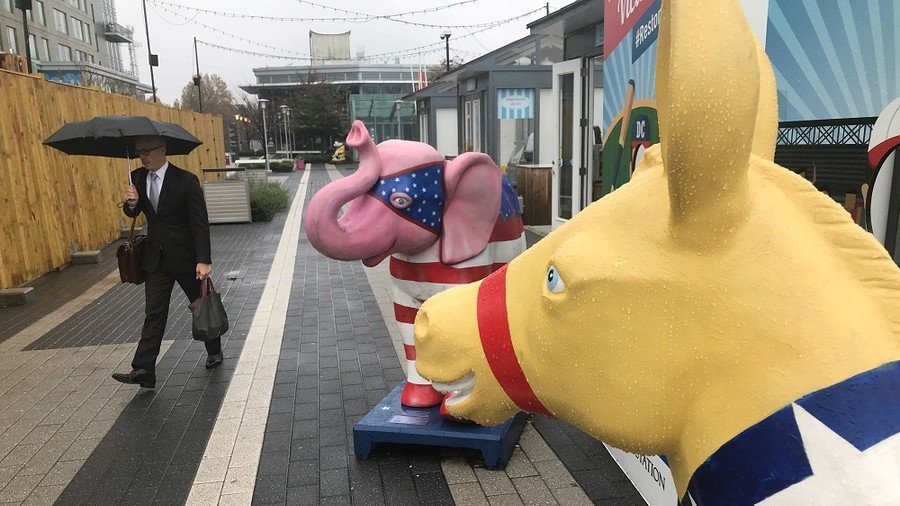 Both Democrats and Republicans are viewing the 2018 midterms as a rematch for 2016. All gloves are off as both parties hope to keep or gain power in an election not lacking in juicy scandals. Here are some of them.
The midterms are a big deal: all 435 seats in the House of Representatives and 35 of the 100 Senate seats are up for grabs, along with governorships in 39 states and territories. Both parties have made the election into a de facto referendum on President Donald Trump: Democrats are calling for a "Blue Wave" to block his agenda, while the Republicans are hoping for bigger majorities to overcome Democrat resistance in Congress.
It may not be "the most important election of a lifetime" as the cliche goes, but it is already the most expensive one ever. Estimates based on publicly available campaign filings suggest both major parties, as well as third parties and other political actors, spending north of $5 billion to ensure their victory.
With stakes this high, things are getting ugly in places from sea to shining sea. In Florida and Georgia, where Democrats hope to elect African-American governors, they've accused Republicans of racism and voter suppression. A Republican in California, fighting for what seemed like a hereditary seat, has called his challenger a "terrorist." And in Illinois, an actual Nazi got onto the Republican ticket in a hereditary Democrat district, despite the party's disavowal.
Florida: Democrats cry racist
When he won the Republican primary with Trump's endorsement, Congressman Ron DeSantis may have thought his path to the governor's mansion of the Sunshine State would be smooth and clear. Then Andrew Gillum, mayor of Tallahassee endorsed by Bernie Sanders, pulled an upset victory over the establishment candidate Gwen Graham.
DeSantis had already established his MAGA credentials with a profoundly strange ad featuring his wife and children. In an interview after the primary, he expressed confidence that Florida voters won't "monkey up" the good thing they have going by voting for a self-described socialist.
"Racist!"cried the Democrats, pointing out that Gillum is African-American. Then the Washington Post got into the fray, reporting that DeSantis gave speeches for years at conferences organized by David Horowitz - which they called racist, of course. DeSantis reacted by resigning from Congress to focus on his campaign.
As polls showed DeSantis and Gillum neck and neck, Trump tweeted his support for the Republican candidate, calling Gillum a "thief" and pointing to corruption investigations into his tenure as mayor. Gillum shot back that Trump is a liar, adding a folksy line attributed to his grandmother about wrestling with pigs. A wholesome, gentlemanly contest all around!
Trump has also thrown his weight behind the outgoing governor Rick Scott, who is running for Senate against the incumbent Democrat Bill Nelson. Early voting numbers from Florida, a category in which Democrats traditionally enjoyed a big advantage, show Republicans almost caught up. Make of that what you will.
Georgia: Democrats claim voter suppression
Democrats are hoping to make history in Georgia, where Stacey Abrams would become the first black female governor if she wins. Abrams is facing the current secretary of state Brian Kemp, who won the primary after an 11th-hour endorsement by Trump.
Both parties have sent in the big guns for this one, with Oprah Winfrey backing Abrams and Trump himself organizing a rally for Kemp on November 4. Vice-President Mike Pence was also in the state to boost Kemp's candidacy. And it was at a rally for Abrams that former Attorney General Eric Holder uttered the infamous call to "kick" Republicans.
Here's the twist: as secretary of state, Kemp is also charged with organizing the election. Abrams has accused him of voter suppression, saying Kemp was holding up or deleting registrations of voters who are disproportionately minorities (which presumably makes them Democrats). There are lawsuits by several civil rights groups to that effect.
Things have become so acrimonious that some Democrats have suggested a victory for Abrams would be the only legitimate outcome of the race:
Kemp has refused to resign as Secretary of State while blocking 53,000 African Americans from voting. So our response should be forceful and clear. If @staceyabrams ends up with less votes in a close but illegitimate election, she should REFUSE to concede.

— Ro Khanna (@RoKhanna) October 18, 2018
California: 'Thief' vs. 'Terrorist'
Then there is the race in California's 50th district, north of San Diego. Republican Duncan Hunter has held it since 2009, but was indicted in August for alleged misuse of campaign funds. Hunter and several other Republicans have argued the indictment was a political dirty trick by Democrats, pointing that two of his prosecutors attended a Hillary Clinton fundraiser back in 2016.
Hunter may be feeling entitled to the seat, which was held by his father from 1981 to 2009, so he is pulling no punches against his Democrat challenger, accusing him of changing his name to appear Hispanic, being "funded by the Muslim Brotherhood," and being the grandson of a Palestinian terrorist.
Ammar Campa-Najjar, a Palestinian-American who worked as a White House aide for President Barack Obama, was raised by his mother's Mexican-American family, is a Christian, and changed his middle name from Yasser to Joseph, according to a Washington Post fact-check.
His grandfather was Muhammad Yusuf al-Najjar, or Abu Yusuf, a senior member of Black September - the Palestinian group behind the 1972 Munich Olympics massacre of Israeli athletes. He was killed by Israeli commandos 16 years before Campa-Najjar was born.
Campa-Najjar has denounced Hunter's rhetoric as racist and un-American. Though he won just 18 percent of the vote in the district primary, polls published a week before the election showed him only three points behind Hunter.
Illinois: An actual Nazi on the ballot
"Illinois Nazis" may have been a punchline of 1980's cult classic film 'Blues Brothers,' but an actual Holocaust-denying National Socialist is running for a House seat in Illinois' 3rd district, on the Republican ticket.
This is no hyperbole, either: State representative David McSweeney (R) has described Arthur Jones as "a complete nutcase" and a "Nazi."
That is not unrelated to the fact that an actual Nazi, Arthur Jones, was nominated as the GOP candidate for Congress in #IL3 which covers Mount Greenwood, where many Chicago Police officers reside.https://t.co/YuGegQdoEC

— Jason Guthartz (@restructures) November 1, 2018
Jones was able to get on the ticket because the GOP didn't bother mounting a challenge in a district that has been Democratic for generations: Dan Lipinski was elected in 2005, succeeding his father Bill, who represented it since 1983.
"I snookered them," Arthur Jones told Politico, referring to the state Republicans. "I played by the rules, what can I say?"
The GOP missed a deadline to put a third-party candidate on the ballot, and have resorted to throwing its support behind a write-in candidate, disavowing Jones, denouncing his candidacy, and even running robocalls against him. Democrats, in turn, have argued that Jones' candidacy is proof that all Republicans are Nazis, from Trump on down.
Notably absent from the midterm mayhem have been accusations of "Russian collusion," but never you fret: odds are that particular excuse will most certainly be dusted off by November 7.
Nebojsa Malic
Like this story? Share it with a friend!
You can share this story on social media: