DeSantis quits Congress amid claims of racism-by-association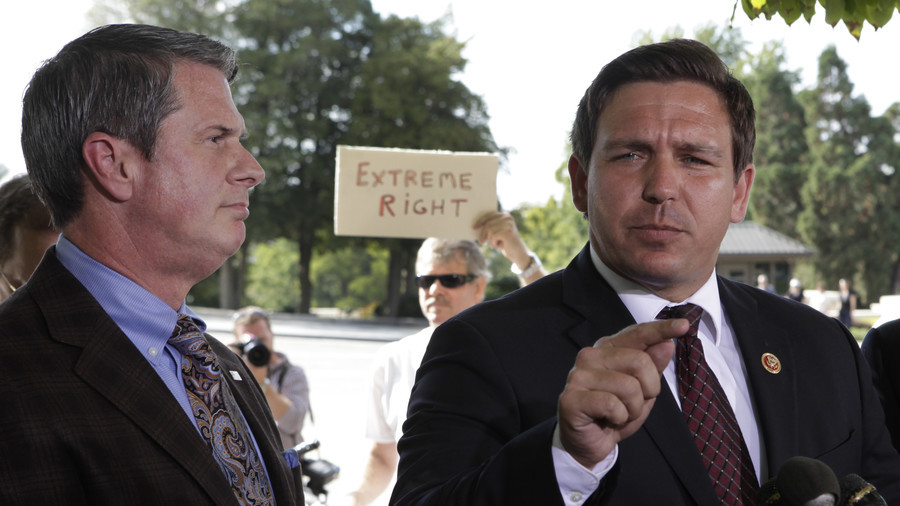 Florida's Republican gubernatorial candidate is being accused of racism again, over past appearances at a conference hosted by a prominent anti-Islam activist. Ron DeSantis has resigned from the House to focus on the campaign.
DeSantis, who represented Florida's 6th congressional district since 2013, spoke at the David Horowitz Freedom Center's annual 'Restoration Weekend' conferences in 2013, 2015, 2016, and 2017. Horowitz is a staunch conservative, an outspoken critic of diversity, and has said that liberalism and Islam are existential threats to whites in America.
The Washington Post first pounced on the story on Sunday. However, the paper reported that DeSantis' speeches at the conferences did not touch on issues of race, but attacked Democratic policies.
On Monday, however, DeSantis resigned from Congress to focus on the campaign.
Horowitz' annual conferences have hosted a rogues gallery of edgy speakers in the past, including provocateur Milo Yiannopoulos, Dutch politician and Islam critic Geert Wilders, and former Trump strategist Steve Bannon, as well as a mainstream US conservatives like current Energy Secretary Rick Perry and former Arkansas Governor Mike Huckabee.
DeSantis's campaign team rejected any notion of guilt by association with Horowitz, and spokeswoman Elizabeth Fusick said the congressman does not "buy into this 'six degrees of Kevin Bacon' notion that he is responsible for the views and speeches of others."
Many liberals on Twitter were not having any of it.
Recent polls are showing DeSantis trailing Democrat Andrew Gillum, the mayor of Talahassee who beat former governor's daughter Gwen Graham in a surprise primary victory in August. Gillum's platform leans sharply to the left, he is endorsed by progressive godfather Sen. Bernie Sanders (I-Vermont), and if elected, he would be Florida's first black governor.
DeSantis is a founding member of the Freedom Caucus and a supporter of President Donald Trump, who triumphed in the Republican primary on the strength of the president's endorsement.
After DeSantis urged Floridians not to "monkey this up" by voting for Gillum's "socialist" agenda, he was accused by Democrats of using "racist dog whistles" about his African-American opponent.
DeSantis denied the charge, and a campaign spokesman responded that he was "obviously talking about Florida not making the wrong decision to embrace the socialist policies that Andrew Gillum espouses," adding "to characterize it as anything else is absurd."
The contest between the two men has been described as a litmus test for Florida voters, who will have to choose between the Sanders brand of progressivism and Trump's brand of populism come November.
Like this story? Share it with a friend!
You can share this story on social media: