'Never wrestle with a pig': Florida gubernatorial candidate responds after Trump calls him a 'thief'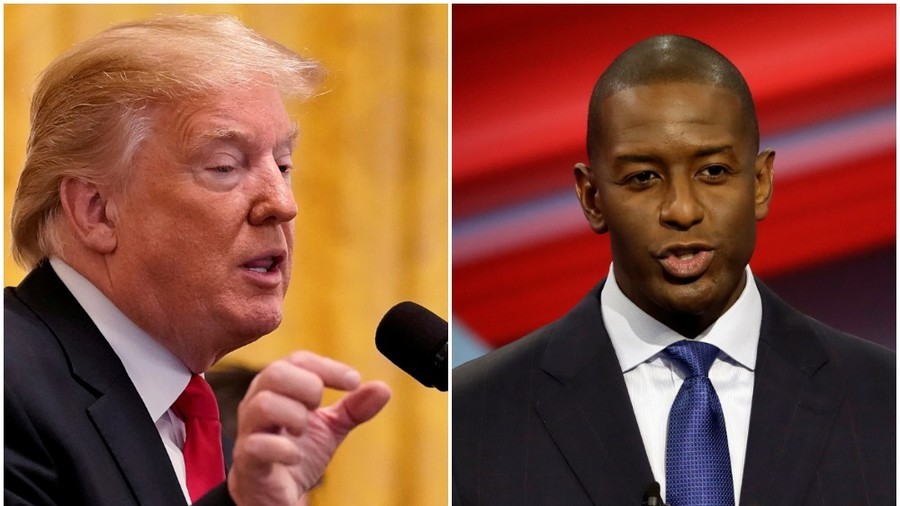 The Democratic candidate in the Florida governor's race has responded after US President Donald Trump labeled him a "stone cold thief," by saying you should "never wrestle with a pig."
The sparring match between Trump and Andrew Gillum entered a new round on Monday, when the president called the candidate a "stone cold thief" in an interview with Fox News' Laura Ingraham.
Gillum took to Twitter to address Trump after that interview aired, repeating a valuable lesson learned from his grandmother - "never wrestle with a pig."
I heard @realDonaldTrump ran home to @FoxNews to lie about me. But as my grandmother told me — never wrestle with a pig. You both get dirty, but the pig likes it. So ignore him and vote, Florida!

— Andrew Gillum (@AndrewGillum) October 30, 2018
Trump provided no evidence when he called Gillum a "thief." However, the Democrat's administration is the subject of an FBI corruption investigation, and Gillum also came under fire after it was revealed that he accepted tickets to the Broadway musical "Hamilton" from an undercover FBI agent who he thought was a local developer.
The US president also took aim at Gillum on Twitter ahead of his interview with Ingraham, again calling him a "thief" and accusing him of being the mayor of "poorly run Tallahassee," which is said to be "one of the most corrupt cities in the country."
But that wasn't the first time Trump hit out at Gillum. In August, he called the candidate "a failed socialist mayor" who has "allowed crime and many other problems to flourish in his city."
Gillum responded to Trump at that time, tweeting back at the US President and telling CNN: "This president, it appears, gets off on intimidating and pushing people around but I want him to know he's met his match…"
Trump is due arrive in Florida this week to campaign for Gillum's opponent, Republican Ron DeSantis. He'll visit Fort Myers on Wednesday and hold a rally in Pensacola on Saturday.
Meanwhile, former US President Barack Obama is throwing all of his support behind Gillum, and is due to campaign for him in Miami on Friday.
If you like this story, share it with a friend!