'Thief!' Trump slams African-American candidate in Florida governor's race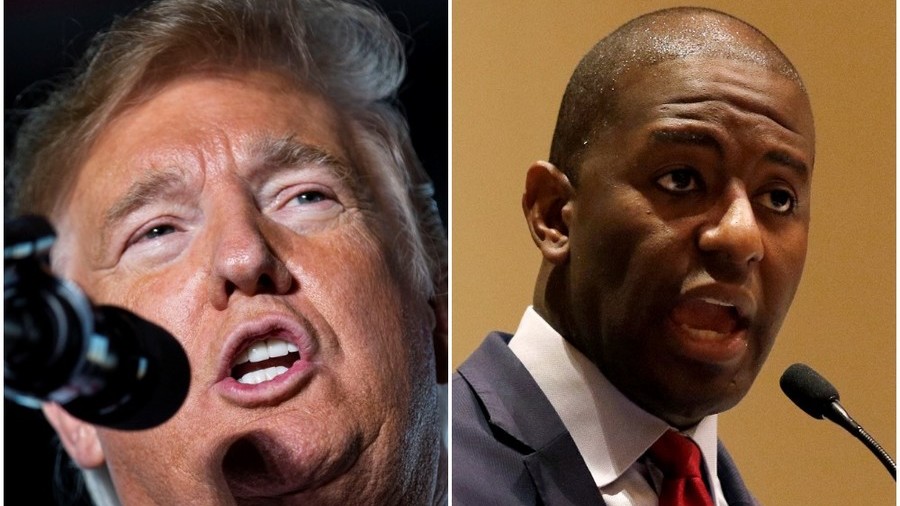 As mid-term elections draw nearer, US President Donald Trump has called a Democrat running for Florida governor nominee a "thief," spurring accusations of racism against the African-American candidate.
In a Monday morning tweet, Trump hailed Republican gubernatorial candidate Ron DeSantis as being a "great congressman" who was educated at Harvard and Yale. Then he called his African-American Democratic opponent Andrew Gillum a "thief" and the mayor of "poorly run" Tallahassee, "said to be one of the most corrupt cities" in the US.
In Florida there is a choice between a Harvard/Yale educated man named @RonDeSantisFL who has been a great Congressman and will be a great Governor - and a Dem who is a thief and who is Mayor of poorly run Tallahassee, said to be one of the most corrupt cities in the Country!

— Donald J. Trump (@realDonaldTrump) October 29, 2018
Although Gillum has not been convicted of any crime, he is the subject of a corruption investigation related to his administration. He has also come under fire after records showed that he accepted a ticket to the musical "Hamilton" from an undercover FBI agent who he thought was a local developer.
It should come as no surprise that former President Barack Obama disagrees with Trump's assessment of Gillum, and even plans to travel to Miami to campaign for him on Friday.
"I'm proud and humbled to have President Obama, my friend and a true patriot, on the campaign trail here in Florida," Gillum said on Monday.
Trump will also be making his way into town this week, visiting Fort Myers on Wednesday and holding a rally in Pensacola on Saturday.
The Monday tweet isn't the first time Trump has hit out at Gillum. In August, he referred to him as a "failed socialist mayor" who has "allowed crime and many other problems to flourish in his city."
Gillum responded to those comments at the time, tweeting back at the US president and telling CNN: "This president, it appears, gets off on intimidating and pushing people around but I want him to know he's met his match..."
The Florida gubernatorial race has made headlines from the start, when DeSantis told voters not to "monkey this up" by voting for Gillum. That remark sparked an immediate outcry from Democrats who called it racist, as Gillum is black. DeSantis has denied that allegation, saying that the remark clearly referred to the economy and had nothing to do with his opponent's race.
Meanwhile, Gillum has also been the target of two racist robocalls - automated calls that are generally used to promote a political candidate. They mocked the candidate, featuring a minstrel-style voice with jungle noises playing in the background. The robocalls were apparently issued by a neo-Nazi group known as Road to Power, and have been condemned by the DeSantis campaign.
Think your friends would be interested? Share this story!