Republican gubernatorial candidate teaches child to 'build a wall' in strange campaign video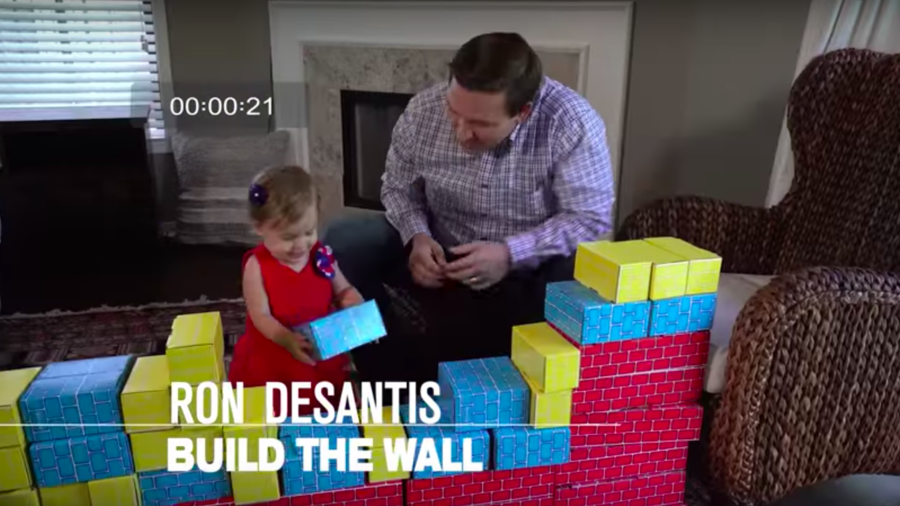 Florida gubernatorial candidate Ron DeSantis has released a campaign video that shows him teaching his daughter to "build a wall" with toy bricks and reading President Donald Trump's 'The Art of the Deal' book to his infant son.
The 30-second ad is narrated by DeSantis' wife Casey, whose pitch for her husband includes telling viewers that he is "an amazing dad" who loves "playing with the kids" and "reads stories" to them.
As Casey speaks, DeSantis is seen showing their young daughter how to "build a wall" with toy bricks — a reference to Trump's plan to erect a wall on the US-Mexico border — and reading from Trump's most famous book.
"Then Mr. Trump said, 'you're fired'. I love that part," DeSantis tells the bored-looking baby, while pretending to read from the book.
DeSantis, who currently represents Florida's 6th Congressional district in the House, is a loyal Trump supporter and has been described by the president as a "warrior" for his commitment. The ad describes him as a "pitbull Trump defender."
Later in the clip, DeSantis is seen teaching his daughter how to read the 2016 Trump campaign slogan "Make America Great Again".
Casey DeSantis appears again at the end to say that while people might assume her husband is "all Trump" all the time, in reality he is "so much more" than that. "I just thought you should know," she adds.
As might be expected, there was considerable dispute in the YouTube comments under the video about whether the ad was the best or the worst one ever made.
While some supporters described the ad as "the best commercial of 2018" and the "greatest ad of all time", others called it "totally insane," "unbelievably creepy" and "the most revolting display of sycophancy ever recorded."
You can share this story on social media: