Trump favorite Brian Kemp wins Georgia's GOP primary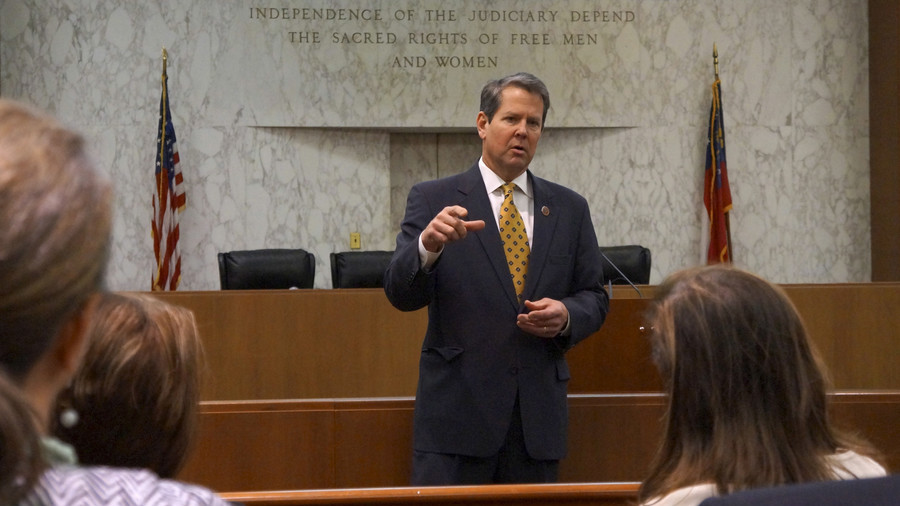 Georgia Secretary of State Brian Kemp has won the Republican Party nomination for the state's gubernatorial race. He will stand against Democratic nominee Stacey Abrams in a general election in the fall.
With a 69–30 percent second-round runoff vote result on Tuesday, Kemp was able to secure the win against Lt. Gov. Casey Cagle. Earlier, he received an eleventh-hour endorsement from President Donald Trump, who praised the politician's toughness on crime and illegal immigration. Vice President Mike Pence also showed support for Kemp by visiting the state over the weekend to appear alongside the civil servant.
In the run-up to Tuesday's GOP primary, Cagle's campaign was severely undermined by the surfacing of secret recordings in which he admitted to backing Republican "bad public policy" for political gain. Despite the compromising evidence against Cagle, his race was still supported by state Governor Nathan Deal and the National Rifle Association.
READ MORE: Google lists California Republicans as 'Nazis,' blames Wikipedia 'vandals'
The Georgia Secretary of State's win over Cagle is seen as somewhat of a surprise for the incumbent Lieutenant Governor, who came in first with 38.9 percent of the votes in May's primary. Kemp, who also failed to secure the majority vote during the first round, received only 25.6 percent of support back in spring.
Following the publication of Tuesday's results, Cagle conceded the win to his rival and offered his congratulations to Brian Kemp. "You ran a great campaign & Georgia Republicans trust you to carry our mantle forward," he said on Twitter.
Kemp, meanwhile, credited the White House for helping him win the GOP race. The "clear, convincing victory" over Cagle was only possible after Trump "poured gasoline in the fire" that fueled his victory, he said Tuesday.
The fifty-five-year-old politician will now face Democratic Party nominee Abrams in November's midterm elections. If she beats Kemp, the Leader for the Georgia General Assembly will have made history as the first black woman governor.
Think your friends would be interested? Share this story!