Midterm lawfare? Federal prosecutors derail re-election bids of two prominent Trump supporters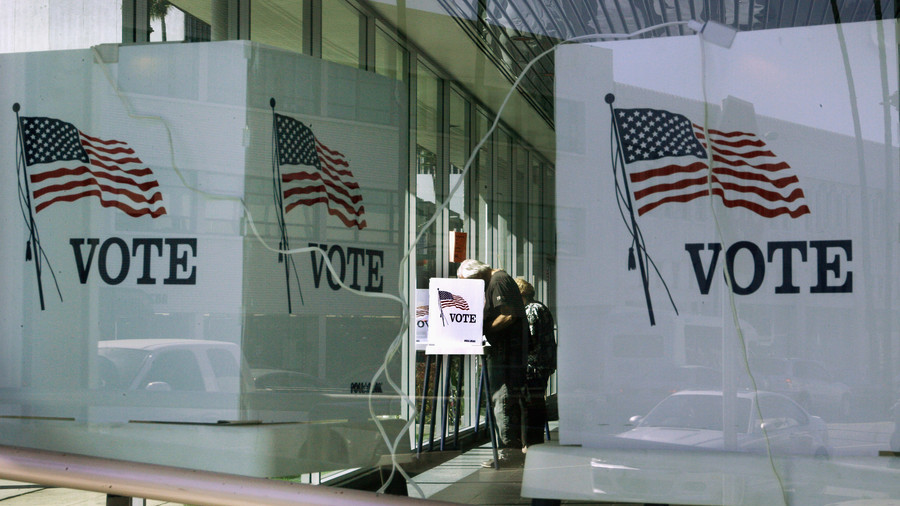 In at least two congressional districts at opposite ends of the US, federal indictments of Trump-supporting lawmakers may play a key role in handing over their solid Republican constituencies to Democrat challengers.
Congressman Duncan Hunter, representing California's 50th district, and his wife Margaret were charged on Tuesday with 60 counts of misusing about $250,000 in campaign funds for personal purchases, and with filing false reports to the Federal Election Commission (FEC).
California has a "jungle primary" system, in which the top two candidates proceed to the general election regardless of their party affiliation. As the primaries took place on June 5, there is no mechanism to replace Hunter on the ballot, which means his Democrat challenger, Ammar Campa-Najjar, will basically run uncontested despite winning less than 18 percent of the primary vote.
GOP US Rep. Duncan Hunter of California blames politics for charges of using campaign cash on vacations and other expenses and says he's 'excited about going to trial.' https://t.co/SM2f4HI5Wi

— AP West Region (@APWestRegion) August 22, 2018
"This is modern politics and modern media mixed in with law enforcement that has a political agenda," Hunter told San Diego's KGTV on Wednesday. "This is the Democrats' arm-of-law enforcement," he added. "I think they've used every dirty trick in the book."
Hunter's attorney, Gregory Vega, brought up the ballot problem in an August 6 letter to Deputy Attorney General Rod Rosenstein. Vega also sought the recusal of two key prosecutors in the case, Assistant US attorneys Alana Robinson and Emily Allen, citing their presence at an August 2015 fundraiser for Hillary Clinton in La Jolla, California.
"The only way these two Assistant US Attorneys were able to attend was by use of their official positions as Department of Justice employees," Vega wrote. Meanwhile, Hunter was "the first sitting member of Congress to endorse President Trump in February 2016, and he has been an outspoken supporter of the President ever since."
US Attorney Adam Braverman and the DOJ "reviewed and rejected Mr. Hunter's complaints," Southern District spokeswoman Kelly Thornton told the San Diego Union-Tribune. Thornton said the two justice officials attended the Clinton fundraiser at the US Secret Service's invitation, calling it standard practice. "The Secret Service requested the prosecutors' attendance and routinely asks prosecutors to attend events involving their protectees."
Hunter has been on the federal authorities' radar since April 2016, when the FEC began looking at some questionable campaign expense reports. Vega accused the Southern District prosecutors of a "sudden, inexplicable rush to indict my client before the general election without affording him sufficient due process."
On Wednesday, Rep. Darrell Issa (R-California) echoed the claims that the timing of Hunter's indictment was suspicious, going so far as to accuse Braverman and his subordinates of "political misconduct."
"I don't know how you make any kind of sense other than he sat on it for most of three years and certainly the last year," Issa told CBS, referring to US Attorney Adam Braverman. "As far as I know, we've got no legal way for Duncan to get off the ballot and somebody else to get on."
Hunter was first elected in 2008, after serving three combat tours in the US Marine Corps. The seat was previously held by his father for 14 terms.
Another prominent Trump supporter, Rep.Chris Collins of New York's 27th congressional district, was arrested on August 8 and charged with insider trading. Though he initially said he would remain in the race despite the charges, Collins dropped his re-election bid just three days later. The GOP is now looking to replace him on the ballot.
Though Hunter has not yet dropped out of the race, House Majority Leader Paul Ryan (R-Wisconsin) has already removed him from all congressional committees. Ryan, a frequent critic of Trump, is not seeking re-election in November.
Think your friends would be interested? Share this story!
You can share this story on social media: