Don't 'monkey this up': Democrats say Florida GOP candidate used 'racist dog whistle'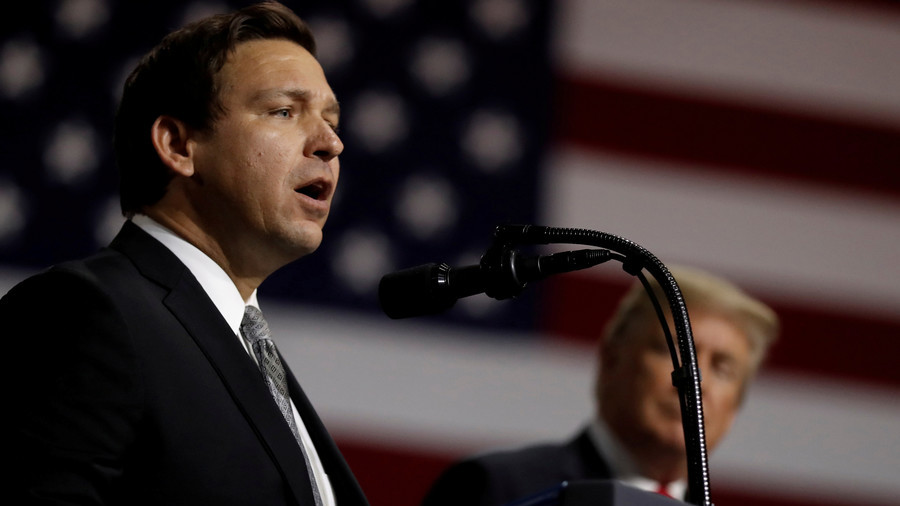 Florida gubernatorial candidate Ron DeSantis has been denounced by the Democrats and the media as racist, for saying voters shouldn't "monkey this up" by voting for his socialist opponent, who happens to be black.
President Donald Trump's endorsement propelled DeSantis to easy victory in Tuesday's Republican primary. The outgoing Governor Rick Scott, also a Republican, won his primary to challenge the incumbent Senator Bill Nelson (D-Florida) in November. On the Democrat side, voters preferred Tallahassee mayor Andrew Gillum, who was endorsed by Sen. Bernie Sanders (I-Vermont) and the "democratic socialist" bloc.
"Let's build off the success we've had" under Scott, DeSantis said in a Fox News appearance Wednesday morning. "The last thing we need to do is to monkey this up by trying to embrace a socialist agenda with huge tax increases bankrupting the state. That is not going to work."
Democrats pounced on the phrasing, with Florida Democratic Party Chair Terrie Rizzo calling it "disgusting that Ron DeSantis is launching his general election campaign with racist dog whistles." Gillum is the first African-American nominee for the governorship of Florida.
DeSantis's campaign rejected the insinuation, saying that the candidate's remarks had nothing to do with Gillum's race and everything to do with his politics.
"Ron DeSantis was obviously talking about Florida not making the wrong decision to embrace the socialist policies that Andrew Gillum espouses," spokesman Stephen Lawson said in a statement. "To characterize it as anything else is absurd."
"Florida's economy has been on the move for the last eight years and the last thing we need is a far-left Democrat trying to stop our success," Lawson added.

During the Fox News appearance, DeSantis called Gillum "an articulate spokesman for those far-left views" and a "charismatic candidate" who is "much too liberal for Florida," however.
"I watched those Democrats debate and none of that is just my cup of tea, but he performed better than the other people there, so we gotta work hard to make sure that we continue Florida going in a good direction," he said.
Dog-whistling is the notion that politicians are using coded language that appears to mean one thing to the general population, but something else to a specific group of people, using the analogy that only dogs can hear special whistles that use ultrasonic frequencies. The term has entered widespread use in American politics during the 2008 election campaign, when Hillary Clinton was accused of using coded racist language against her rival for the Democratic presidential nomination, Barack Obama.
While there is no set meaning for the phrase "monkey this up," American English does recognize the idiom "to monkeywrench," meaning to sabotage something as a form of protest. The usage likely dates back to the 1975 novel "The Monkey Wrench Gang" by Edward Abbey, about a group of radical environmentalists.
If you like this story, share it with a friend!
You can share this story on social media: