Fox News' ratings slide as Americans' mistrust of mainstream media grows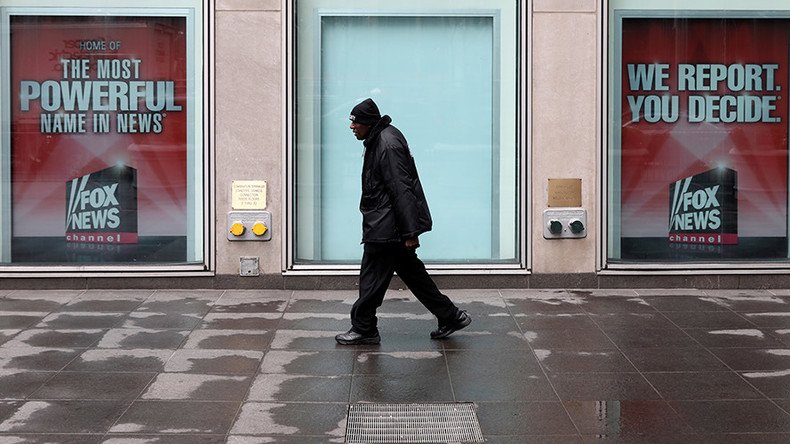 Nearly two-thirds of US voters believe that the mainstream media is producing fake news, according to a new poll. Many also believe that fake news is purposely published to push an agenda. Fox News appears to be hurt the most by viewers' mistrust.
Across the political spectrum, 65 percent of voters believe there is a lot of fake news in the mainstream media, including 80 percent of Republicans, 60 percent of independents and 53 percent of Democrats, according to the latest Harvard-Harris poll provided exclusively to The Hill. In total, 84 percent of voters said it is hard to know what news to believe online.
Those numbers have increased since the end of March, when six in 10 Americans believed the mainstream media report fake news regularly or occasionally, with 54 percent thinking that online news websites report fake stories on purpose in order to push an agenda, according to a Monmouth University poll. A whopping 80 percent of respondents believed that online outlets report fake news regularly or occasionally.
The March poll also found that Republicans (79 percent) were most likely to say that major news outlets transmit fake news stories, compared to 66 percent of Independents and 43 percent of Democrats. Of those, Republicans were also more likely to say that major news sources reported fake news deliberately, rather than by mistake or due to poor fact checking.
In April, Gallup found that 62 percent of Americans said that the news media favor one political party over another, with 64 percent saying media favor the Democrats over the GOP. Less than a quarter (22 percent) said that the media was biased towards the Republicans. Among GOP respondents, 77 percent said the media was biased towards one party, compared to 59 percent in 2003. Less than half (44 percent) of Democrats said that the media showed political favoritism, the same as in 2003.
"Much of the media is now just another part of the partisan divide in the country with Republicans not trusting the 'mainstream' media and Democrats seeing them as reflecting their beliefs," said Harvard-Harris co-director Mark Penn. "Every major institution from the presidency to the courts is now seen as operating in a partisan fashion in one direction or the other."
Between 2012 and 2015, trust in the media remained historically low, with 40 percent of Americans saying they had "a great deal" or "a fair deal" of trust and confidence in the mass media, according to an annual Gallup survey. That dropped to 32 percent in 2016, however. The decrease in trust was dramatic among Republicans, with only 14 percent expressing trust, down from 32 percent the previous year.
The Harvard-Harris poll comes as one mainstream outlet, Fox News, has had to retract a major story it had been following. On Tuesday, the cable network and the Washington, DC-based affiliate it owns were forced to walk back their reporting on the July 2016 murder of Seth Rich, a Democratic National Committee staffer who Fox claimed had been in contact with WikiLeaks director and investigative journalist Gavin MacFadyen. Rich's parents condemned the speculation around their son's death in an opinion piece in the Washington Post on Tuesday.
"The article was not initially subjected to the high degree of editorial scrutiny we require for all our reporting. Upon appropriate review, the article was found not to meet those standards and has since been removed," Fox News said in a statement.
The Rich retraction is the latest in a series of scandals rocking Fox News, including sexual harassment and racial bias lawsuits filed by current and former employees, which led to the firing of host Bill O'Reilly and the resignation of co-president Bill Shine. Before O'Reilly's ouster, advertisers fled from his program, "The O'Reilly Factor." More than 60 companies pulled ads from his show, leaving him with a mere seven sponsors by April 8.
Now it appears that viewers are fleeing from O'Reilly's old employer. Last week, Fox News placed third among cable news networks in primetime ratings among 25-54 year-old viewers, the most coveted advertising demographic, Adweek reported.
MSNBC came in first with 611,000 viewers in the demographic and 2.44 million viewers overall. CNN came in second with 589,000 viewers and 1.65 million viewers overall, while Fox had 497,000 viewers in the coveted demo and 2.4 million viewers overall.
It was the first time in 17 years that Fox came in third for a full week. The last time was the week of June 9, 2000, when the network was still in its infancy.
Despite the setback, though, Fox News still ranked as the top basic cable network in Total Day audience for the 20th consecutive week, according to Adweek. It also finished second in total primetime viewers across cable, behind TNT, which was airing the National Basketball Association's Eastern Conference finals.
MSNBC, which placed first during primetime among 25-54 year-olds last week, actually ranked behind Fox News if Saturday and Sunday ‒ when the liberal-leaning network aired reruns ‒ were taken into account. All three cable news channels ‒ CNN, Fox News and MSNBC ‒ were among basic cable's top 5 networks for the entire week.
You can share this story on social media: